New Gear: Canon Announces PowerShot G5X and G9X Advanced Compact Cameras
Two new advanced compacts from Canon have 1-inch sensors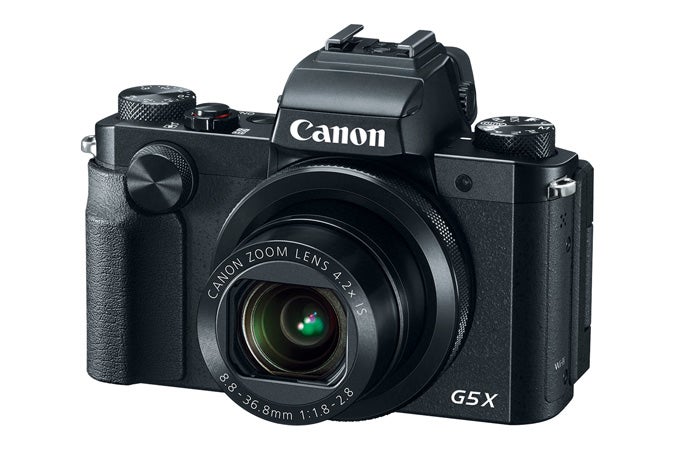 We may earn revenue from the products available on this page and participate in affiliate programs. Learn more ›
Canon's mirrorless camera line isn't the only series getting an update this fall. The company has just announced two new additions to their high-end G-series PowerShot line of compact cameras in the G5 X and the G9 X. Here's a breakdown of each new camera.
PowerShot G5 X
At first glance, the G5 X looks a bit, well, odd. It has a relatively small body, but it's equipped with a full-sized electronic viewfinder as well as a reasonably burly grip. The aesthetic reminds me a bit of the adorable Pentax Q, but without as much cuteness. Inside is a 20.2-megapixel, 1-inch, CMOS sensor and a Digic 6 processor that combine for a maximum ISO setting of 12,800.
The G5 X's lens is a 24-100mm equivalent (field of view) and has a maximum aperture range of F/1.8-2.8. With a 1-inch sensor and a fast lens like that, it should actually be capable of some solid bokeh.
The viewfinder may look a bit odd sitting on top of a small camera, but it has 2.36-million dots of resolution on its OLED display. The three-inch display on the back of the camera has 1.04-million dots of resolution and is also a touchscreen.
As it sits at the high-end of Canon's compact line, the controls are also abundant and seem rather well-placed, which is not always a given on a compact camera.
The G5 X will cost $799, which it ships in November, making it cheaper than the flagship G3 X, which has a lot more zoom, but lacks the built-in EVF.
PowerShot G9 X
The G9 X looks a lot more like a traditional compact camera than the G5 X and seems a bit like the spiritual evolution of the S120 compact camera. It has the same 1-inch, 20.2-megapixel sensor inside and uses a 28-84mm (equivalent) lens with a maximum aperture range of F/2-4.9.
While it doesn't have as many advanced features as the G5 X, it does offer a full suite of manual controls and it's built to be very compact so it can even fit in a pocket.
The G9 X will be available in November for $529.
On paper, both of these cameras look extremely solid. They're both leaps and bounds above what a smartphone camera is capable of and the overall aesthetic design seems pretty excellent. We're looking forward to trying them out when retail models become available.