MyGearVault App Is Designed to Keep Your Camera Equipment Organized and Safe
The new app tags items in an internal database to help keep tabs on your gear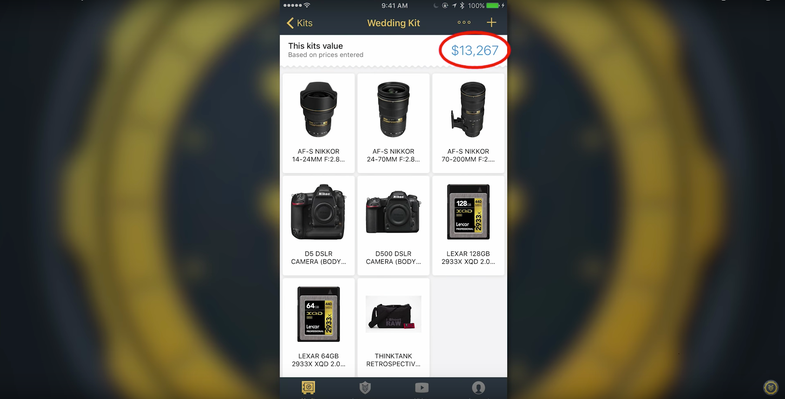 We may earn revenue from the products available on this page and participate in affiliate programs. Learn more ›
If you run your own studio or if you've just got more photo gear than you can easily keep track of, you might be interested in the MyGearVault app for iOS (Android release TBA). While there are fancier methods for keeping tabs on equipment, like QR-code scanners, those systems require printing out and individually labelling all the items in your inventory. With MyGearVault, users can search through the app's illustrated database of contemporary digital gear and assign those items to virtual "kits" along with the serial number of each item.
The list of cameras, lenses and accessories in the app is exhaustive, but you won't find your precious analog Leica or medium format cameras there. For older or unique items, MyGearVault has a manual input option that allows users to photograph their more novel equipment and record serial number information.
While it may delight organization freaks, the app seems primarily designed to alleviate a worst-case scenario – equipment theft. When users add gear to their in-app kits, the monetary value of items inside is instantly tallied to make setting up or maintaining an insurance policy (not included) on your equipment less of a headache.
In that most-dreaded of all photographic scenarios, having your gear stolen, MyGearVault helps you keep track of which items are missing, how much they were worth, and any police report information provided from your local precinct. After reporting gear stolen through the app, MyGearVault will flag the items and serial numbers of stolen equipment in the event that would-be thieves are stupid enough to try register the same items in the app's database.
The app is currently free to download, and for smaller studios or gear-hungry photographers, it might just come in handy should the worst befall your precious camera bodies and glass.