My Project: Drawing on Creativity
Ben Heine makes art the old fashion way, with a pencil and...camera.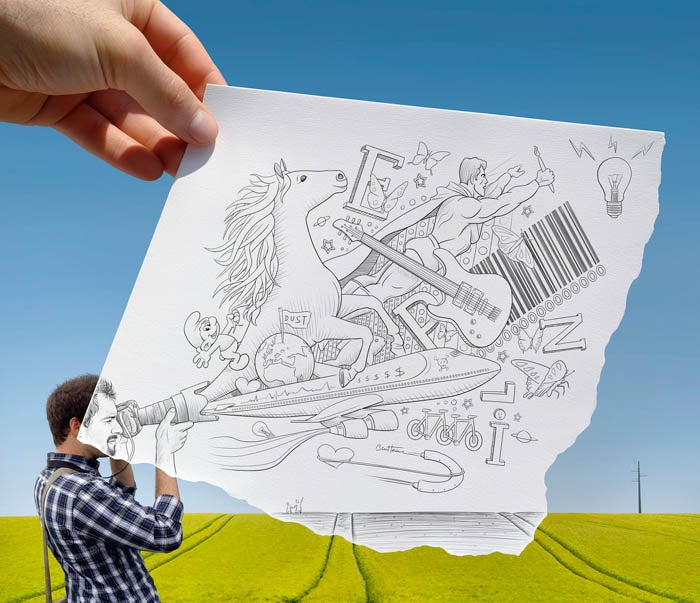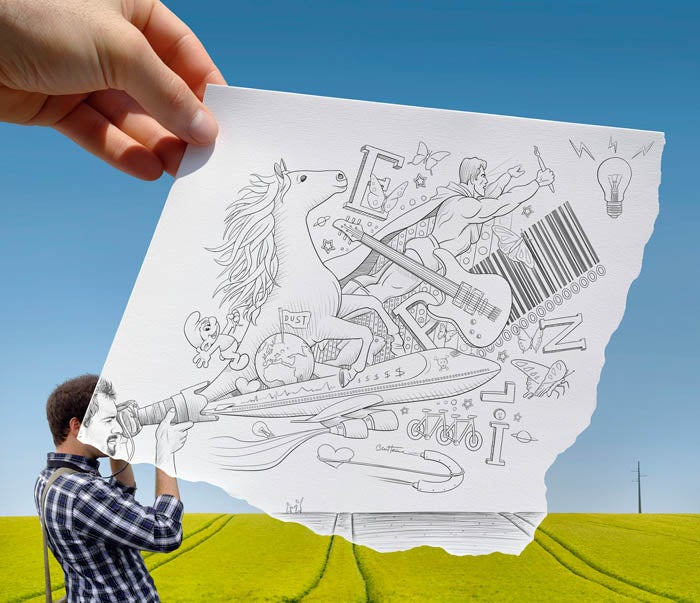 When it comes to being creative with photography, sometimes the best tools are the most basic—as Ben Heine's series, "Pencil Vs. Camera," suggests. "I've been drawing and photographing for several years now, and I've always been interested in mixing mediums," he says. "One day it occurred to me to oppose imagination and reality, by using just pencils and my camera."
The graphic artist's first experiment was in the terrace of a countryside home in Belgium. Standing on the terrace, he drew a quick sketch of a nearby table and chairs, held the drawing up, positioned it to fit the landscape, and snapped. From then on, whenever he passed an interesting landscape or location, he'd imagine something interesting to put in the frame—the Little Prince looking down from a cloud, Nintendo's Mario character hopping out of a pipe on a city street.
He uses his Samsung NX10 with different lenses. The hard part is to make sure the drawing is positioned correctly at the appropriate distance, and to hold it steady as he shoots with the other hand. Generally he'll readjust contrast and adjust perspective slightly in Adobe Photoshop so that the lines match exactly, but when his shot doesn't quite work out, he'll composite separate images of his drawing and landscape. Sometimes he'll shoot and print a photo without the drawing, then draw at home, and photograph his photo and drawing in a single frame.
Best, Heine says, is exercising his creativity on location: He's particularly proud of a few images he made at an abandoned campsite in the woods. He drew a sketch of a tiny arsonist, then set fire to the drawing. "My first idea of it was as a sort of battlefield between two techniques," he says, "but I now think of it more as a peaceful combination of mediums."
Graphic artist Ben Heine, 27, lives in Brussels. See more at www.benheine.com__.