Chris Gampat's luminous pizza portraits
"The Secret Order of the Slice" is a clever take on the joy of eating pizza.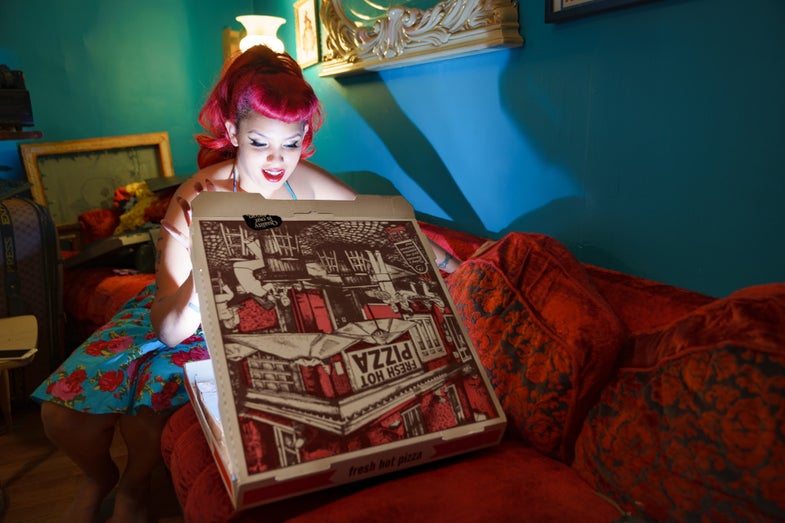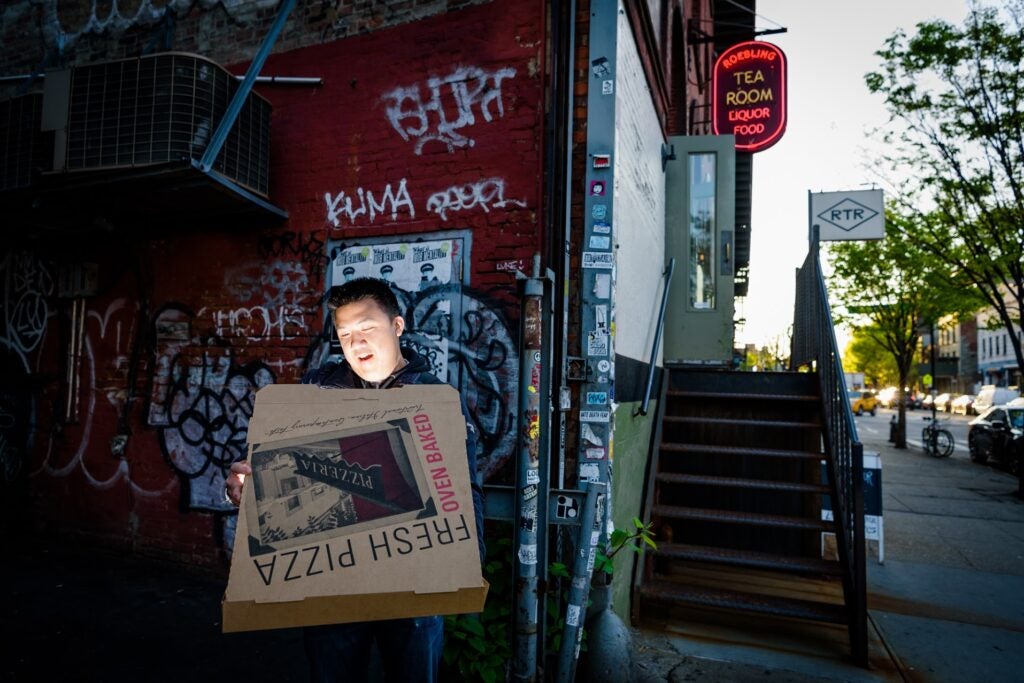 If you follow the photography blog world, you probably know Chris Gampat best as The Phoblographer. Recently, however, he released a personal photography project called "The Secret Order of the Slice" dedicated to his love of pizza. Here, Chris talks about the origins of the project, but don't expect him to give up his favorite NYC pizza spot.
How did the idea for the project come about?
One night while hanging out with friends, we headed back to my apartment and started watching Adventure Time. It was getting late and we were getting hungry, so I ordered pizza. When the pizza came and we started to open the box, a friend of mine vocalized those angelic sounds you hear on stereotypical TV shows.
So at that moment I thought to myself "Why not put a flash in there and turn this into a series?"
I started sketching ideas for a year and then I finally put the plan into action to shoot it.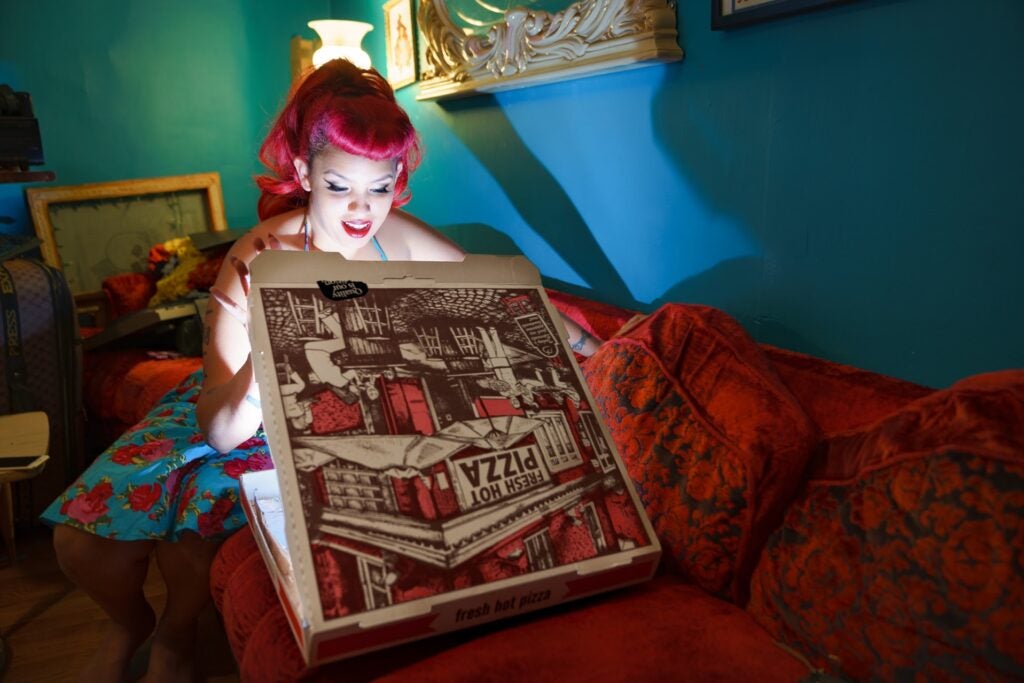 What was your overall creative vision for the project and did it change at all from its beginning?
Basically, I wanted folks to be in familiar locations to many NYers. So after studying where and how people eat food, it started to come together. People eat pizza while commuting, in the park, Netflixing at home, etc. Because I spent a year on the concept and refining it, it didn't really change so to speak. It was more about case studies of how people eat and how to make it relatable when it finally makes the rounds on the web.
How long did the project take from its inception to its completion?
The project really started in January 2015 and every now and then I'd reach for a small black notebook and I'd hand sketch ideas for the project. I started shooting it in March of this year and I don't want to say that it's complete yet. But this phase of it is.
Is there one particular image in the series that's your favorite? 
My favorite photo is of my buddy Stephen Bruckert sitting at his dining room table—it kind of looks like a work desk. He opens up the box and you see loads of genuine excitement. I also bought pizza for him and his wife but when he opened it he actually started breathing heavy, drooling and all. It was great.
Then there's the Times Square one, and the image where my friend Megan's cat makes an appearance. Considering that the project is so concise I genuinely like them all.
Can you explain the technical details about capturing these photos?
That's kind of complicated. Part of this project for me is solidifying proof that gear doesn't matter: lighting does as does having a genuinely cool concept, good content, and knowledge. The images were shot with:
Canon 6D
Sigma 35mm f1.4 Art
Tamron 85mm f1.8 Di VC USD
Nikon D750
Nikon 24-70mm f2.8 VR II
Sony a7
Sony 24-70mm f2.8 G Master
Sony 85mm f1.4 G Master
Flashpoint Zoom Lion
Godox Thinklite TT685S TTL
Rogue flashbender
Rogue gel pack
Basically, I specifically wanted the most control over the lighting possible so that I can emphasize the light coming from the box. So many of these shots are done at night, in the shade, indoors, etc. Then it was really about blending the ambient light with flash, mixing colors correctly to give me adequate skin tones, and making the images look natural.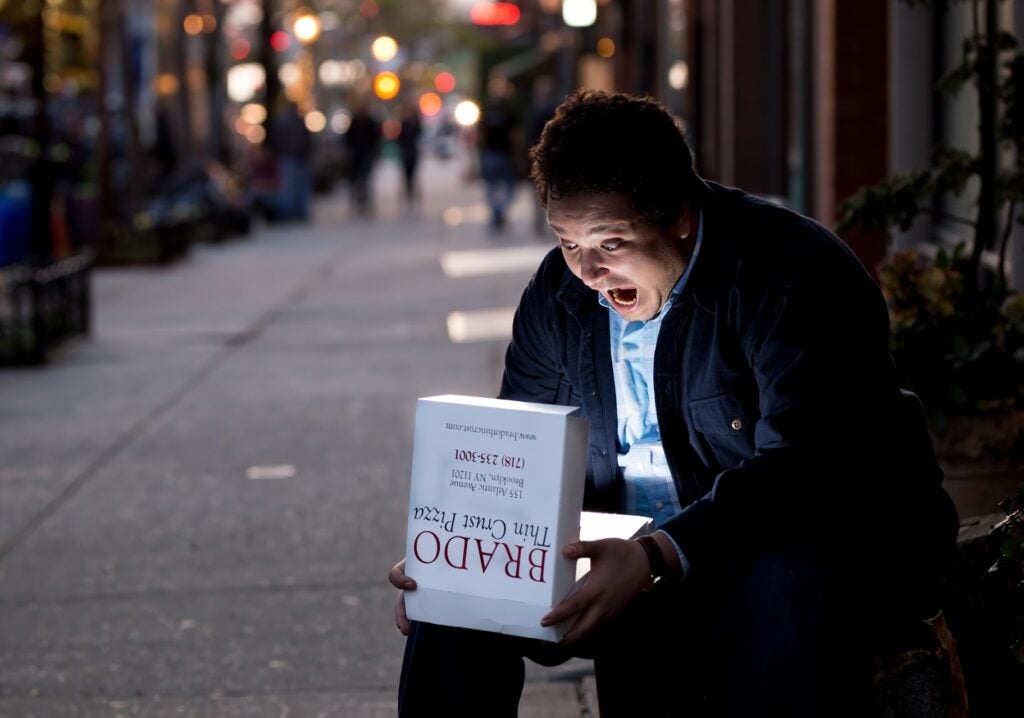 What's your favorite place to get a slice in NYC?
I'm a true NYC/Queens native, and you'll have to get my secret location from my cold, dead hands before I let anyone blow my spot up.
Can you share one not-secret spot for a great slice?
Lombardi's…I guess.