Mourn the Loss of Fujifilm's Much-Loved Instant Film With This Awesome Lapel Pin
Say goodbye to FP-100c in style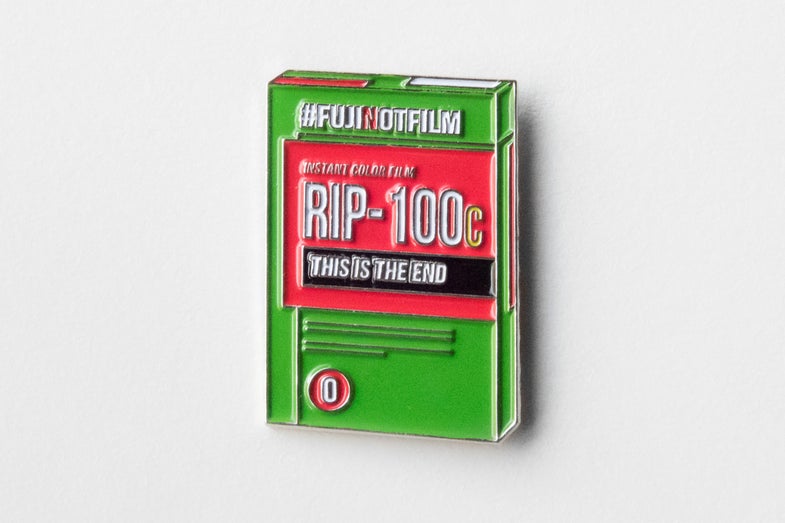 Anyone who has followed the blogs on PopPhoto.com in recent years knows that I have an aversion to cutesy products with no real practical reason for existing. Toilet paper covers that look like film cartridges? No thanks. But, I'm willing to bend my strictly pragmatic rule today to share this awesome post-humous tribute to Fujifilm's recently-discontinued FP-100c instant film.
The tribute comes in the form of a lapel pin from Shoot Film Co. which is run by photographer Mike Padua, who is also a ninja when it comes to finding awesome cameras in thrift shops. The pin depicts the film's box with some darkly humorous changes made to the text.
It has been a very long time since I shot Instant film, so the loss of FP-100c didn't personally hit me as hard, but I do know that pain. In college, I had a bad habit of spending my food money on Polaroid 55, which was a peel-apart black-and-white film that produced both a positive and a negative and has since been discontinued. The outcry over the FP-100c discontinuation has been pronounced, but that's what happens when a product has a small group of very dedicated users. It's a sad thing to see.
You can get the pin for $7.99 from the Shoot Film Co. store along with a collection of other rather awesome pins, patches, and stickers, all of which are film-photography-related.