Mentor Series: White Sands, NM
The best images from our trek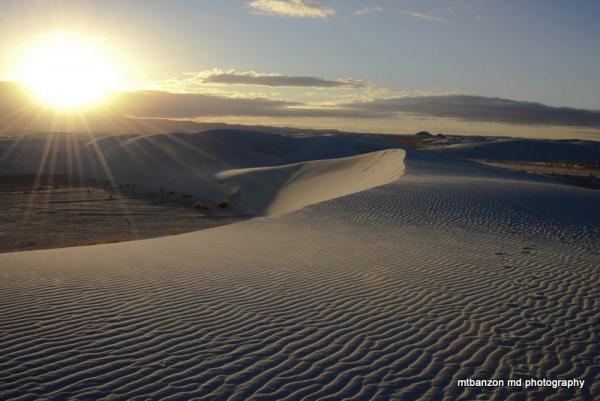 When a group of photographers came together in the southwest this past March, most of us really had no idea what to expect. We knew we were in for a weekend of photography, but we had no idea what exactly lied before us. We met our mentor Mark Alberhasky and group leader Erica Johnson in El Paso, TX and then made the drive to Alamogordo in New Mexico right outside of White Sands National Monument. We had an intro session to get a sense of Mark Alberhasky and his work. It wasn't long before the entire group was eager and ready to go out and photograph in the mysterious sand dunes.
It was amazing to watch the light change and just how effectively that changed our photos over the course of the few days. The winds are high that time of year and that had its benefits and drawbacks, but mainly for photography it was a good thing. We saw some very dramatic clouds, and then the light would flatten. The whipping wind erased footprints in a big hurry, so it was easy to get images with the iconic ripples acting as leading lines in our images. We also added the human element for scale and context.
Many times we would wander off to find our own images, then meander back to the bus and re-group to compare stories. Then we would also photograph closer together as Mark taught us new techniques and assisted us in seeing things in a new way. Our digital review sessions were most appreciated, as we were able to learn from each other's work, as well as get one-on-one feedback from the mentor after we had photographed, and before we went out into the dunes again.
There really is no place on earth to photograph quite like the sprawling white sand dune fields found in this part of the world. Approaching this landscape photography with a professional photographer and a leader that knew exactly where to be and when, we were instantly at an advantage. Throughout the course of the few days we captured an unbelievable night sky, the sun rising over the massive dunes, and the most dramatic clouds moving through during the sunsets.
We will not soon forget our experience on this trek weekend, and will carry with us new photographic suggestions and unmatched landscape photos. Many thanks to the Mentor Series for the flawless planning and hard work. See you on another trek!