Mentor Series: Scott Kooken Captures A Grand Teton Sunrise
Finding a foreground in a heavenly lit scene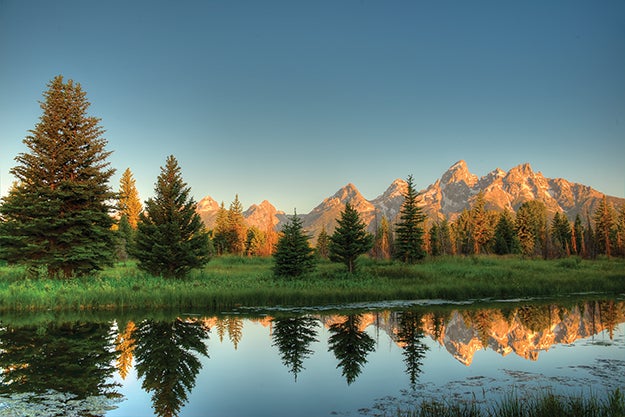 At 5:15 AM on a chilly spring morning, Mentor Series participant and Bloomington, Indiana, resident Scott Kooken moved quickly so as not to lose the light. He was working Schwabacher Landing in Wyoming's Grand Teton National Park, in search of the perfect composition for this idyllic sunrise. "Thanks to the experience and foresight of the mentors, we arrived before the usual predawn rush of photographers," he remembers.
After bagging some "beautifully pink" shots of the morning mountains, he began searching for a beaver lodge to add foreground interest. "It was an amazingly calm morning and the perfect reflections of the pine trees here caught my eye," he says. The beaver lodge could wait. Skills Kooken and wife Cathy have learned across their Mentor Series treks?
Start by practicing travel photography long before you leave. He had a leg up for this sunrise, for example, by finding the perfect combination of ISO and white balance for similar scenes at home. "Don't be struggling with camera settings when 'The Shot' presents itself," he advises. When possible, hire a local guide. "We used Navajo guides on a Monument Valley trek. Not only did they take us to prime photo spots, but they gave us an unexpected and fascinating look into their life and history, too," says the photographer.
While the Schwabacher Landing moment was a high point of his trip last June to the Tetons, this wasn't the only satisfying picture he bagged. "The Heart 6 dude ranch gave a multitude of photo opportunities—from horses running in the water to the ranch hands driving 80 mules and horses past the camera positions of us 30 photographers," he recalls.
The Jackson Hole Rodeo also proved exhilarating. "We were given amazing access to the arena, and then the mentors challenged us to a fun project: incorporating motion in our photos," he recalls. "We all got back on the buses with smiles, full memory cards, and a lot of cow poo under our shoes."