Mentor Series: Mike Kerouac's Ghost Town Haunts
Combing a Nevada ghost town for signs of life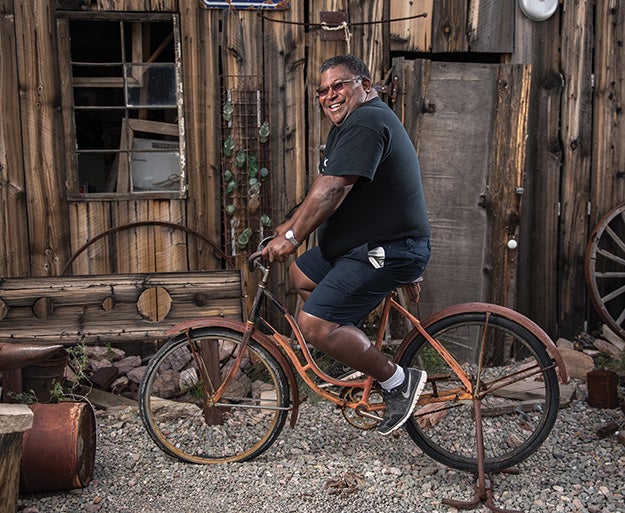 On a Mentor series location lighting workshop, Mike Kerouac walked through the ghost town of Nelson, Nevada, population 37, engrossed in its weathered wood, tumbleweeds, and early 20th-century signage. The town's well-preserved barns, shops, and antique mining structures all appealed to this tech exec from suburban Boston. Great backgrounds were everywhere.
A rusty bike balanced on a stand in a weather-beaten and prop-filled barn caught his eye. He set up his strobes and softboxes, then made a few tests. But something was missing: Someone should be on the bike, he thought.
Kerouac and his son Chris are veterans of three Mentor Series trips, including the lighting excursion to Nelson. Apart from studio location lighting, a take-away from Nelson for Kerouac was "that the Golden Hour is real. Images taken around sunrise and sunset really do have much greater appeal than images taken midday. With most city- and landscapes, side lighting creates more depth in an image than front- or back-lighting can," says the photographer.
But that wasn't his biggest lesson. While working with the group, he realized that photography could be a great team sport. "We all worked together during the shoots. One of us steadied the light stand, while another one held and aimed the back- or fill-light, and a third person took pictures. The process worked well all day long," he says.
The photo here illustrates that team spirit. When Kerouac mentioned that the bicycle scene needed a figure in it, co-participant Wayne March set down his camera and jumped on the bike, grinning from ear to ear.