Mentor Series: Manny Larioza's Picturesque Sedona
A new view of a familiar landscape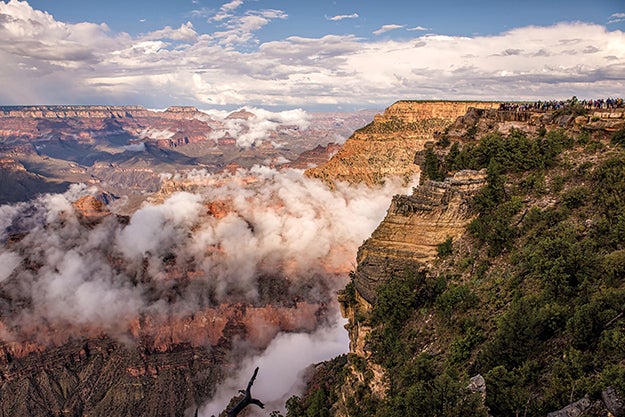 Sedona, Arizona, is a popular Mentor Series destination, and it's no surprise: Called by some "the Hollywood of Arizona," Sedona has provided those iconic red rock formations above the galloping cowboys in many a Western film. For Manny Larioza, an IT specialist from Palm Bay, Florida, those sandstone mountains weren't the only draw. For him, the nearby Grand Canyon proved transformative.
"I took the Grand Canyon shot on the rim trail at Mather Point," says Larioza. "It had been raining all morning and fog covered most of the valley. Visibility to the canyon floor was iffy." The weather predictions called for a clearing, though, so the photographers waited and were rewarded for their patience with a parade of low-hanging clouds that floated magisterially down the valley before them. "It was a sight to behold," Larioza recalls.
The Sedona adventure taught him the benefits of waiting through sub-par weather. "In these conditions, the skies are always changing. Be patient, and keep a look out for interesting light. At one point, we were treated to a rainbow," he remembers. "If I had been traveling to the Grand Canyon on my own, I probably would have called that day a rain-out and sat in my hotel room, missing out on all the great shots I was ultimately able to get by joining the group."
Other advice Larioza offers to anyone who wants to shoot in the red-rock country surrounding Sedona:
• Be prepared for crowds. Most tourists congregate at the same spots. "As the days went on, I found myself taking less and less of my gear, because the venues were so crowded. Pack light and make sure you have a good wide-angle zoom," he advises.
• Jump on the Pink Jeeps. The Mentor Series crew toured with the famous Pink Jeeps of Sedona and enjoyed a memorable experience. "We were able to get up to the Mogollon Rim, where we took absolutely breathtaking shots of the Sedona Valley below," says Larioza.