Mentor Series: Alex Sneiders Captures the Vibrant Hues of India
This trip participant shares his tips for beautiful cityscapes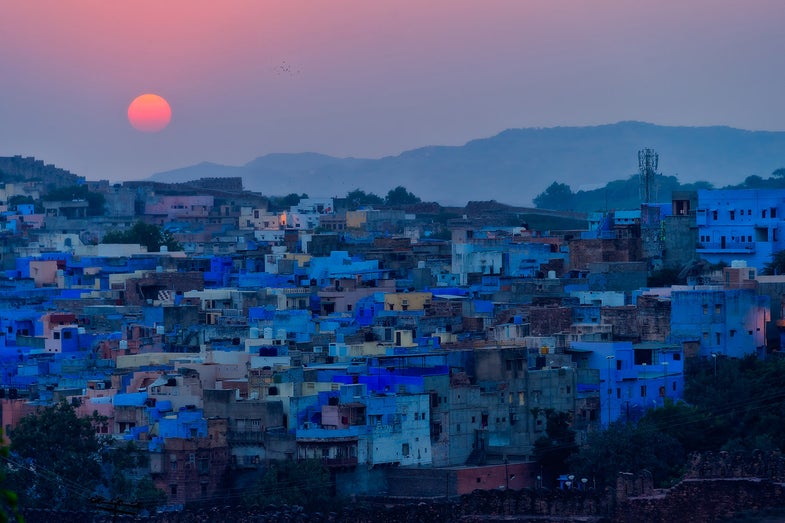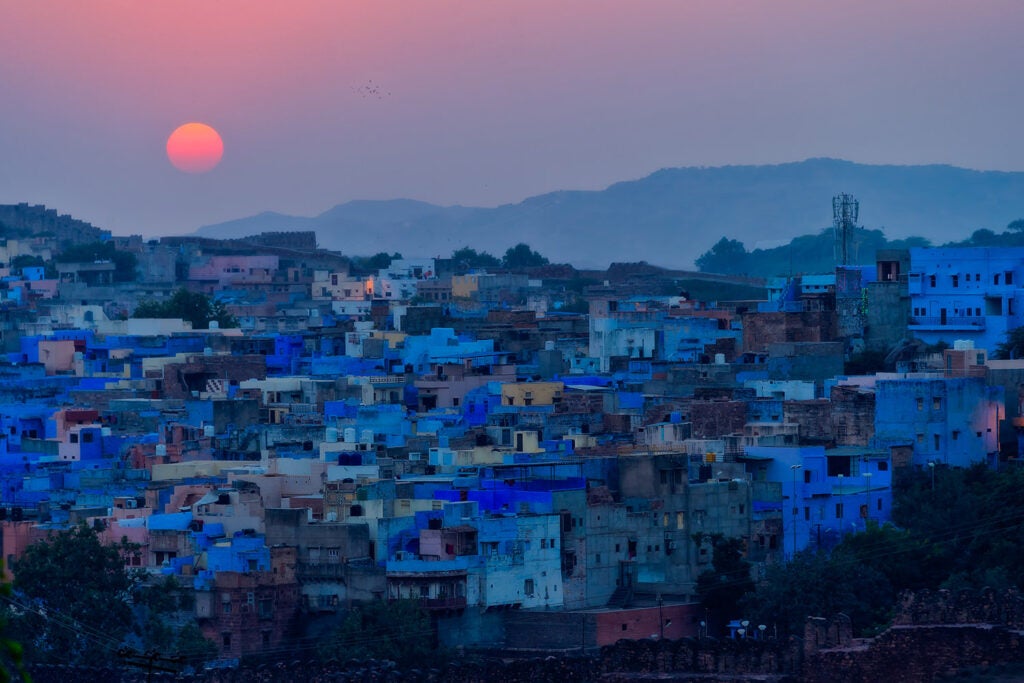 It wasn't the teeming hordes of pedestrians that alarmed Alex Sneiders as he made his way through the sweltering streets of Jodhpur, India. As this doctor from Owatonna, Minnesota, recalls, something else about the famous "Blue City" tormented him. While indigos were certainly dominant in Jodhpur, the city offered the Mentor Series visitors a host of other colors, as well. "The blues were wonderful, but they also made great backgrounds for subjects with contrasting colors," says Sneiders.
During the photo workshop in November 2015, Jodhpur was blanketed in smog. While this meant longer exposures and higher ISOs, the smog dimmed the setting sun enough that including it in shots like the one here had little effect on Sneider's final exposure. The moral: Smog can be a photographer's friend.
Sneiders explored the Blue City carrying two camera bodies, one outfitted with an all-in-one 28–300mm zoom and the other with a fast 85mm lens mainly for portraits. To take advantage of its faster aperture, Sneiders tried the 85mm for this dusky cityscape, but the focal length was too short. Glad that he came prepared, Sneiders switched to the 28–300mm and zoomed to 200mm. "It made the individual buildings and the sun more prominent," he says.
So what was bothering him? While the structures were beautiful, they were very tightly packed along narrow, curving alleyways. "I became disappointed because I hadn't gotten a good overlook of the city," says the photographer.
Establishing shots (as these overviews are called by cinematographers) are pivotal in travel photography. As the trekkers started to wrap, Sneiders says, "off to the left, the setting sun caught my eye. The warm yellows contrasted with cool blues and excited me." Forty shots later, he had his overview.