Lens Test: Zeiss Planar T* 50mm f/1.4
A lens for those serious about DSLR video.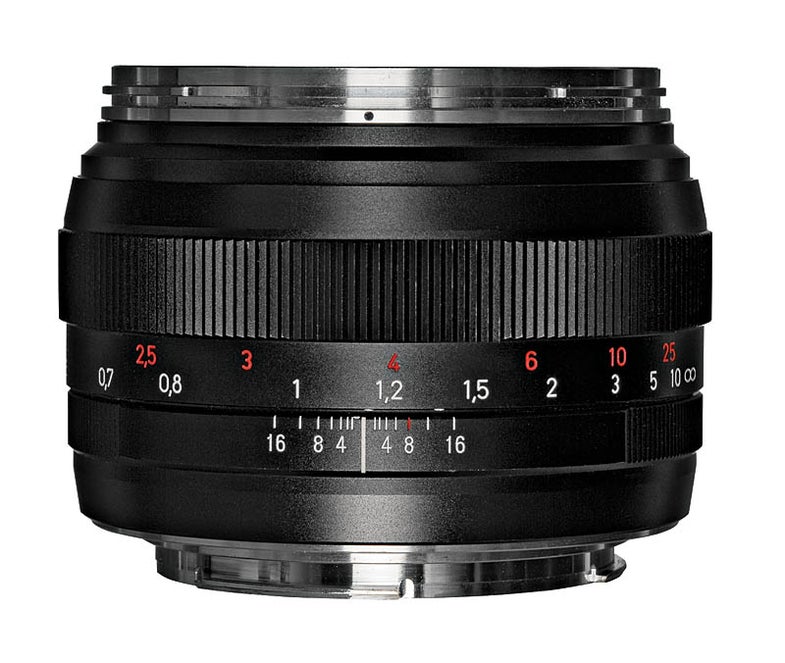 We may earn revenue from the products available on this page and participate in affiliate programs. Learn more ›
In 2007, German lensmaker Carl Zeiss branched out from the medium-format lenses it had concentrated on for decades and followed its customers to the digital SLR 35mm platform. Now, four years later, the line spans nine focal lengths from 18mm to 100mm, all primes with manual focus only.
The 50mm f/1.4 may be the most interesting. The fastest and lightest of the new breed, it is available in the most mounts and costs the least by far—though still plenty of coin ($725, street).
It's a highly useful, normal focal length on full-frame bodies, and, on APS-C-format bodies, converts up to focal lengths fine for portraits: 75–80mm, depending on the sensor. Its speed suits it to low light and active subjects.
Design and Handling
Well marked with large subject distance scales in red (feet) and white (meters), the lens comes with a velvet-lined, metal lenshood that adds to its serious and sophisticated feel.
The lens is compatible with all autoexposure modes and offers focus confirmation, so you're not completely on your own in focusing manually.
Indeed, although this Zeiss may seem hobbled by its lack of autofocus, this is, ironically, its main attraction. The long turning radius of its finely-ribbed manual-focus ring (220 degrees) allows for unusually precise positioning. The equally fine, all-metal helicoid threading of the MF mechanism also produces an unusually smooth turn with a satisfying resistance.
This distinctively liquid and silent manual-focus action suits the lens uniquely well to DSLR video. In fact, Zeiss claims to sell as many to videographers as still photographers.
In the Test Lab
On our optical bench, the lens turned in Excellent-range SQF numbers, indicating, unsurprisingly, top-drawer sharpness and contrast. Of the four or five high-speed, full-frame 50mms tested in recent years, only the Sigma 50mm f/1.4 ($500, street) was significantly sharper.
On our DxO Analyzer 3.2 and other optical tests, the Zeiss's results—including Slight barrel distortion and essentially no light falloff—match or beat the class of fast 50s.
Bottom line? DSLR owners who are seriously into video owe it to themselves to try this lens. The buttery-smooth focus shift that melts from near to far has to be experienced through a viewfinder—or on a big movie screen—to be appreciated.
SPECIFICATIONS:
50MM (51.74mm tested), f/1.4 (f/1.45 tested), 7 elements in 6 groups. Focus ring turns 220 degrees.
DIAGONAL VIEW ANGLE: 45 degrees.
WEIGHT: 0.87 pound.
FILTER SIZE: 58mm.
MOUNTS: Canon, M42 screw, Nikon, Pentax K/Samsung.
INCLUDED: Lenshood.
STREET PRICE: $725
TEST RESULTS:
DISTORTION: 0.24% (Slight) barrel.
LIGHT FALLOFF: Gone by f/2.
CLOSE-FOCUSING DISTANCE: 17.62 inches.
MAXIMUM MAGNIFICATION ]RATIO: 1:6.32.