Lens Test: Zeiss Otus 28mm F/1.4 ZF.2
An outstanding 28mm that's built to last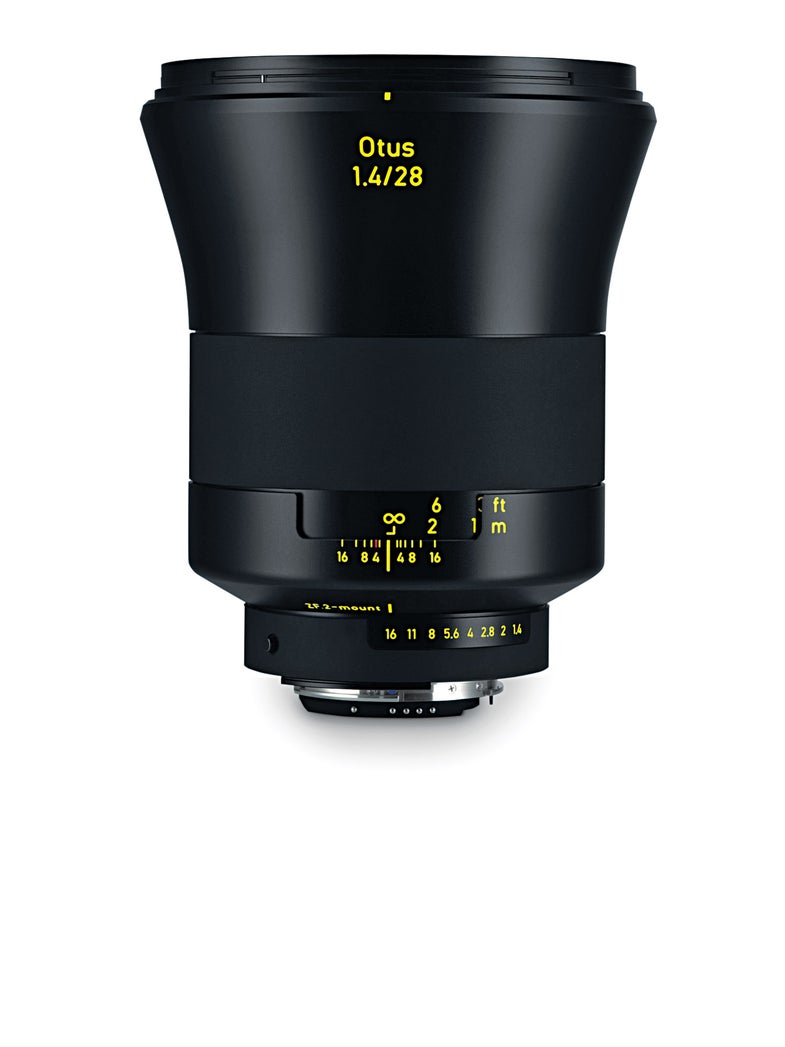 We may earn revenue from the products available on this page and participate in affiliate programs. Learn more ›
When Zeiss launched its Otus line of premium manual-focus lenses for DSLRs a few years ago, the venerable German company combined superb optics with a minimalist, heavy-duty barrel design. And with this full-frame 28mm f/1.4, the Otus line now has a wide-angle for Canon (ZE) and Nikon (ZF.2) mounts. Will this new wide-angle, which streets for $4,990, live up to its predecessors in the crème de la crème of lenses? We tested a sample in a Nikon mount to find out for ourselves.
The wide 28mm is a tougher focal length to make than the Otus line's 55mm f/1.4 and telephoto 85mm f/1.4 glass. This Zeiss conforms to the company's Distagon T* lens formula with 16 elements in 13 groups. Two elements are aspherical, one of these aspherical on both sides.
Compared with other lenses in its focal length and aperture range, the new Otus is long and heavy. We stacked it up against a Nikon 28mm f/1.8G, Rokinon 24mm f/1.4, and Sigma 24mm f/1.4 and found it longer by as much as an inch and heavier by almost 1.5 pounds. That said, the lens did balance nicely on our test camera, a Nikon D4S—not a small device itself. And the solidity gives you confidence that its build is robust enough to last a lifetime.
Its focusing ring is more than an inch wide and easy to grip. Bold yellow markings in feet and meters stand out on the lens barrel, allowing you to scale focus in near-darkness. Infrared demarcations accompany the depth-of-field scale, both a rarity in these days and very helpful on a manual lens. Handling this lens is a real pleasure; the focal movement is smooth as silk and makes for easy and accurate focus.
On our optical bench in the Popular Photography Test Lab, the Zeiss Otus 28mm produced excellent-range SQF results for sharpness and contrast. It scored slightly better (by almost two points) than the Nikon and Rokinon we compared it to at our 11×14 inch benchmark print size. It also beat the Sigma at most apertures, though by a lesser degree. Interestingly, the Sigma 24mm actually proved sharper at its largest marked apertures, f/1.4 and f/2.
In our distortion tests using DxO Analyzer 6.1 software, we found 0.18% barrel distortion in images from the Otus, scoring in the Slight range. The Nikon and Sigma also earned Slight scores at 0.22% and 0.17%, respectively—very similar results. These three lenses all garnered much better ratings than the Rokinon, which dropped to the Visible range at 0.36%.
Light falloff was gone by f/2.8, better than both the Nikon and Rokinon, which exhibited vignetting until f/3.5 and f/4, respectively. Here, too, the Sigma beat the Zeiss by a hair, clearing all light falloff at f/2.5. In close-focusing performance, the Otus did well at 11.75 inches, but this didn't measure up to the other three lenses, none of which had a minimum focusing distance of more than 9.75 inches. Maximum magnification, at 1:5.22, again was decent but surpassed by the others (1:3.96 for Nikon, 1:4.67 for the Sigma, and 1:4.84 for the Rokinon).
All told, the Otus is a great lens. We will even venture to say it's one of the best wide-angle lenses. Its construction is nearly unbeatable. But Sigma's 24mm f/1.4 lens is comparable, and its street price a much more manageable $849. Beautiful as this Zeiss is, it's not for a photographer on a budget.
SPECIFICATIONS 28mm (28.71mm tested), f/1.4 (1.48 tested), 16 elements in 13 groups. Focus ring turns 130 degrees.
Diagonal view angle: 75 degrees
Weight: 3.02 lbs Filter size: 95mm
Mounts: Canon, Nikon
INCLUDED: Lenshood
Street price: $4,990
Website: zeiss.com
TEST RESULTS
Distortion: 0.18% (Slight) barrel
Light falloff: Gone by f/2.8
Close-focusing distance: 11.75 inches
Maximum magnification ratio: 1: 5.22