Lens Test: Tamron SP 35mm & SP 45mm f/1.8 Di VC USD High-End Primes
Tamron expands into full-frame primes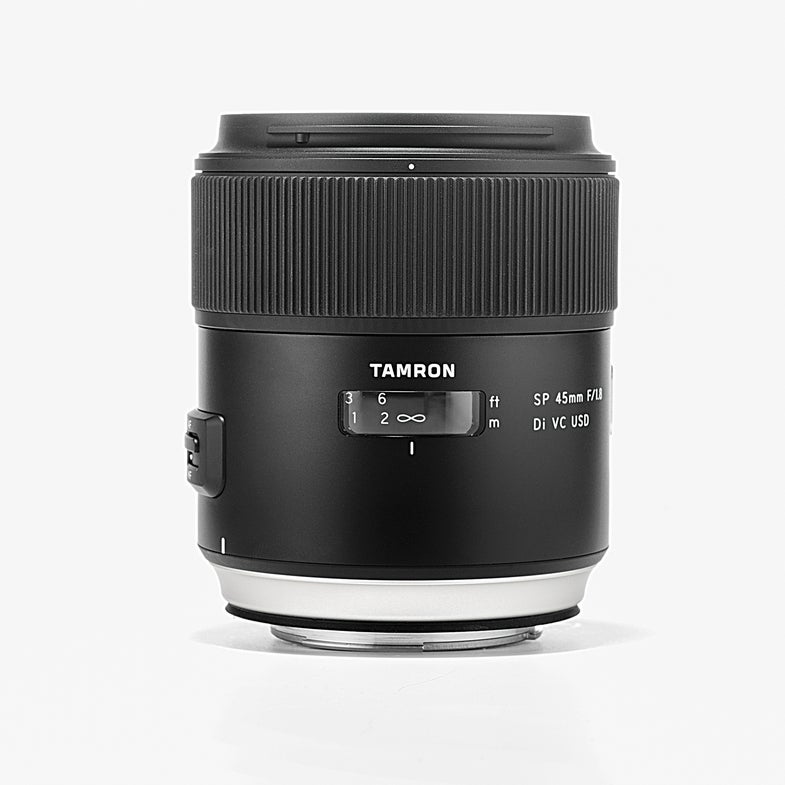 We may earn revenue from the products available on this page and participate in affiliate programs. Learn more ›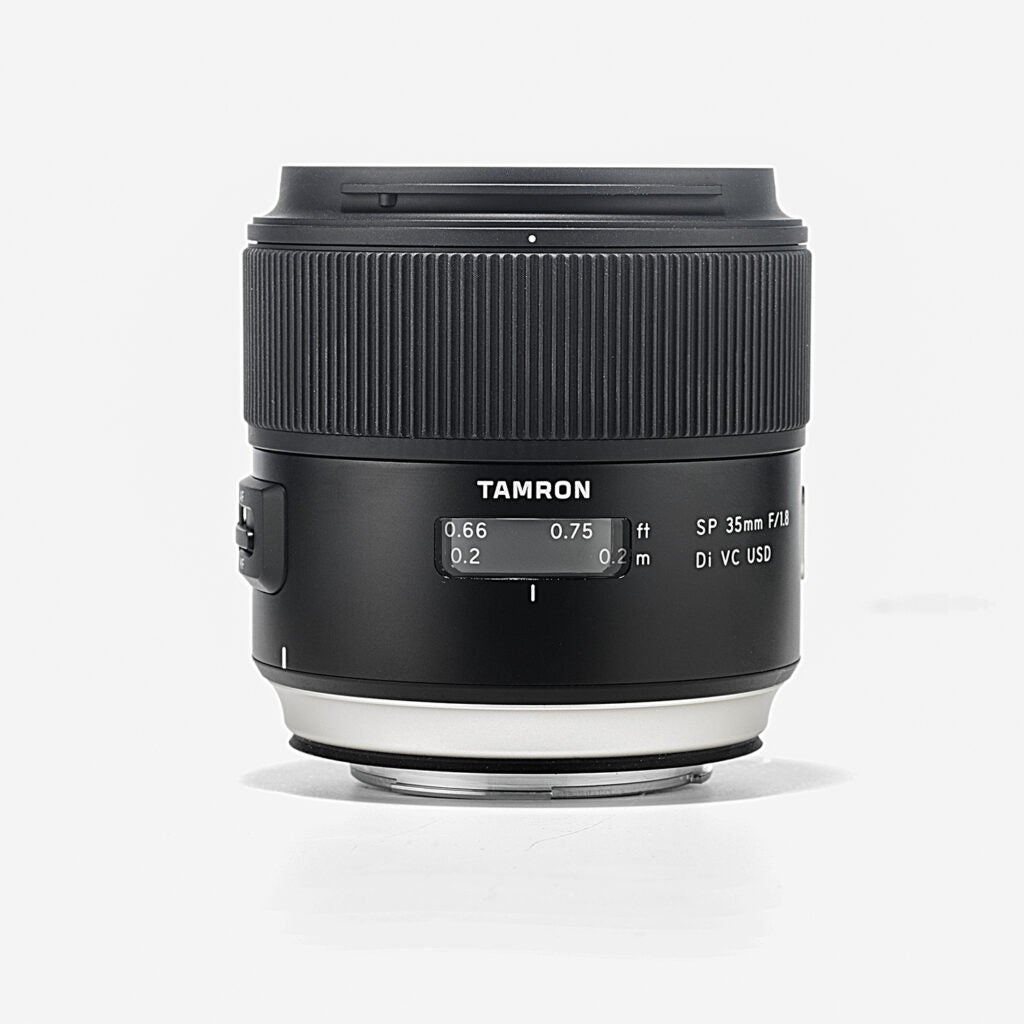 Tamron has moved away from its comfort zone in the zoom space and joined the growing group of third-party lens makers who are expanding into what might be called the new luxury prime market. These competitors include Sigma, Zeiss, and, to some extent, Rokinon, whose premier lenses generally provide large apertures, all-metal barrels, great builds, protection from moisture and dust, and sophisticated cosmetics that include sleek, matte black surfacing, crisp white barrel markings, finely ribbed focusing rings, and an overall luxurious feel in use.
New to Tamron's flagship SP line of Super Performance pro-oriented glass are a pair of surprisingly similar single-focal-length lenses: the 35mm and 45mm f/1.8 Di VC USD primes (each $599, street). The new Tamrons sport a now-familiar satiny black finish and the other handsome cosmetics prevalent in this category. Unlike premium glass from rival companies, however, these Tamrons are the rare primes that throw in Vibration Compensation. Tamron says it did this to accommodate the rising trend of super- high-resolution cameras (such as the Canon EOS 5Ds), which can record even miniscule evidence of camera shake.
Inside, both of these Tamrons have one LD (Low Dispersion) and two molded-glass aspheric elements; the 35mm adds an element of XLD (Extra Low Dispersion) glass. Tamron's proprietary Floating system is built into both—the company claims this helps reduce the minimum focusing distance and increase sharpness across the entire focusing range. On most APS-C-sensor bodies, the 35mm and 45mm scale up to, approximately, a 53mm and 68mm (56mm and 72mm on Canon), respectively.
On our test camera, the Canon EOS-1D X, both of these Tamrons had a solid, well-balanced feel, and like all wide-angle f/1.8s they were on the heavy side—the 45mm especially so relative to typically featherweight 50mm f/1.8 glass. Both lenses boast extra resistance to moisture and dust, thanks to O-rings around the lensmounts. Their Ultra Silent Drive (USD) autofocus motors delivered extremely quiet, quick, and accurate AF and also allow manual touch-ups in the AF mode. With a smooth and even turn and large, easy-to-read subject distance scales, manual focusing with both was a breeze.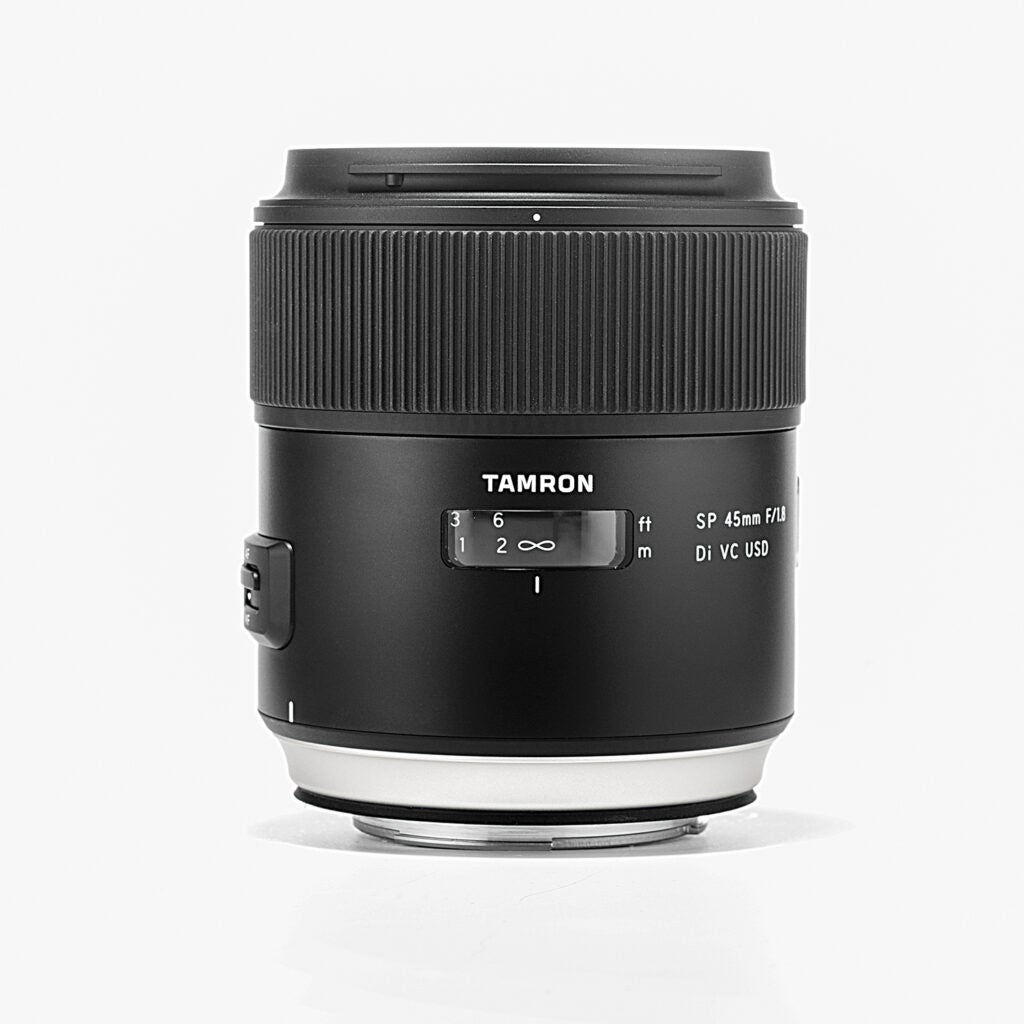 On our test bench, the 35mm produced Excellent-range SQF results, slightly better than the full-frame Canon 35mm f/2 IS and the Sigma 35mm f/1.4. Other comparable lenses we've tested, however—the Nikon 35mm f/1.4G, Rokinon 35mm f/1.4, and Zeiss Distagon 35mm f/1.4—produced slightly better SQF numbers at the benchmark magnification of 11×14 inches.
In our distortion tests using DxO Analyzer 5.3, the Tamron 35mm in the normal and macro focusing ranges showed Slight barrel distortion (0.14% and 0.18%, respectively). These results were slightly better than the Canon (0.19%), Nikon (0.26%), Rokinon (0.28%), and Zeiss (0.22%). Only the Sigma (0.12%) topped the Tamron.
Light falloff left the edges by f/2.5, the same as the Nikon, Sigma, and Zeiss. The Canon and Rokinon 35mm lenses, however, showed vignetting to f/5.6 and f/4, respectively. Macro range tests uncovered no noticeable vignetting.
The Tamron is the only high-speed 35mm we've tested that even comes close in subject magnification (1:2.31) to true macro (1:1); its nearest rival is the Canon at 1:3.88. It also wins the close-focusing race at 7.75 inches, beating the others by distances of between 1.43 and 5 inches.
Our tests of the 35mm's stabilization system showed a 2.66 stop gain in handheld shutter speeds in the normal focusing range, and a 1.25 stop improvement up close. That normal-range stabilization performance slightly outdid the only other stabilized 35mm, Canon's f/2, which delivered a 2.5 stop boost.
As for the 45mm, its competitive set includes the full-frame Canon 50mm f/1.8 STM and Nikon 50mm f/1.8G. While all three earned Excellent SQF scores, the Tamron lagged slightly behind the others. In our tests using DxO Anaylzer 5.3, the Tamron controlled barrel distortion (at 0.11%) considerably better than the Canon (0.20%) or Nikon (0.26%)—surprising because the Tamron 45mm is the wider lens and therefore should be more prone to distorting than 50mm glass. (The Nikon 50mm, for instance, dipped almost into the Visible distortion range.)
As with the 35mm, the Tamron 45mm delivered the closest focusing of the group by as much as 5 inches. Not surprisingly, the maximum magnification for the Tamron at 1:3.16 was also much stronger than the Canon (1:4.32) or Nikon (1:5.76). While the Canon ($125) and Nikon ($220) cost significantly less the Tamron 45mm, neither is stabilized nor features Tamron's advanced weather sealing.
The $599 street price for each of the Tamrons is more than fair, considering that the comparable f/1.4 Nikon, Sigma, and Zeiss sell for $1,800, $900, and $1,843, respectively. (That fraction of a stop in maximum aperture is a negligible difference.) Canon's more upscale f/2 matches the Tamron in price, and the Rokinon (without AF or stabilization) goes for $500. We are happy to see Tamron push beyond the zoom market and charge into the full-frame single-focal-length market. We're also excited to see what other premium primes it may have up its sleeve.
How the Two Differ: In heft, operation, and general feel, Tamron's 45mm f/1.8 is almost a doppelganger for the 35mm. It takes the same size filters, is available in the same mounts, has the same advanced weather-sealing, and is priced the same. Notable differences, though, include the 45mm's lack of an XLD glass element, longer manual-focus turning radius, lower maximum subject magnification, and length (about 0.4 inch longer than the 35mm). Tests of sharpness, contrast, distortion control, subject magnification, and stabilizing ability showed near matches.
35MM TEST RESULTS:
Distortion: 0.14% (Slight) barrel
MACRO DISTORTION: 0.18% (Slight) barrel
Light falloff: Gone by f/2.5
MACRO LIGHT FALLOFF: None
Close-focusing distance: 7.75 inches
Maximum magnification ratio: 1: 2.31
IMAGE STABILIZATION: 2.66 stops
MACRO IMAGE STABILIZATION: 1.25 stops
35MM SPECIFICATIONS:
35mm (35.44mm tested), f/1.8 (1.82 tested), 10 elements in 9 groups. Focus ring turns 160 degrees.
Diagonal view angle: 63 degrees
Weight: 1.14 lb
Filter size: 67mm
Mounts: Canon AF, Nikon AF, Sony AF
INCLUDED: Lenshood, SilkyPix Developer Studio 4.0 software
Street price: $599
INFO: tamron-usa.com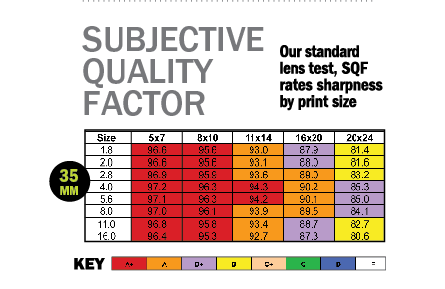 45MM TEST RESULTS:
Distortion: 0.11% (Slight) barrel
Light falloff: Gone by f/2.5
Close-focusing distance: 11.12 inches
Maximum magnification ratio: 1: 3.16
IMAGE STABILIZATION: 2.83 stops
45MM SPECIFICATIONS:
45mm (45.94mm tested), f/1.8 (1.85 tested), 10 elements in 8 groups. Focus ring turns 190 degrees.
Diagonal view angle: 51 degrees
Weight: 1.30 lbs
Filter size: 67mm
Mounts: Canon AF, Nikon AF, Sony AF
INCLUDED: Lenshood, SilkyPix Developer Studio 4.0 software
Street price: $599
INFO: tamron-usa.com