Lens Test: Rokinon 21mm F/1.4 ED AS UMC
A fast wide-angle for mirrorless ILCs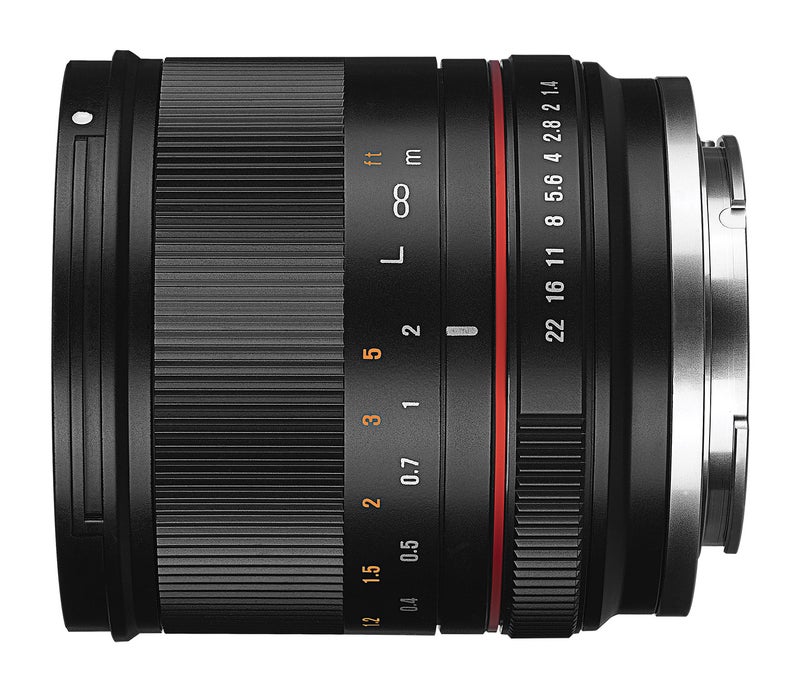 We may earn revenue from the products available on this page and participate in affiliate programs. Learn more ›
Filling a gap in its DSLR-heavy lineup, Rokinon has been producing manual-focus lenses for interchangeable-lens compacts (ILCs). The company's new wide-angle 21mm f/1.4 ED AS UMC ships in Canon M, Fujifilm X, Micro Four Thirds, and Sony E-mount (APS-C-format) variations, for $499, street. As with most Rokinon optics, the lens also comes in a cinema version with standard gearing.
The optical formula of the new 21mm comprises eight elements in seven groups, including one extra-low dispersion ED and three aspherical elements to fight chromatic aberration and spherical distortion. Depending on the sensor size of your camera body, the lens gives you an angle of view equivalent to a full-frame 32mm (APS-C) to 42mm (Four Thirds).
Wider-angle lenses for ILCs have a big advantage over their DSLR counterparts: smaller form factors and less weight. At just 2.66 inches long, this 21mm is a good deal shorter than full-frame 35mms from Canon, Nikon, Rokinon, Sigma, and Zeiss by between 0.86 and 1.73 inches. The new lens also weighs less—between 3.36 and 20 ounces less—helped by its aluminum-alloy construction.
The barrel sports a ribbed focusing ring with smooth 160-degree rotation. Landscape photographers—typically wide-angle shooters who often use circular polarizers and split neutral-density filters—should be pleased with the nonrotating front element in a 58mm filter size.
In our lab, the lens earned excellent SQF results at our 11×14-inch benchmark, in line with the full-frame lenses. Compared with other APS-C-format lenses we've tested, including Canon's EF-S 24mm f/2.8 STM and Fujifilm's XF 16mm f/1.4 R WR, its performance was less consistent. The Rokinon scored slightly higher than the Canon at 11×14; better by one letter grade (A versus B+) at 16×20 magnification; and better by almost a full level (opposite ends of the B range) at 20×24. The Fujifilm fared better than the Rokinon and Canon, especially at large apertures.
In our distortion control tests using DxO Analyzer 6.1 software, the Rokinon achieved an Imperceptible (0.10%) score for barrel distortion—a great result, but not up to the Fujifilm's 0.08% mark. Both lenses beat the full-frame glass we put them up against, all of which performed in the Slight range with the exception of the Canon, which led with its 0.05% rating.
The new Rokinon produced no light falloff by f/2.8, a better result than the Canon and full-frame Rokinon, which had vignetting until f/3.5 and f/4, respectively. However, the rest of its competitors bested this new 21mm; Fujifilm's 16mm led the group with falloff gone by f/2.
Close-up fans, be warned: Compared with the full-frames, the Rokinon's close-focusing, at 10.87 inches landed mid-pack, but the two APS-C-format optics we tested it against both resolved objects at nearer distances.
Rokinon glass is usually the least expensive we test, but not this $499 lens. Canon's 24mm, a pancake lens, streets at $149, but you need an adapter to use it on an ILC; the same goes for Rokinon's $399 (street) 35mm full-framer. So if you don't need autofocus, this Rokinon 21mm is still a bargain considering its optical performance, appealing focal length, and fast f/1.4 aperture.
SPECIFICATIONS
21mm (20.67mm tested), f/1.4 (f/1.47 tested), 8 elements in 7 groups. Focus ring turns 120 degrees.
Diagonal view angle: 69 degrees
Weight: 0.70 lbs Filter size: 58mm
Mounts: Canon M, Fujifilm X, Micro Four Thirds, Sony E
INCLUDED: Lenshood, pouch
Street price: $499
Website: rokinon.com
TEST RESULTS
Distortion: 0.10% (Imperceptible) barrel
Light falloff: Gone by f/2.8
Close-focusing distance: 10.87 inches
Maximum magnification ratio: 1:9.51