Lens Test: Pentax-DA 50mm f/1.8
Pentax's least expensive prime is fast and budget-friendly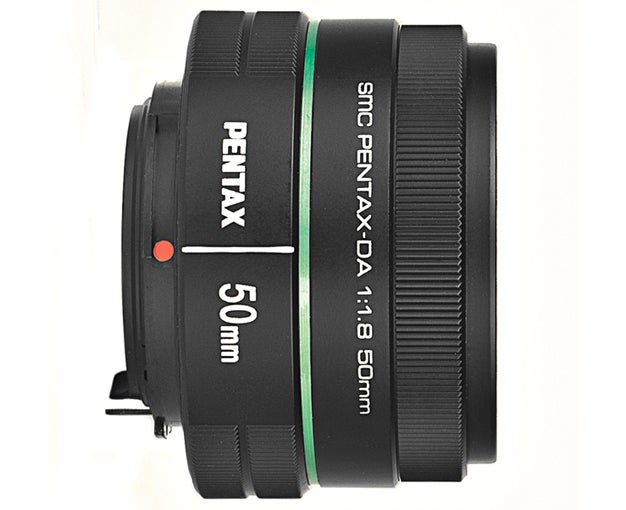 We may earn revenue from the products available on this page and participate in affiliate programs. Learn more ›
Pentax spent the year 2012 aggressively building out its lens lineup with glass designed for serious photographers. It unveiled its HD 560mm f/5.6 ED AW supertele, its generous 15X all-in-one 18–270mm, and its shockingly compact 40mm f/2.8 pancake. Then there is this 50mm f/1.8 DA SMC ($250, street), which seems more of a workaday tool than an exceptional instrument.
A 76mm full-frame equivalent, this APS-C short telephoto prime lens offers standard Pentax features such as the Super Protect coating that's resistant to dust, water spots, and fingerprints. The Quick Shift Focus system allows you to reach up and focus manually while the AF/MF switch is set to autofocus.
At less than five ounces, the lens is unusually light, a fact that's due, in part, to its plastic lensmount. In its dimensions, it is almost identical to Pentax's faster, familiar, film-era 50mm f/1.4 SMCP-FA, which is still in the lineup and streets for an attractive $360. (The faster lens actually takes smaller 49mm filters, versus 52mm for this one.)
Our test lens' manual-focus ring had a nice turning action, with a luxuriously long, 190-degree turning radius that's well suited to the fine focusing required for shooting at shallow depth-of-field apertures like f/1.8. With the exception of its model name, the lens offers no barrel markings.
In our field tests on a Pentax K-01, this lens' manual focus—used in concert with the crazy-cool focus peaking feature, which outlines sharp areas in your frame in white on the LCD screen—totally made up for its unusually loud autofocus motor. With MF coupled with focus peaking, we were treated to unexpectedly welcome levels of focusing speed, precision, and assurance.
Though noisy and, on several Pentax bodies, prone to hunting, AF was fast on the K-01. The Quick Shift feature that permits manual focusing in AF mode worked less elegantly than on other lenses. The turning action was unusually stiff, causing us to suspect that we might be harming the focusing helicals.
On our optical bench, the lens produced Excellent sharpness and contrast numbers that were higher than those of Pentax's discontinued full-frame 50mm f/1.7—which this lens reminds us of—but slightly below those of the f/1.4.
In our DxO Analyzer 4.1 tests, with just 0.06% (Imperceptible) barrel distortion, the new lens outdid most recently tested classmates, with the exception of Tamron's exceptional (though relatively expensive) 60mm f/2 APS-C 1:1 macro lens, which showed 0.04% barreling.
While the Pentax's price is high by 50mm f/1.8 standards—$80 more than the comparable Sony— the lens is optically superior to most of the competition. If you can deal with the fortissimo buzz of its AF motor, you'll find a perfect tool for portraits, low-light scenes, street shooting, and more.
SPECIFICATIONS
50mm (51.35mm tested), f/1.8 (1.76 tested), 6 elements in 5 groups. Focus ring turns 190 degrees.
Diagonal View Angle: 31 degrees.
Weight: 0.31 lbs. Filter size: 52mm.
Mounts: Pentax AF.
Street Price: $250.
Website: pentaximaging.com
TEST RESULTS
Distortion: 0.06% (Imperceptible) barrel.
Light Falloff: Gone by f/2.5.
Close-focusing Distance: 17 inches.
Maximum Magnification Ratio: 1:5.87.