Lens Test: Pentax-DA 35mm f/2.4 AL
This prime is priced just right.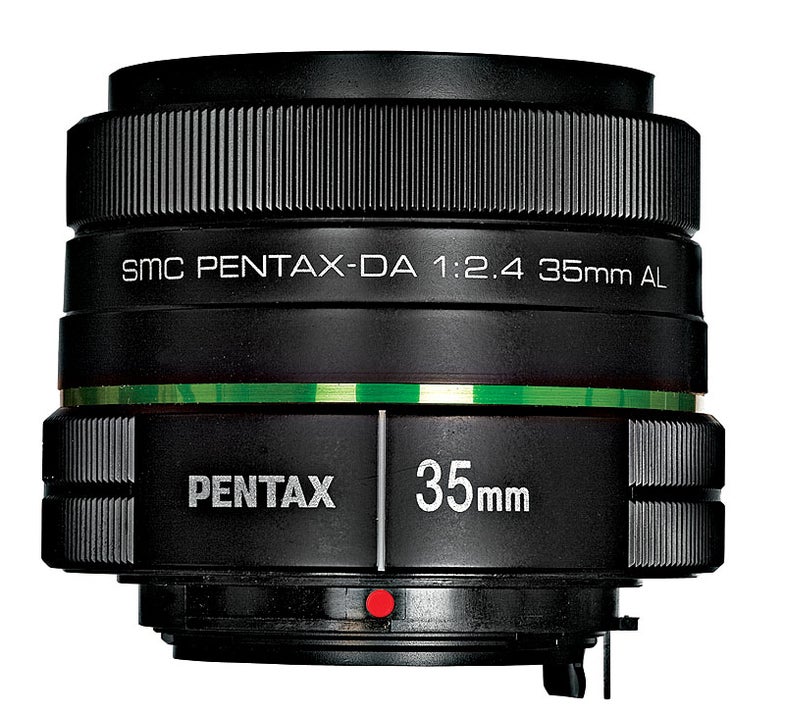 We may earn revenue from the products available on this page and participate in affiliate programs. Learn more ›
Scaling up to an equivalent 52.5mm normal focal length on Pentax's DSLR bodies, with their APS-C-sized sensors, the Pentax 35mm f/2.8 macro lens tested here exactly a year ago had a lot going for it. So why introduce this new 35mm lens with a slightly brighter, f/2.4, maximum aperture? Simply, cost.
The older lens offered better than 1:1 subject magnification and almost no linear distortion. Plus, as one of Pentax's Limited series, it was extremely well crafted. But it comes with a somewhat steep $540 price tag.
Weekend Pentax shooters wanted an affordable normal lens, and Pentax's marketing department no doubt wanted one that could be kitted with bodies such as the K-r to introduce DSLR newbies to interchangeable lenses. Enter this attractively priced DA 35mm f/2.4 AL ($220, street).
Design and Handling
The new lens is compact at well under 2 inches, and, thanks to its plastic lensmount and a glass/plastic hybrid aspheric element, extremely light. Attractively finished in satin black, with Pentax's distinctive ornamental ring of bright green polished aluminum, it offers a generous, finely ribbed manual-focusing collar.
The MF action, while smooth and even across the focusing range, turns loosely with slight slop. On the Pentax K-r, its AF was fast, though jumpy and rather loud (the motor is in the DSLR, not the lens). Undermarked, the barrel has no distance or depth-of-field scales.
In the Test Lab
Optically, this affordable Pentax performed surprisingly well, matching or dipping just slightly below the upscale Limited 35mm.
Our bench tests in the Popular Photography Test Lab found Excellent-range contrast and sharpness, promising rich subject detail. In DxO Analyzer Version 3.2 tests of its distortion control, the 0.11% pincushioning put it right at the border between Imperceptible and Slight ranges, a fine showing.
By way of comparison, Nikon's digital-only 35mm DX lens was negligibly sharper, with noticeably more distortion (0.27% pincushion). Priced the same as the Pentax, the Nikon is a faster f/1.8, however.
So your decision will depend on how you plan to use it and how much you want to pay. Suitable for all the classic 50mm (equivalent) subjects such as full-length portraits, vacation, holiday, and snapshots, this 35mm will no doubt please its target audience: users stepping up from digital compacts. Faster than most compact lenses, it's small and light, sharp, and nearly distortion-free—and you can't beat that price.
SPECIFICATIONS:
35MM (35.04mm tested), f/2.4 (f/2.48 tested), 6 elements in 5 groups. Focus ring turns 80 degrees.
DIAGONAL VIEW ANGLE: 44 degrees.
WEIGHT: 0.30 pound.
FILTER SIZE: 49mm.
MOUNTS: Pentax K AF.
STREET PRICE: $220.
TEST RESULTS:
DISTORTION: 0.11% (Slight) pincushion.
LIGHT FALLOFF: Gone by f/3.5.
CLOSE-FOCUSING DISTANCE: 11.62 inches.
MAXIMUM MAGNIFICATION RATIO: 1:5.37.