iPhone 7 Gets a Brand New Camera, iPhone 7 Plus Gets Two New Cameras, Both Get Fake Bokeh
Lots of processing power and a water-resistant body make the new iPhone very interesting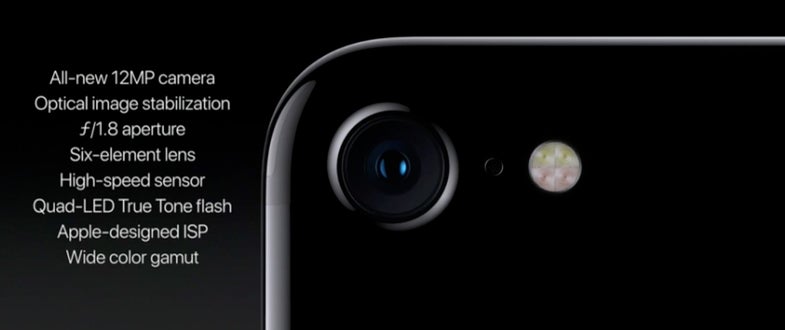 We may earn revenue from the products available on this page and participate in affiliate programs. Learn more ›

Rumors about the new iPhone 7 cameras have been running rampant for months, but today the 7 and the 7 Plus made their debut in the real world. Both brought a bunch of new camera hardware. Here's the rundown.
The big news comes in the form of the iPhone 7 Plus, which actually gets two new main cameras, one with a 28mm equivalent field of view and one with a 56mm equivalent field of view. Because it has two cameras, it enables "optical zoom," which in this case sounds like they're just switching from one camera to the other. The digital zoom can go up to 10x now, as well.

The lens on the 28mm equivalent camera now opens to f/1.8, which is up from f/2.2 on the previous iPhone. That's actually a tangible difference in terms of the amount of light it will let in because the F number was already rather small.
One of the big talking points for the iPhone 7 Plus camera is the addition of bokeh, or shallow depth of field effects. When switched into "Portrait" mode, the camera uses depth information in order to figure out where the subject is and then add blur to the rest of the image. The examples they showed during the presentation did have background blur, but it didn't have the same quality we're used to out of true bokeh.

The iPhone 7 gets only one new main camera, which is the same as the wide-angle camera in the 7 Plus. It's a new 12-megapixel sensor that Apple says is faster and better in low-light than the previous model.
It is the same 28mm equivalent with an f/1.8 aperture and six internal elements, which are used for optical image stabilization—something that was only available in the 6S Plus before.
Overall, the lowlight performance does look like it has been goosed, a feature that's certainly getting some help from the faster lens. The double camera system on the 7 Plus seems like it has some very interesting potential, but I'll reserve my opinion on the faked bokeh until I actually get to mess with it myself.
Both smartphones have gotten upgraded front-facing cameras as well, including image stabilization and a 7-megapixel sensor, up from five in previous models.