Traveling Photographer: Iceland
Here you'll find verdant green mountains rising to meet the sea, thousands of elegant waterfalls, exotic wildlife, geysers, and miles of unspoiled beaches—all photography-friendly year round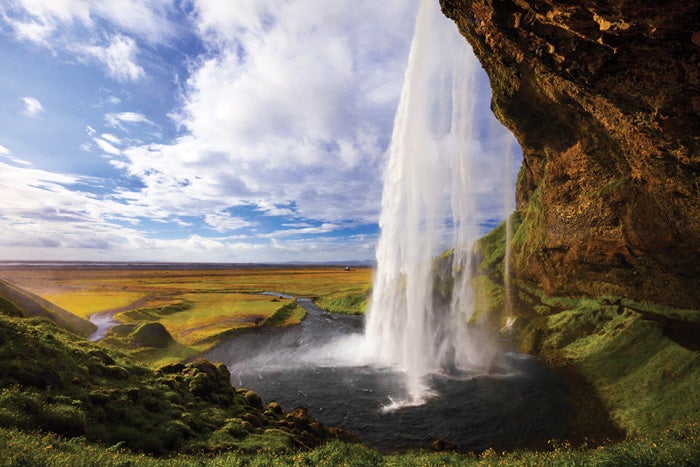 Mention Iceland to a casual observer and the response will probably be an exaggerated shiver and a speech on how cold and forbidding it must be. The reality, though, is very different.
A small European island in the northern Atlantic just south of the Arctic Circle, Iceland enjoys weather influenced by the warm surface water of the Gulf Stream, which moderates the climate. Summer is indeed cool and comfortable, yet winter is relatively mild, similar to, say, New York City.
Icelandic light is pure magic. The "golden hour" near sunrise and sunset stretches into several hours because of the extended path the sun takes adjacent to the horizon. Twilight lasts just as long, and in summer never really ends—it morphs into dawn, and the magic hours start over. The only problem you'll face? Finding time to put the camera down and get some sleep.
Shooting Waterfalls
The Icelandic word for waterfall is foss, and you will find a bounty of that suffix in unpronounceable words on signs all over the island. Iceland has more than 10,000 of them, enough to photograph one a day for almost 28 years. If you don't have that much time, focus only on the highlights:
Near the northern town of Akureyri, Godafoss is the area's favorite natural attraction. Icelandic for "Waterfall of the Gods," it gained its moniker by being on the receiving end of pagan statues after Iceland made Christianity its official religion in the year 1000. The north bank of the river near the parking lot hosts several conspicuous rock outcroppings, the ideal perch for framing telephoto and mid-range compositions that emphasize the sheer power of the horseshoe-shaped falls. The south bank lets you climb down to water level and go wide. Experimenting with long exposures can show off its softer, elegant side—best when interesting clouds or sunset colors paint the sky.
Gullfoss, or Golden Falls, is Iceland's most impressive in size, beauty, and power. On sunlit days, rising curtains of mist spawn 180-degree rainbows from horizon to horizon, creating a natural frame around the gigantic dual cataracts. Its relative proximity to Reykjavik and inclusion in the Golden Circle tourist route make this the island's most visited falls.
Seljalandsfoss (on the opening spread), while not Iceland's largest or most powerful, is one of its most elegant and graceful falls. You can walk behind the 200-foot cascade and view the expansive countryside through a wispy veil of falling water. It requires your widest-angle lens to capture in its entirety from top to bottom, especially when shooting from either side or from behind. If getting close is part of your photo strategy, cover yourself and your gear because you will get wet from the spray. The effort and mild drenching are well worth it.
Chasing Glaciers
Yes, Iceland has ice—six ancient glaciers, remnants of a massive icecap that once blanketed the island. Most are hard to reach without an experienced guide, a monster 4×4 vehicle, or a helicopter. But the largest, Vatnajökull, is a shortish hike from Skaftafell National Park in the southeast. Downwind of the latest major volcanic belch—Eyjafjallajökull in 2010—much of this Pleistocene-era ice looks dark and sooty.
At Jökulsárlón, one of Vatnajökull's outlet glaciers pares itself down by calving into a lagoon full of icebergs. These beautiful, polished blue gems slowly get sucked out to sea with the outgoing tide. No matter how many visits you make here, it's never the same scene twice. A telephoto lens is best for creating intimate portraits of each unique piece of ice. Work with shutter speeds of at least 1/60 sec for critically sharp images of these floating mountains.
Once in the Atlantic, many of the icebergs wash up on the nearby volcanic black-sand beach and scatter about like sparkling diamonds. Here, compelling wide-angle landscapes of ice, sand, sea, and sky become possible. Try to time the rhythm of the waves and position one or more beached bergs near the bottom of the image frame to anchor an expansive composition.
Geothermic Wonders
Know the origin of the word geyser? The Great Geysir in the Haukadalur Valley of southwest Iceland, a powerful spout capable of thrusting boiling water and steam 200 feet in the air. Although the Great Geysir has gone mostly dormant lately, the valley is still home to at least 30 other geysers, mud pots, and fumaroles.
The valley's new reigning champion is Strokkur, an impressive geyser that erupts on a reliable schedule, about every 5 to 10 minutes. Its water and steam can reach as high as 100 feet when it goes off. Photography is best on sunny days when there is enough contrast between the steamy water and dark blue sky. Another option is to capture an eruption either late or early in the day with strong backlighting for a more dramatic effect.
Other reminders of Iceland's distant and not-so-distant volcanic past are nearly everywhere on the island, from the barren lava fields that meet the horizon to the stunning black sand beaches along the southern coast. But the volcanoes themselves pose few photo opportunities, as most are buried under one of the major glaciers or ice caps. If you are lucky (or unlucky) enough to be present during a major eruption, you may not see much more than steam and a heavy ash fall. The rapidly melting glacial ice causes floods that can wipe out sections of road and bridges, and the ash cloud can cancel flights for a week or more.
Puffins and Other Wildlife
At just 20 million years old, Iceland is a relative youngster in geologic age. Its lack of maturity, coupled with geographic isolation, has prevented a progeny of fauna from evolving on its own in such a short time—it needed outside help. An example is the reindeer, which were imported from Norway around 1850 and now live wild in large herds in eastern Iceland. Telephoto lenses of 400mm or longer are necessary, as these wild animals should not be approached too closely.
The outrageously colored Atlantic puffin is a living icon of Iceland and a favorite photographic subject of wildlife and bird shooters. Over a half of the world's population of the species breeds here each summer along rocky, remote coastlines. The sea cliffs at Látrabjarg, Breidafjördur, Lundey, Dyrhólaey, and the Westmann Islands are some of the best locations to find puffin colonies for photography. Again, a long lens of 400mm or more will help capture tight frames of these striking birds. Puffin hunting is legal in many areas, so they do not tend to trust humans.
Other photogenic bird species found in Iceland include arctic terns, ptarmigans, whooper swans, white-tailed eagles, several plover species, razorbills, and oystercatchers. Most species are migratory, so summer is the best season to come get your avian photography fix.
Almost-Wild Horses
A cross between the horses of Scandinavian Vikings and the Shetland, Highland, and Connemara ponies of Ireland, the horses of Iceland are a stately fixture of this rustic landscape. They are rather small (often mistaken for ponies), sturdy, friendly, and expressive, with full, thick manes and wide, muscular shoulders.
Although not technically wild, the horses do seem to possess the very essence of Iceland's wild spirit. To photograph a band run across a windswept ridge, silhouetted against the stormy sea with their shaggy manes whipping in tow, is to capture this spirit perfectly. It's not very difficult. Any short drive into the countryside will bring you in contact with dozens of these beautiful creatures.
The Aurora Borealis
Between the months of September and April, the night sky gets dark enough to see and photograph the hypnotic light show of the aurora borealis at its most intense. For best results, you want a dark, cloudless, moonless night far removed from the ambient light of any cities or towns. Two hours before and after midnight are prime time.
To photograph the aurora successfully, start with a wide-angle lens set at its largest aperture and manually focus it to infinity. Experiment with several 30-second exposures at different ISOs until the exposure is correct. Depending on the brightness and intensity of the aurora, an ISO of 1000 to 1600 (for f/2.8) and 2000 to 3200 (for f/4) should be just about right. The aurora slithers and slides across the sky but does so very slowly—30 seconds will allow for details to be held in the lights while still keeping the stars as static points of light.
Richard Bernabe is a professional nature and travel photographer from South Carolina. He has written many photo instruction books and leads workshops and tours all over the world.
GETTING AROUND ICELAND
While 20-hour days, midnight sunsets, and extended hours of magical low-angled sun make summer the most popular season to visit, equinoxes in March and September are most active for the aurora. And don't rule out the surprisingly mild winter.
After flying into Keflavik International Airport (KEF), unless you take a commercial tour or photography workshop, the only way to see the country is by renting a car and hitting the open road. The airport is about 30 miles from the capital city of Reykjavik, and the smaller domestic airport there can take you on a short flight to other Icelandic towns. Taxi service from the Keflavik to Reykjavik is readily available.
Iceland Route 1, also known as the Ring Road, meanders around the perimeter of the island and affords easy access to many of the country's photographic hotspots. The 832-mile, two-lane loop road is well maintained and clearly marked with signs, so getting around by car is a breeze.
The official language is Icelandic, but English, being required in schools, is also spoken widely. Euros and U.S. dollars are accepted in most places, but it's still a good idea to carry Icelandic krónur just to be safe. Major credit cards are accepted nearly everywhere.
Seljalandsfoss
Richard Bernabe zoomed his 16–35mm f/2.8L Canon EF lens out to its widest to capture these unique falls that can be viewed from behind. Exposure in a Canon EOS 5D Mark II was 1/250 sec at f/14, ISO 100.

Iceberg, Jökulsárlón
An iceberg calving off the glacier. Bernabe used a 100–400mm f/4.5–5.6L Canon EF IS lens on an EOS 5D Mark II; 1/160 sec at f/11, ISO 160.

Bruarfoss
A 30-second exposure smoothed out the water of the falls. EOS 5D Mark II and 24–105mm f/4L Canon EF IS lens set to f/9, ISO 250.

Puffins, Dyrhólaey
Bernabe used the same gear as for the falls, above, to capture this trio. Exposure: 1/800 sec at f/8, ISO 640.

Aurora Borealis, Tröllaskagi Peninsula
A 30-second exposure was sufficient to record the aurora without making star trails. EOS 5D Mark II and 24–105mm f/4L Canon EF IS lens wide open, ISO 1600.

Icelandic Horses, Hveragerdi
Not quite wild, they are friendly and photogenic. EOS 5D Mark II, 16–35mm EF lens, 1/80 sec at f/18, ISO 100.