How To: Make Great Photos at an Amusement Park
Theme Parks offer many photographic opportunities, from the patrons to the vibrant colors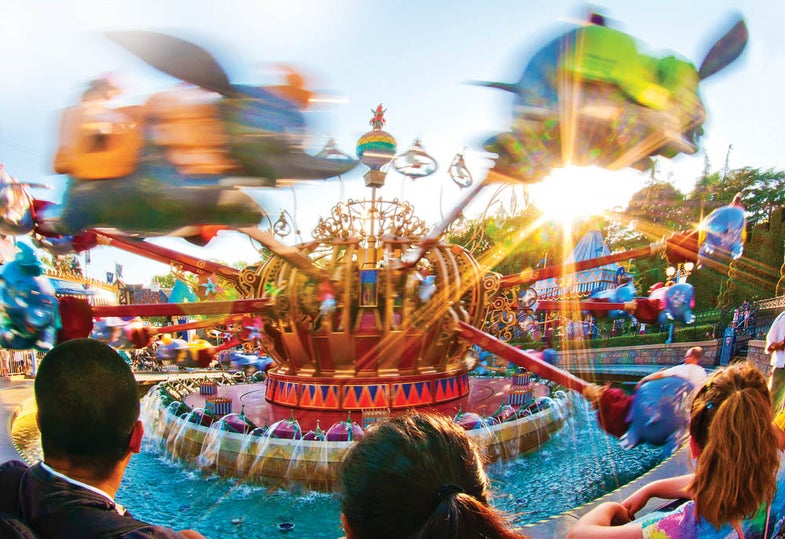 Americans have a fascination with theme parks, and visiting one is a rite of passage for most of us. Given the allure these parks have, they make a natural (if not somewhat surreal) place to expand the family photo album.
Theme parks are expensive, visual and other possibilities are overwhelming, and time speeds by. And so you'll want to do pre-trip image searches, and prep a shooting list. Iconic scenes (Hogwarts School or the Magic Kingdom castle, for instance) may seem trite, but they're also an excuse to find new interpretations. Reflections in a Mylar balloon, or a hand holding up a souvenir rollercoaster magnet in front of the real one are all possible examples.
Costumed characters, ranging from cartoon superstars to Pilgrims, constantly meander through parks and are happy to pose and interact with both kids and adults. Demand for them is huge, though, so grab the shots when you see them.
Rides are the big draw at many parks and if you're able to ride and shoot simultaneously, you can get wild action shots. Set your exposure mode to Shutter Priority or Action mode, and pick a high shutter speed to stop action (1/500 sec or above). Or try a slow speed (1/4 sec or longer) for motion blur. Tripods may not be permitted, so look for other camera supports.
Park happenings continue long after sunset—parades, fireworks, and fountain shows are common fare. Just pump up the ISO (1600 is a good start) and keep shooting. Don't forget to put the camera away for awhile and enjoy!
Where to Go:
The best sources for the current hot parks may be your kids, but in case they haven't reminded you today, here are the biggies:
California: Disneyland Park, Anaheim.
The original Disney park and the only one built under his supervision; dozens of attractions and entertainment every night. Go and pay homage to the Mouse.
California: Knott's Berry Farm, Buena Park.
Billed as America's first theme park. Retro California nostalgia, wild rides and food.
Florida: The Wizarding World of Harry Potter, Orlando.
Part of Universal Parks and Resorts Islands of Adventure. Here, wizards and Muggles mingle in the ultimate kiddy-lit theme park.
Pennsylvania: Hershey Park, Hershey.
Rides, stage shows, and the ancestral homeland of all things chocolate. Open weekends during October.
Tennessee: Dollywood, Pigeon Forge.
Thrill rides, traditional craft demonstrations, and, of course, music.
Texas: Dinosaur World, Glen Rose.
More than 150 life-size dinosaur models share the park with educational signage and exhibits, plus displays of baby dinosaurs, a fossil dig, museum, and more.