The State of Street Photography: How Has the Digital Era Changed a Classic Discipline?
Photographers reveal their secrets and thoughts about the increasingly democratic art of street photography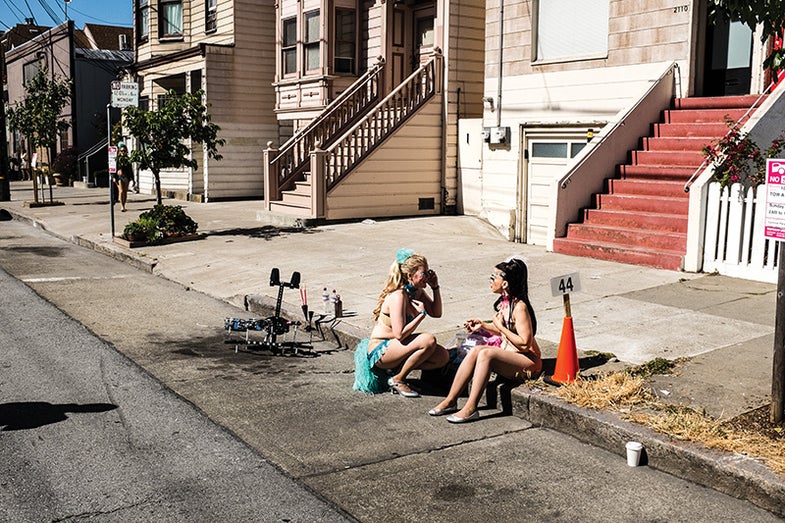 Jack Simon shot this San Francisco street scene with a Fujifilm X100S and an exposure of 1/2000 at f/8, ISO 640. Photo: Jack Simon
_Thanks to digital photography and instant online image sharing, street photography is enjoying a revival. Now anyone with a camera can head out and shoot whatever he or she thinks is street photography, then beam it to the world with a click. So a lot of good—and bad—street imagery is proliferating in cyberspace. What do the pros think? Here three established street shooters tell us about their approaches and how this challenging art form has evolved. _
San Francisco–based psychiatrist Jack Simon started seriously shooting street scenes about a decade ago, just as the digital era kicked into gear. "There seem to be many more people doing street photography now," says Simon, a longtime fan of the genre, "but galleries or museums are not necessarily part of this revival."
To advance his craft, Simon frequents online discussion forums. "I've improved my skills, educated myself further, and learned about competitions and photography festivals to enter," he notes. "I joined the international collective Burn My Eye, and it has become an important part of my photographic life."
Simon often updates his Flickr feed—where the May 2014 scene at right first appeared—and he uses the platform to enter and win various photography festivals. "I've been interviewed in several blogs," he says, "which has also increased my exposure. One video interview of me has been viewed on YouTube more than 60,000 times."
Shooting with a Fujifilm X100S—"it's small, light, and quiet," he says—he relies on spontaneity. "I don't have a specific theme or idea in mind of what I am going to photograph," says Simon. "I am using the street to find complex, colorful, and sometimes cinematic views. I prefer when the story is not clear and it is left up to the viewer to put his or her own interpretation on the scene."
_Melanie Einzig shot this candid with a Nikon D600 and 35mm f/2D AF Nikkor lens, exposing 1/1000 sec at f/8, ISO 400. Photo: Melanie Einzig _
Melanie Einzig started shooting street photography at age 15, "without being aware that it was what I was doing," she says. After assisting Joel Meyerowitz while in her thirties, she decided to "put a whole lot of time and effort into making pictures on the street." She counts Diane Arbus, Ben Asen, Brassaï, Helen Levitt, Raghubir Singh, Weegee, and Garry Winogrand as influences.
Einzig avoids shooting with any preconceived ideas about what she wants to photograph. "That's when my photography seems to falter," she says. "Enter with a kind of openness to see what is really there, not what you want to see or think you should see."
Einzig allows that confrontations happen "once in a while," adding that "they're not fun and kind of scary." When her subjects notice her, she prefers to "look the other way like you weren't photographing them at all. Then they feel like they may have been imagining you were taking their picture." If you are confronted directly, apologize, she advises. "I'd rather people feel happy that I made an interesting photo of them." Einzig relates that after she photographed a parking attendant recently, "he said to me in a totally charming way, 'You can put this on YouTube, my tube, whatever tube you want!'"
A former black-and-white buff, Einzig has been shooting in color since 1997. "Something about color is so beautiful to me, so alive," she says. She uses a Nikon D600 with a 35mm f/2D AF Nikkor lens; she also keeps a Sony RX100 in her bag for those times when she doesn't want to bring her big rig. "Choose a camera that feels right," she advises, "and rely more on your eye and your heart than on all the technologies."
She used a Nikon F100 for this candid shot. Photo: Melanie Einzig
_
_
Shot with a Leica M9 and a 35mm f/2 Leica Summicron-M ASPH lens with a 1/1000 sec exposure at f/10, ISO 800. Photo: Richard Bram
In the early 1980s Richard Bram started shooting side scenes during business events he was being paid to photograph. These days, he counts among his major influences his fellow members of the street photography cooperative iN-PUBLIC. "People connect emotionally with photographs made directly from reality," Bram says, "and iN-PUBLiC represents the gold standard of contemporary street photography."
Bram has mixed feelings about the current climate. "Social media has given voice to a very large number of great street photographers," he says. "There is a coolness factor to street photography these days." On the downside, he says, "It's completely unfiltered. Good images are almost immediately buried beneath scads of ordinary ones." To rise above the noise, Bram uses social media as a means of networking with traditional curators, publishers, educators, and gallery owners.
And he shoots a lot. "I always have a camera with me—therein lies opportunity," Bram says. "You are always looking, but you rarely know what you are looking for until it's in front of you." He usually carries a Leica M9 with a 35mm f/2 Summicron-M ASPH lens, as well as a 24mm f/2.8 Elmar-M or sometimes a 50mm f/2 Summicron-M. "Buy the best you can afford, with minimal shutter lag," he advises. "Keep it simple."
On the street, Bram tries to be "very fast and very quiet. People rarely know if I have made a picture of them until after I've done so. I almost never ask permission because the result would not have been what drew me in the first place." The ubiquity of cameras, Bram notes, have made the attitude toward shutterbugs on the street "more suspicious than it used to be." He avoids potential conflict with "a fast smile and a humble manner."
Shot on a Leica M9 and a 35mm f/2 Leica Summicron-M ASPH lens with a 1/350 sec exposure at f/6.7, ISO 400. Photo: Richard Bram