The Dramatic Storm Photography of Mitch Dobrowner
This daring weather chaser shares his tips for capturing the perfect storms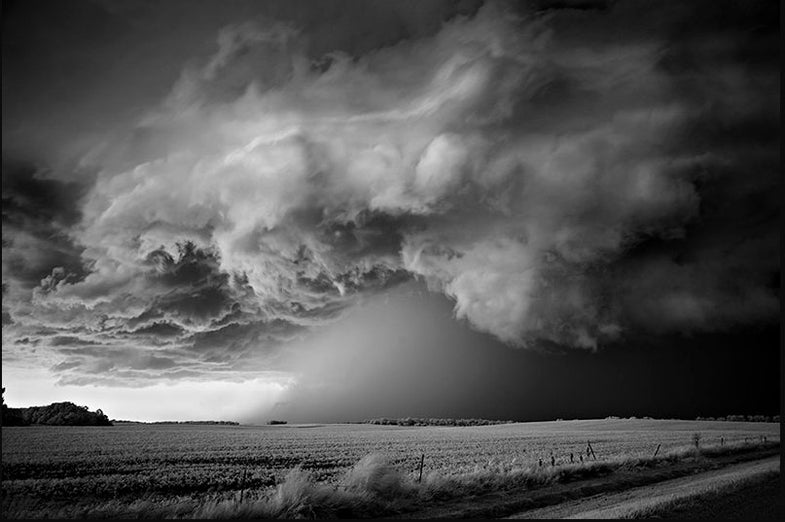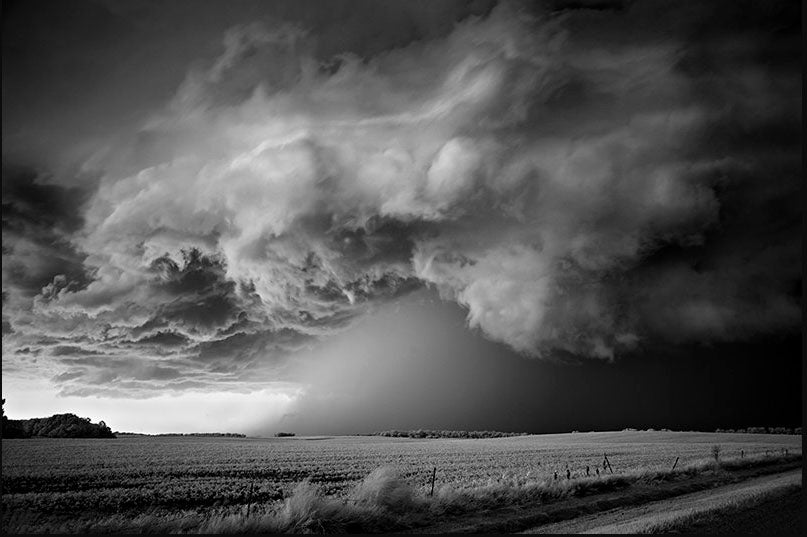 In 2005, Mitch Dobrowner picked up a camera again after a long layoff. In that time, Mother Nature has not been shy when dishing out intense weather and Mitch has made it his business to capture it. You can see more of his impressive work here.
How'd you get started?
As a teenager in the early 1970s, I was mainly about fast cars, motorcycles, women, and getting in trouble. Hoping to get me on a different path, my father gave me an old Argus rangefinder camera. It worked. I ended up with a scholarship to Pratt Institute, which I passed on because I didn't want to drive from Long Island to Brooklyn every day. My parents said, "Do something," so I went to Manhattan and started assisting.
At one point I was working for Hashi; Canon was one of his clients. I showed someone from the company my personal work and they gave me some funding. I used that to get the heck out of New York. I had been exposed to a lot of Ansel Adams, and, having grown up in New York, those landscapes just blew my mind. They looked like another planet to me, and I had to go see them.
I experimented with shooting tungsten film in daylight, using infrared, taking Ektachrome and developing it in C41, reversing things and using different types of filters—it was all so much fun. I was taking red, green, and blue filters and using triple-exposures and coming out with things that looked like they were exposed correctly but were multiple exposures on a single frame. That taught me about learning the fundamentals but doing my own thing.
Then I met my wife and I dropped photography for 20 years. We had our own design company, doing images for the TV networks.
What led you to storms?
I was shooting landscapes and always found myself in the worst weather because the light was the most interesting. [Storm chaser] Sean Casey lived behind me; he recommended someone I could go out with. I had this vision in my mind of what I wanted to shoot; Casey's friend recommended I go to South Dakota.
How has your technique evolved over the years?
Shooting storms is kind of a hybrid of shooting a quiet landscape and a sports event: Compositions are constantly changing, the light's changing, there's wind, there's noise, there's a lot going on and you have to stay focused. I used a Sony Cyber-shot DSC-R1 when I started in 2009, which wasn't the optimal camera for storms. It was really limited to landscapes, but I did get some of my best shots that first year, and it was great for lightning strikes.
The next year I upgraded to a Canon EOS 5D Mark II. I really like live view for shooting storms and landscapes. I come from a view-camera and wet-darkroom background, and composing in live view looked like ground glass to me. I don't understand why people still use optical viewfinders for landscapes. Now I shoot with two lenses: a 24–105mm and a 70–200mm. You give up a bit of sharpness with a zoom but you can compose on the fly—you don't have time to switch lenses or cameras because it all changes so fast.
Do you use filters?
Yup. I have two 5D Mark IIs—one that's modified for full spectrum (the IR and anti-aliasing filters have been removed) and another that is not modified. I think, What's the environment look like? What's the light look like? Then I choose how to filter based on what I see. In a lower-contrast or overcast situation without a lot of directional light, I'll use the body without the sensor filters. It gives me the opportunity to add screw-on filters to the lens. I can block parts of the spectrum based on the way the situation looks. I don't like the camera manufacturer telling me how I should see or expose. I like the freedom to pick and choose the way I want to do things. I also use filters with digital the way I did when shooting black-and-white film. Red (25), green, and blue filters are still important components in my arsenal. If I want to darken a sky I'll use a red filter or a polarizer.
Do you adjust on the fly?
When I drop my tripod, I'm usually set up at 50mm f/8 and half a second—and focused at infinity. Sometimes you drive 500 miles and drop your tripod and the perfect composition happens the second you drop it, sometimes a half an hour later. I don't shoot much. In a 10-day trip I might fill up two 16GB cards, but I only shoot sequentially if I'm trying to capture a lightning strike.
I don't use rules of composition. The main thing is just what looks good to me. A lot of my shots have a horizon in them, which helps ground the pictures, but I think everybody has to have their own vision. It's OK to go and use the rules—Ansel Adams has obviously influenced me a lot-—but that's a foundation to deviate from.
Why monochrome mode?
I shoot in RAW but in monochrome mode so I can see a preview of what I'm shooting. Unlike with a film camera, I don't have to imagine what it will look like in black-and-white, I can actually see it. When I convert my RAW file, all I do is take saturation and turn it to 0 and it looks very, very close to what I originally shot. Part two is prints: My final product and vision is the print. I print on Epson Stylus Pro 9900 printers using Epson's ABW driver. After all the experimenting I've found that the ABW driver gives me the most neutral black-and-white prints.
How do you prepare for a shoot?
When I hear music I see colors, and when I do photography most times I see the picture in my brain before I go out. I do a self-check and see where I'm at, what I'm looking to do, think of what I want to capture—what's my goal? Like that tornado shot: Before I went on that trip I knew I wanted to capture an iconic tornado. The Wizard of Oz made a big impact on me when I was a kid, and I just always envisioned this iconic tornado shot-—and then it was there. All of a sudden I was standing in North Dakota and there's this thing.
How do you deal with the weather itself?
I found that a cotton washcloth is the best way to keep rain off, and I've tried every kind of rain gear. I have long hair and I wear a beanie, which keeps the hair out of my eyes, and when it's pouring rain I put the beanie over the camera to keep it dry.
Also that thing of truly focusing on my work, even though there might be a lot going on around me. That's where storm tour leader (and photographer) Roger Hill, who I often go out with, comes in. I have to stay focused and enjoy the moment, not let it pass with pressure to get a great shot, but to really enjoy it. The only human thing I listen for is Roger saying, "We gotta get the hell out of here right now!"
How close are you to the storms?
Usually with a tornado, we're somewhere around a mile, mile-and-a-half from it. Roger usually thinks of an escape route. We never get ourselves in a super dangerous position, though we have what he calls close encounters where we get right under something, like a rotating cloud. It's pretty safe though. I don't get scared because it's so amazing what I'm looking at. We can be far, we can be close; every storm is a little bit different. I see these storms as living things—I'm taking a portrait of them.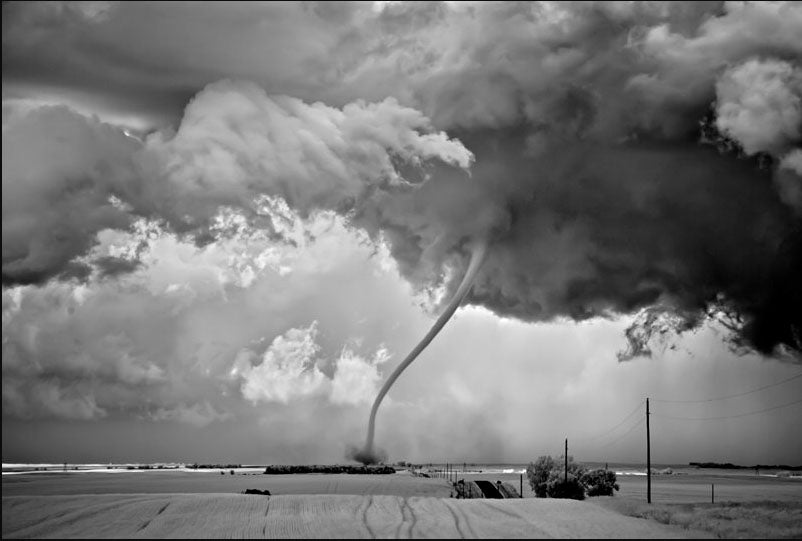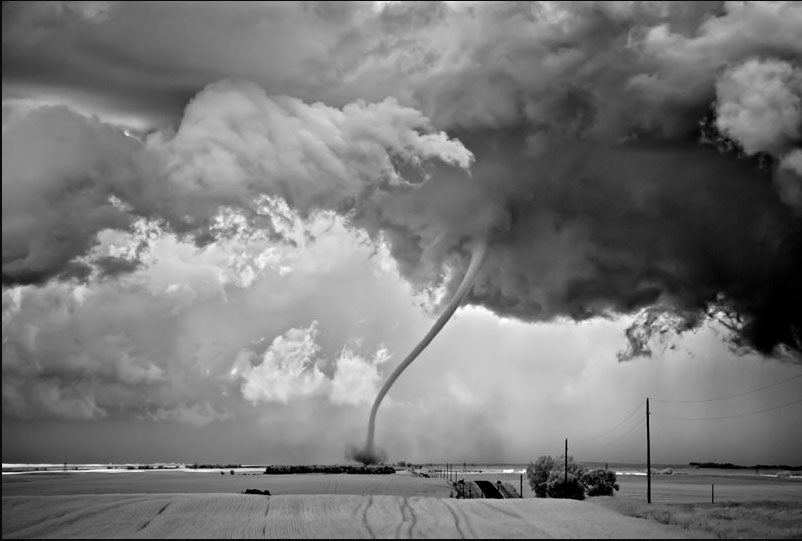 stormcatcher3
"Arm of God," Galatia, Kansas, 2009. Sony Cyber-shot DSC-R1, 1/4 sec at f/8, ISO 160.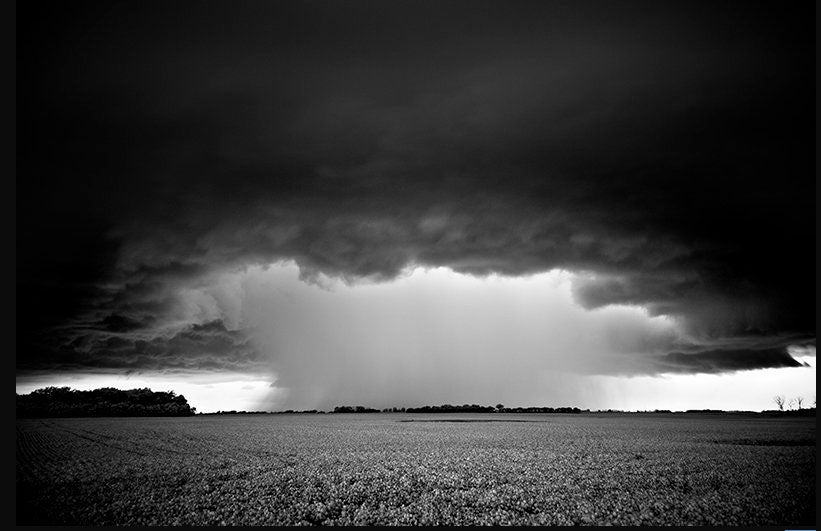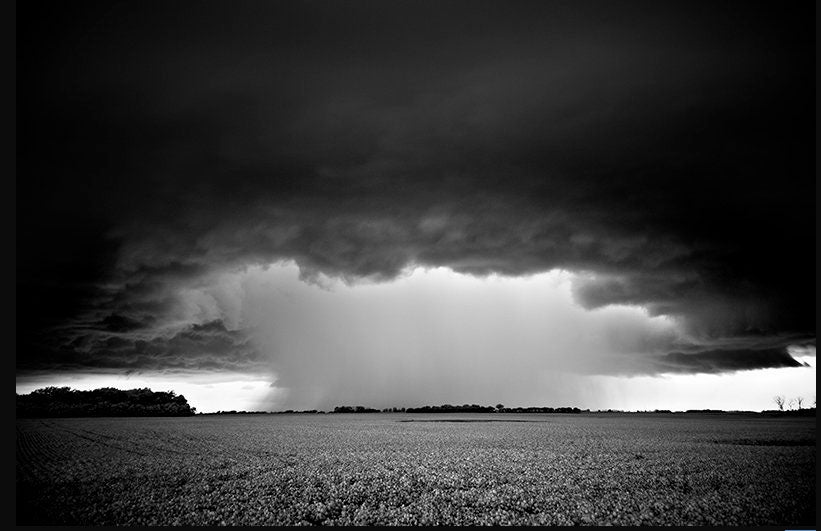 stormcatcher1
"Mushroom Cloud," Near Lawndale, Minnesota, 2010. Canon EOS 5D Mark II, 24–105mm f/4L Canon EF lens; 5 sec at f/5.6, ISO 160.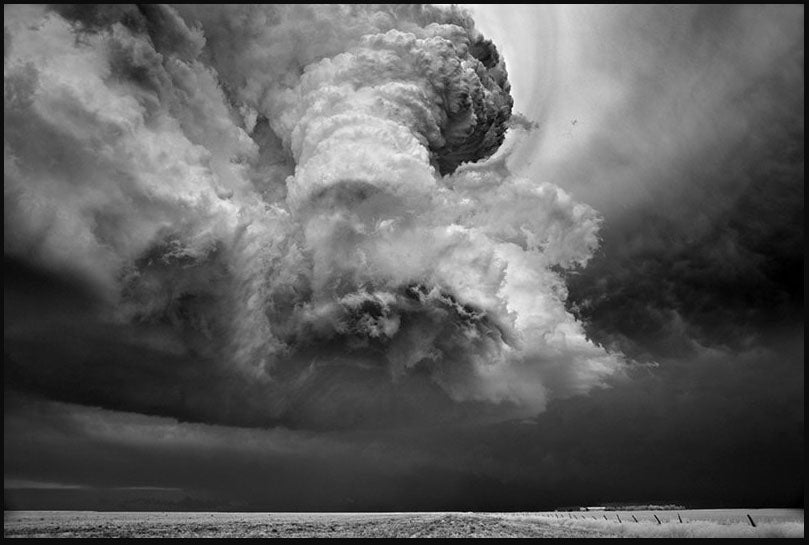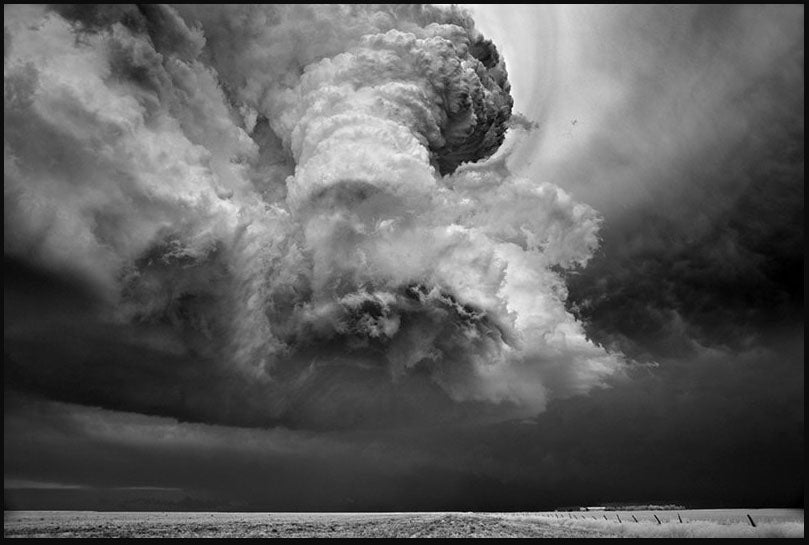 stormcatcher5
"Rope Out," Regan, ND, 2011. Canon 5D Mark II, 24–105mm; 1/6 sec at f/8, ISO 100.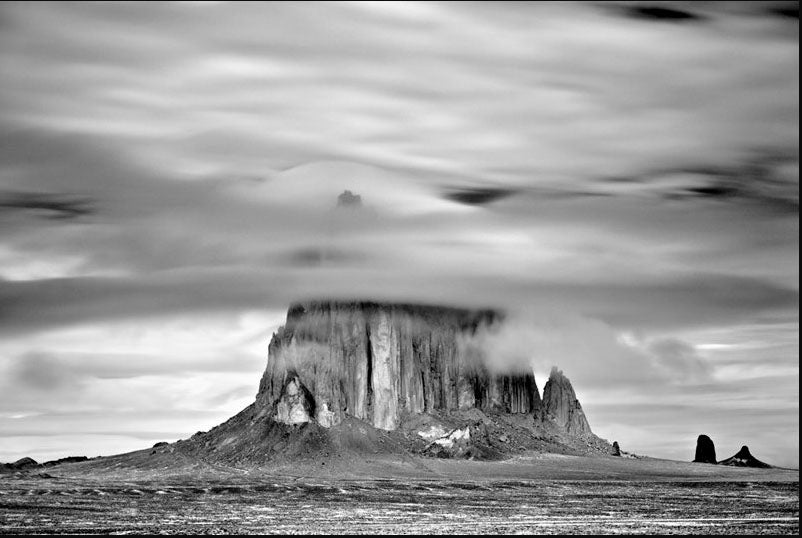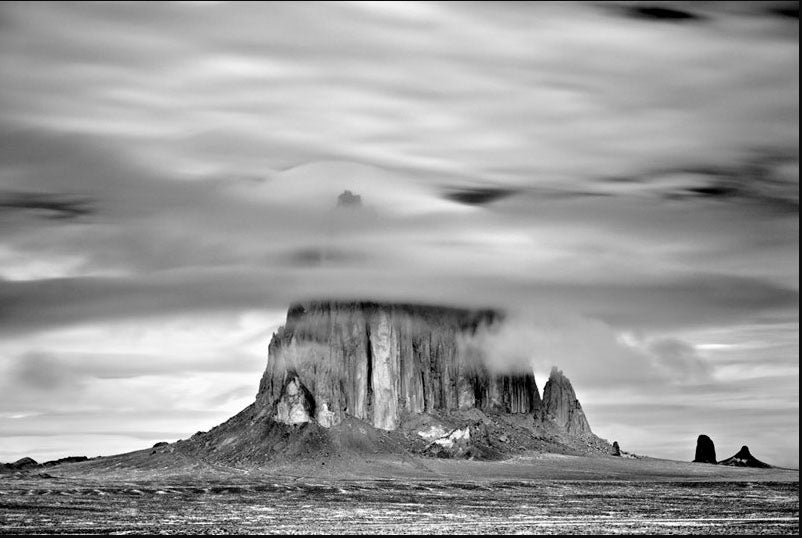 stormcatcher4
"Shiprock and Cloud," Navajo Nation, 2013. Sony R1; 20 sec at f/6.3, ISO 160.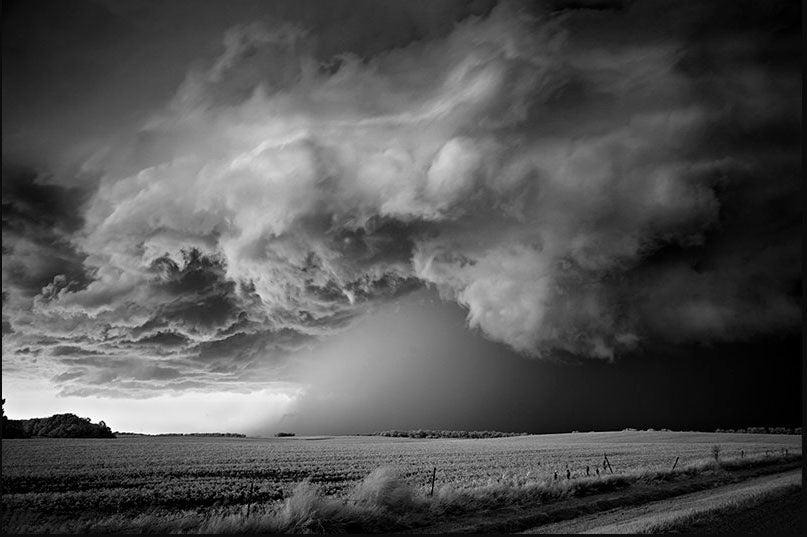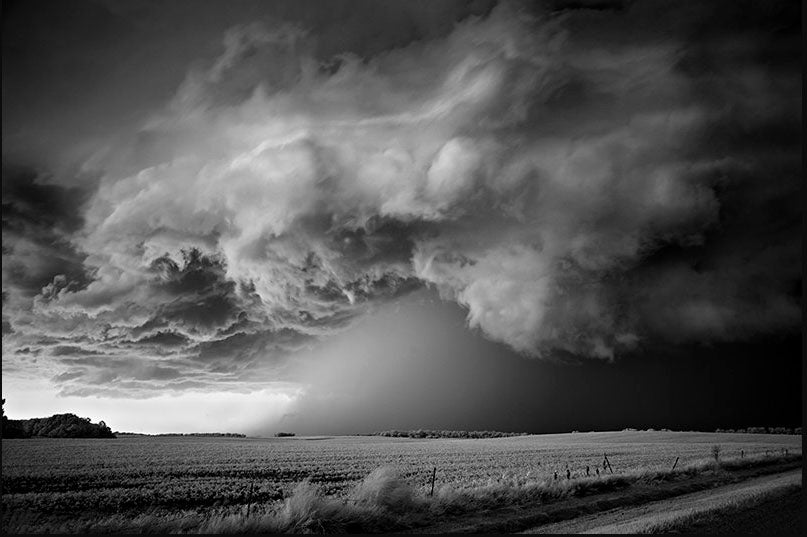 stormcatcher2
"Storm Over Field," Lake Poinsett, SD, 2010. Canon EOS 5D Mark II, 24–105mm f/4L Canon lens; 1 sec at f/8, ISO 100.