Traveling Photographer: Sanibel and Captiva
Nature makes a splash on Sanibel Island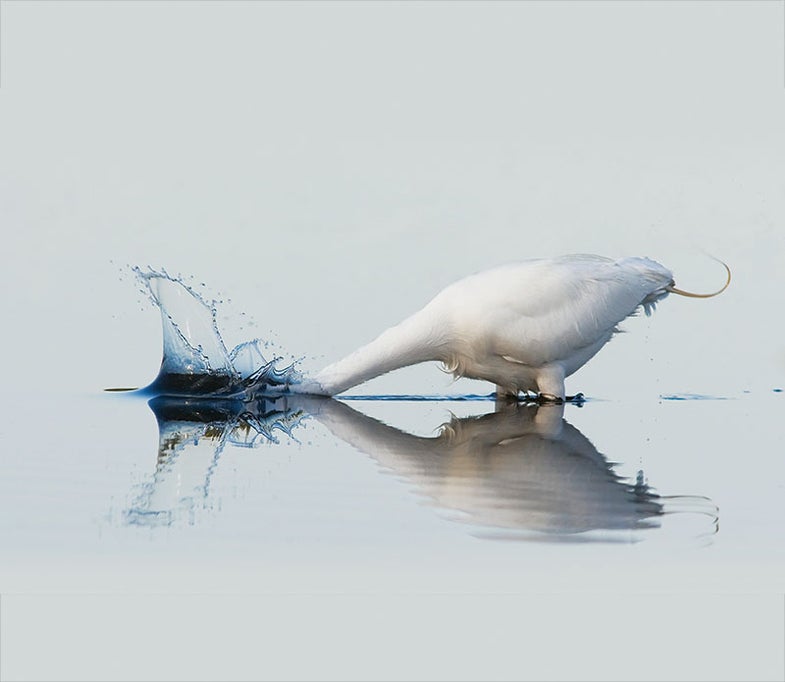 "Don't miss the opportunities to photograph birds as you cross the causeway onto Florida's Gulf Coast islands of Sanibel and Captiva," says Florida nature pro Sara Lopez. "There are pelicans, royal terns, least terns, and ospreys fishing in the waters next to the three-mile road."
More than two-thirds of these adjoined islands are wildlife sanctuary and are home (or a migration stopover) to nearly 300 bird species, according to Lopez' shooting (and life) partner Dick Fortune. "You won't find fast-food restaurants, stop lights, or any buildings higher than a palm tree," he says. "But there is a lot to photograph, including the endangered Florida woodstork, manatees, dolphins, butterflies, flowers, and crocodiles."
Among their favorite stops: the 6,300-acre J. N. Ding Darling National Wildlife Refuge. "There are more than four miles of wildlife drives where you can stop to photograph," says Lopez. She suggests grabbing a map and tide chart at the visitors' center. "Low tide is best for wading birds and when this happens in the golden hours it is magical." The refuge is open from 7 a.m. to 6 p.m. in March (closed Fridays). A particular highlight: the roseate spoonbill roost. "They preen there in morning and then return again at the end of the day," she says.
Two other productive venues: The Sanibel lighthouse and the fishing pier. "Beaches at the lighthouse provide access to wading birds and the dolphins when they're around," says Lopez.
SEEING MORE SANIBEL
Because much of Sanibel and Captiva is either inaccessible by land or best explored with guides, here are four popular tour operators who can show you the hidden sights:
● ADVENTURES IN PARADISE CRUISES www.adventurein­paradiseinc.com. It specializes in narrated morning, afternoon, and sunset dolphin cruises, sea life and shelling excursions, as well as holiday and fishing charters. You can also take a two-hour history-related trolley tour of Sanibel.
● CAPTIVA CRUISES capitvacruises.com. It offers a variety of nature cruises, including dolphin- and wildlife-watching rides on nearby Pine Island Sound, plus sunset, beach, and shelling cruises to secluded Cayo Costa State Park and other inaccessible out-island sites.
● JENSEN'S TWIN PALMS RESORT + MARINA 15107 Captiva Dr., Captiva. Visit here for boat rentals (from 16-foot skiffs to 24-foot pontoon boats), private boat excursions, fishing guides and excursions, water taxi service to out islands including Cayo Costa State Park, historic Boca Grande, and Pine Island, home to the historic Calusa Indian Shell Mound.
● TARPON BAY EXPLORERS tarponbayexplorers.com. This is the officially licensed concessionaire within the Ding Darling National Wildlife Refuge and offers a variety of guided kayak and canoe tours, as well as rental kayaks, canoes (including electric-motor canoes), standup paddleboards, and bikes. It also rents 20-foot pontoon boats that hold up to eight people. You can start your own photo workshop!