My Project: William Rugen's Classic Roots
A photographer reinterprets botanical prints in the studio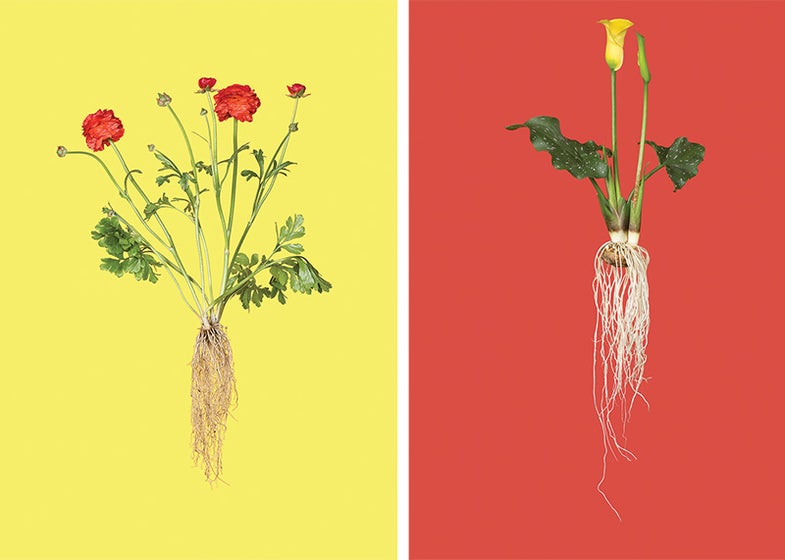 William Rugen has seen nature up closer than most—before transitioning into a photography career in 2005, he worked for nearly 20 years as a fisheries biologist. But his New Botanicals series was the Seattle-based pro's first foray into plant life, inspired partly by his interest in the graphic quality of flowers and leaves as well as his lifelong interest in scientific prints. His inclusion in a 2009 group show prodded him to make new work and jump-started the project.
"There's something about seeing a plant out of its context that really shows its life," says Rugen, who works full-time for Motofish Images. And seeing the roots, he adds, "shows you that there is a bit of ugliness needed to create anything of value."
His first subject, a daffodil—which has a relatively clean bulb—gave him "an unrealistic view of how long the process can take," he jokes. Most plants are much more difficult to prep. After hunting a subject out at a nursery, it can take him up to an hour to wash and prune roots that may be fragile—such as a heliotrope and a bleeding heart—or tangled, in the case of a shrub.
From there, he has about an hour to shoot before his subject wilts, no easy feat with his setup. To create a "floating look," he usually suspends these in front of colored backdrops using a Manfrotto Magic Arm, Super Clamps, and a fondue fork. He occasionally positions and reattaches leaves and stems with fishing wire. Rugen uses a mix of Profoto and Comet lights, along with foam-core for bounced fill, which usually requires some fussing. If the plant survives being planted afterwards in his garden, he adds, "it was a success."
Masking in Adobe Photoshop can take from 10 to 12 hours. But after seeing his first four prints on the gallery wall, Rugen was hooked. He has since continued the series and is now working with some local specialists on a new goal: capturing a small tree. Suspending plants, Rugen says, puts their above-ground elements into better proportion—typical garden views pay more attention to the flowers than the leaves. More importantly, seeing the roots, he says, "reminds you that its crazy tangle of material makes the complex plant you see."
William Rugen is a commerical and fine-art photographer. See more at williamrugen.com.
New zealand flax
New zealand flax
Alberta spruce
Alberta spruce
Bleeding heart
Bleeding heart
Dusty miller
Dusty miller