Behind The Photo: Lincoln Barbour's Composite Band
A little post-processing wizardry goes a long way when resources are running short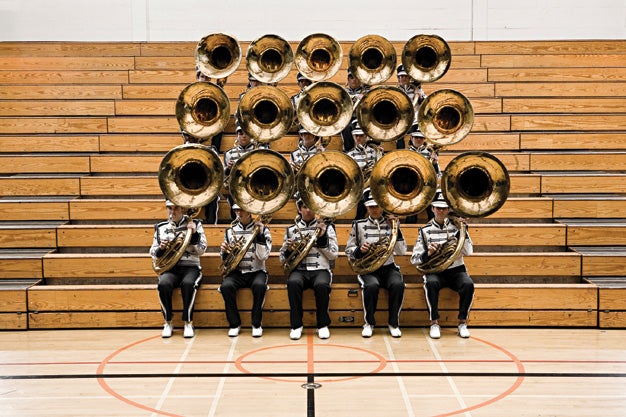 The text for an advertisement promoting a new housing development asked, "What would life be like if everything was the same?" Lincoln Barbour, a Portland, OR-based commercial shooter, took on the creative challenge of answering that question visually in a series of images that included this shot of an all-Souzaphone high-school band.
"The ad agency hired me based on my personal work, which is quiet, subtle, and candid," Barbour says. "So the hardest thing for me was finding my personal voice in the shot while meeting everyone else's expectations."
Barbour's first challenge? Simply finding enough kids who had band uniforms and tubas. Unfortunately, he couldn't. "We had six tubas and ten kids," Barbour recalls. "I had to shoot the same picture three times and move the kids around with the different tubas, and then Photoshop it all together so it looked like one photo."
Working with the agency's art director, Barbour determined that the frames to be composited would need to be captured from the back row to the front in order to get the right overlap. "I shot six people at a time with tubas, and there was always one person on the next row below, overlapping so I could line them up as we went along," he explains. "We had to think about the kids and where they'd be in the picture, and, yes, there are two or three repeated musicians, but who's to say they weren't twins?"
Barbour also faced a tough task in getting even light and lots of depth of field in the cavernous gym. He used four Profoto 7B packs and heads with magnum reflectors, bouncing the light off the high ceiling at full power. The lightstands were placed at the four corners of the frame. The exposure on his Canon EOS-1Ds Mark II was 1/125 sec at f/11 and ISO 320. The lens: a 24–70mm f/2.8L Canon EF zoom at 57mm.
"When this job came in, I took it on myself to do everything—all the production, prep work, location scouting, and prop building. I was exhausted when it was over," he says. "I learned a lesson here: Next time, I'm going to hire stylists, a location scout, and a tech guy for all the Photoshopping." No more allowing himself to become a one-man band!
Check out Barbour's personal and professional work at [www.lincoln barbour.com](http://www.lincoln/ barbour.com).