Iconic Sports Shooter Rusty Jarrett on Photographing the Masters
Having shot Augusta for more than 25 years, Rusty Jarrett knows the course better than some of the golfers.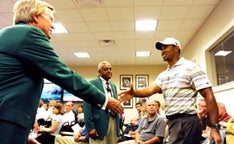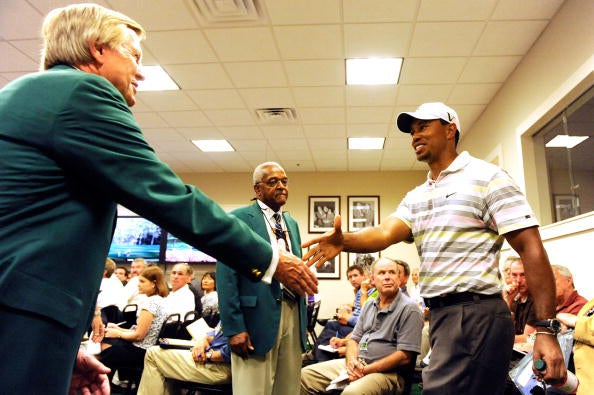 Tiger Woods Masters
AUGUSTA, GA – APRIL 05: Tiger Woods (R) greets two members of Augusta National Golf Club as he walks into a press conference to address members of the media prior to the 2010 Masters Tournament at Augusta National Golf Club on April 5, 2010 in Augusta, Georgia. (Photo by Rusty Jarrett-Pool/Getty Images)
Thanks to Tiger making his return, this year's Masters has a higher profile than ever before. But, things are business as usual for Rusty Jarrett, who has seen the tournament through the glass of his lenses for decades now. He was kind enough to talk to us as he prepared to capture more images of the course he has loved since he was a kid.
How many Masters tournaments have you photographed?
I have done the masters every year since 1983. I started working at Augusts when I was 11 on the scoreboards, way before I had an interest in photography.
Do you have any special memories about your first time?
The first good strong imagery that I produced was of Seve Ballesteros [that year's winner] after he had hit his ball through the 18th green and needed to play back. It made for a nice little set of tight pictures.
How did your career change from there?
I started working for Golf World and was there for quite a long time. They were very good to me and took me to every tournament. Nine years in a row I did over 30 tournaments a year. It was a great time in my life.
How much golf do you shoot these days?
I shoot one tournament every year and it's the Masters. I'm the director of NASCAR photography for Getty, so I go work 38 races a year.
What are your days like when you're shooting the tournament?
My week starts Monday at 7 AM. Starting on Thursday, it's usually around 6 AM. The days usually end around 10 PM. We spend a lot of time analyzing the start sheets to plan where we have to be at certain times of day to catch certain players. The average golf photographer walks more than seven miles during a day of shooting, carrying all of their gear.
What kind of gear do you shoot?
Most of my career I have worked with a 500mm F/4, a 300mm F/2.8, a 70-200mm F/2.8 and a couple of short lenses in my fanny pack. Now, I go out with a 500mm, a 70-200mm and a 24-70, all attached to Nikon D3S bodies and I can do most everything I need with that. Nikon has given me a lot of support over the years.
How many frames do you usually shoot in a typical day on the course?
I'm not a frame counter, so I really couldn't tell you. I'm not a big motordrive guy. I try to see the picture and make the picture I want. The motordrive is useful, but that's not my style. I'm not a blaster. When I came along, that was frowned on. If you were shooting and sending to an editor and you sent in a ridiculously large roll count and you didn't have a ton of really good, usable images, he was no longer your friend.
Do you have any tips for aspiring golf photographers?
One of the biggest mistakes people make is that they're not conscious of their backgrounds. I have seen some nice pictures that people are really proud of and immediately that one thing in the background just kills it. They just never see it. I've seen beautiful scenics with the light right and the pin in the right place, but they didn't take the time to move the rakes away from the bunkers. That's the difference between making picture and just taking pictures.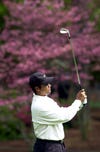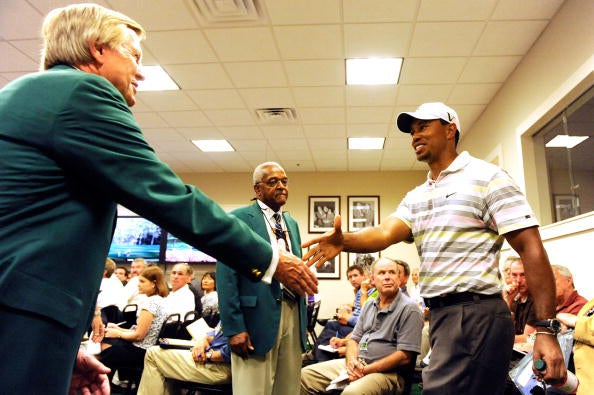 Tiger Woods Masters
AUGUSTA, GA – APRIL 05: Tiger Woods (R) greets two members of Augusta National Golf Club as he walks into a press conference to address members of the media prior to the 2010 Masters Tournament at Augusta National Golf Club on April 5, 2010 in Augusta, Georgia. (Photo by Rusty Jarrett-Pool/Getty Images)