I Photographer: Model Railroad Shooter Paul Dolkos
This photographer and model railroader brings model trains to life from behind the lens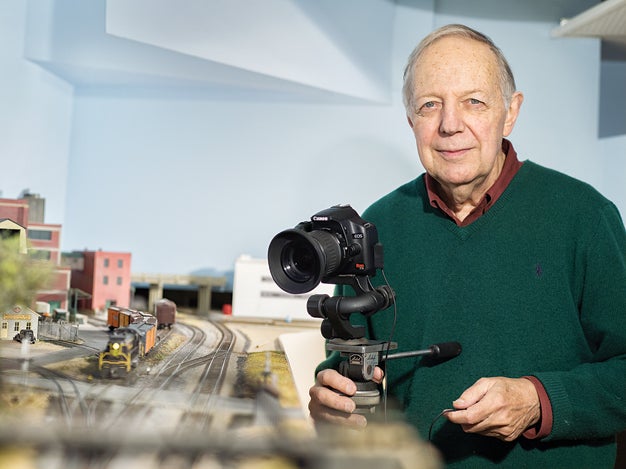 What led you to photograph model trains?
Some grow up liking girls and beer—I also liked trains. In terms of photography, that was my father's hobby—he had lots of nice cameras. Popular Photography was probably the first magazine I ever read. I started taking pictures for the high school newspaper, with a little compact 2¼x3¼ Speed Graphic. Once I started building trains, I got to know other model railroaders. One was a professional photographer, and he urged me—back in the '60s—to start taking pictures of models, wisely advising me to "do it in color." One thing led to another; I sent an article into Kalmbach Publishing and started doing some work. That was 1975.
Describe your approach.
I take pictures of real trains. When the typical person takes a picture of a locomotive, it's usually a three-quarter view, and they all look alike. How do you tell the story? I ask, "What environment is this railroad is in? What does it do?" I take the same approach to a model—I try to capture scenes. For my Boston & Maine New Hampshire division layout, I tried to include the unique architecture up there. It's different than suburban New York—the amount of Greek Revival architecture. I found it very attractive.
ENTER OUR MARCH PHOTO CHALLENGE: MINIATURES
How do you light your scenes?
Everything is taken on a tripod using continuous light sources. I use Lowel Tota- and Omni-lights—you can shoot under fluorescents, but the lighting is very diffused. With hot lights, you can create shadows, like the sun.
What equipment do you use?
I don't need a lot of horsepower, as far as cameras go. I started with a Rolleiflex and I had a Linhof 4×5. Now I use a couple of very basic Canons. I started shooting digital several years ago with the first EOS Digital Rebel. I decided I needed a backup, so I just bought a Rebel T1i with the 18–55mm f/3.5–5.6 IS kit lens. It's perfect for model railroading. It focuses close (9 inches) and stops down to as much as f/36, which is very important. We're taking photographs of things fairly close up, and you need the depth of field to go maybe six feet back. You can't just have the front of the locomotive in focus and have everything else fuzzy.
Do you achieve your depth of field solely in the camera?
I use software called Helicon Focus for extended depth of field and focus-stacking. You take several photographs at different focal points, and the software takes the sharpest point of each exposure and combines it into a single exposure. That means I can have a finger practically touching the lens in focus, and 20 feet away have the wall in focus. If it's a routine picture that won't get blown up, I'll stop down to f/29 or higher to get the depth of field. But if it could be on the magazine's cover or a double-page spread, I open the lens up where it should be, f/8.
Are you primarily a photographer or a model railroader?
I really think I'm both. Over the years, I've done everything from weddings to news photography, but now I specialize in model-railroad photography. It would be tough to do model photography without also being a serious model railroader. I want to inspire others to improve their modeling skills. The ideal photograph, a guy looks at it and says, "Oh, I didn't know that was a model." When you do that, you know you've done it well.
Paul Dolkos, seen above with his Baltimore layout, has shot model railroad layouts for decades for magazines such as Model Railroader_. You can see his work at PopPhoto.com/dolkos._