My Project: Girls and Dolls
Ilona Szwarc explores what American Girl dolls reveal about America's girls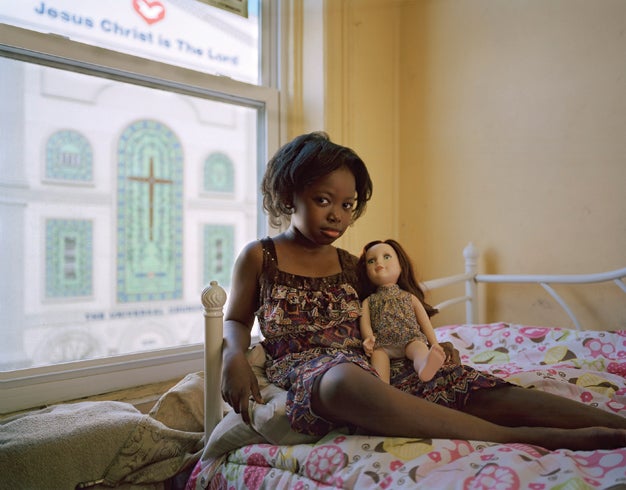 When Ilona Szwarc moved to New York City from Warsaw in 2008, her goal was to be a street photographer in the tradition of her heroes Garry Winogrand, Joel Meyerowitz, and Bruce Gilden. So, like them, she began shooting the crowds along Fifth Avenue.
Now 28, Szwarc might not have known she was shooting near the flagship American Girls doll store had she not noticed a trend pop up in her images—little girls, all holding dolls that look like they do, customized in hair and skin color as well as fashion. After stopping a few of them to learn the story, she became fascinated.
"Being in the U.S. made me wonder about what it means to be a woman here and what it means to be American," Szwarc says. "An 'American Girls' product creates a stereotype of who a contemporary American girl might be, and this made me want to investigate who these girls really are."
At first she approached girls—and their parents—to capture them on the street; later, she started to arrange shoots of the girls in their homes. As the project grew, she began posting about it on American Girls fan pages and Facebook. On a shoot, she'd spend time learning about her subjects, then let them surprise her with how they wanted to be photographed before setting up her 4×5 field camera.
Sometimes there were obvious similarities between the girl and her doll. Other times, the match felt nebulous. "The most popular ways you're supposed to play with these dolls is traditionally feminine and domestic—playing dress-up, having tea parties, taking the doll to the hair dresser," Szwarc says. "It made me realize what the impact this can have on young girls as they're growing into adulthood."
Having now photographed nearly 100 American girls, she has found that no one fits a stereotype. A personal favorite: Jade (not shown here), a self-described tomboy who dresses her doll at more gender-neutral stores like Build-a-Bear. "She treats her doll like a daughter, and she doesn't want her dressing up and going to tea parties," says Szwarc. "Her style and personality are her own."
See more of Szwarc's American girls at ilonaszwarc.com.