How To Capture Carnival Passion
It's Carnival time, with weeks of melting inhibitions, nonstop partying, and great photography. We interviewed three pros to help you shoot the festivities.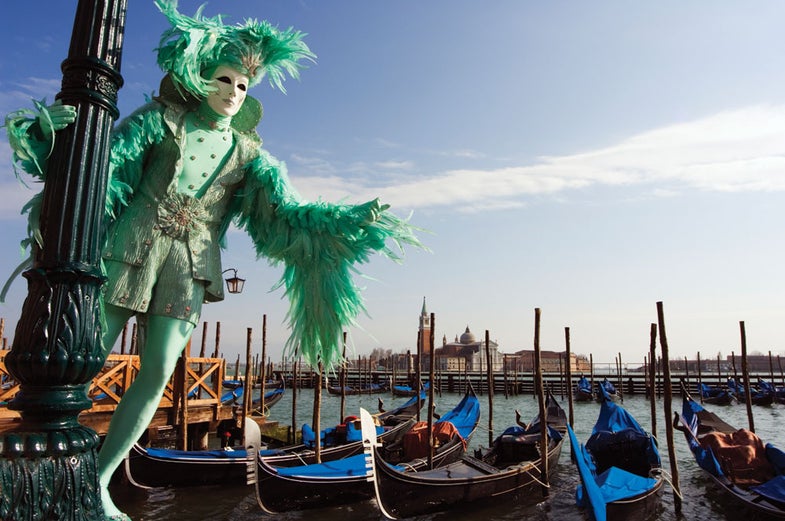 Across the globe, February is a time of intense,­ and eminently photogenic, celebration. To help you shoot the bacchanals (including Mardi Gras) leading up to Lent, we interviewed three pros from the London-based, travel-focused Robert Harding agency.
All three agree that these celebrations—both religious and secular—present unparalleled opportunities for people pictures. If you feel photographically hobbled by the inability to approach and take pictures of strangers, a trip to one of these great festivals will cure you.
"Carnivals are fun because the participants like being photographed," explains Yadid Levy, based in Tel Aviv. "Usually, I'm faced with shy, suspicious people who don't want their pictures taken. Carnivals are different. People lose their inhibitions and do things that they otherwise wouldn't dare to."
Though he goes mainly for the people, Hamburg-based Kristian Cabanis says, "Carnivals are also fun for the amount of truly intense color you find. Most of Europe's are centuries old, and don't ever change much." The pre-Lenten festivals in Binche (Belgium), Cologne, and Venice at times offer almost eerie instances of medieval local color.
Prepare for Your Trip
Levy starts by studying pictures of the event by other photographers. Flickr and Google are good sources, but he recommends stock agencies, where the photos are by pros. Their pictures can reveal the best lighting, backgrounds, and locations.
He arrives early. "Rio has dress rehearsals the week before. Some let you photograph for free; others charge a small fee. Do an Internet search for Rio samba schools for rehearsal pictures, dates, and times."
Cabanis agrees. "Organizer websites are helpful, with timetables of activities and, when necessary, ticket sales," he says. "I check them in the weeks before, and make a shooting schedule. I decide where I need to be when, how I will travel from event to event, and where I will stop for food, bathrooms, and to recharge my batteries. I need to know the best vantage points and when the best lighting will happen."
He continues, "I also find out if cameras are allowed, because sometimes they aren't."
Christian Kober, a Brit who specializes in carnivals and other festivals, relies on what he can discover from locals, including concierges, other photographers, event organizers, and even police. He asks about the best side events, floats, and masked balls. "On the day of the event, I arrive as early as possible. I want the best vantage point even if it means arriving hours before."
Kober also researches public buildings along parade routes in search of unusual vantage points and protection from nasty weather. "I make reservations in the restaurants, when possible, and also try to book hotel rooms with good views of the parade," he says.
The best carnival venues and events are those where you can move freely. Rio's famous Sambadrome is an amazing experience, but most photographers there are locked into one location. "If you can't change position and camera angle, you end up with a thousand near-identical shots," warns Kober.
Cabanis prefers to shoot on wider streets where dancers can spread out, and he positions himself on curves in the road to get the same dancers against two distinctly different background streetscapes.
While shooting, work like a sports photographer. "Move and think quickly," says Kober. "Dancers can be fast, so set an action-stopping shutter speed. They normally repeat routines, though, so it's not hard to anticipate what they will do next."
Among the crowds, watch your equipment to protect it from theft. "I try to shoot with others," Kober advises. "Get press credentials and permission to shoot in front of the barricades," which means better pictures and freedom from pickpockets. A letter from your local newspaper may be all you need for access.
The Gear to Bring
"I love the Rio Carnival, but Rio isn't the safest city in the world," says Levy. "You're safe inside the Sambadrome, but you have to be on your guard everywhere else." He carries one camera instead of two, and hides it when he can.
In fact, all three photographers we interviewed carry only one camera to limit their losses in case of a mugging. For lenses, Kober uses 16–35mm, 50mm, and 70–200mm f/2.8 VR II Nikkors on his Nikon D3. He also carries a Speedlight SB-800, but uses it only as a last resort. Levy carries the Canon counterparts (in focal length and speed) for an almost identical kit on his Canon EOS 5D Mark II. He leaves the tripod and monopod in his hotel room. "You have to be free to move," he says. For some venues, earplugs can also be helpful.
Which Carnival?
"Venice is my favorite," says Christian Kober. "The location is a dream, the venues usually offer open access, and the masked models are very willing to pose for you." They parade around waterfront piers and bridges, and in front of the 16th-century palazzi, while extravagant balls are underway, with their live orchestral music echoing down the streets.
The best costumes, like the one in our opening photo, are usually made by the people wearing them. For many, dressing up for the carnival is a hobby that they pursue for months each year.
For Levy, Rio is best. "I wasn't looking forward to Rio, because it had been photographed a million times, and I wasn't going to find anything new," he recalls. "But the experience itself was overwhelming. The noise, the music, the drums, and the level of excitement are like nothing else in the world. But it's exhausting. I can't tell you how many liters of water I drank that night."
When it's over, it's common for participants to faint and collapse to the ground, leaving their elaborate costumes where they fell.
Cabanis recommends Trinidad. "The closer you get to the equator, the wilder the photo ops become. I like Trinidad for its color and liveliness. You can get so close to the dancers, that for photographers, it's just paradise."
Carnivals from New Orleans to India
Whether the festival is spelled Carnivale, Carnaval, Karneval, or even Mardi Gras, great photography and fun can be yours with a visit to any of these faves.
Binche, Belgium February 10–12; Dates to the 14th Century.
Cologne, Germany February 11; Begins 11 minutes after 11 p.m.
Goa, India February 9–12; Started 500 years ago by the Portuguese.
Kingston, Jamaica February 15–April 7; Typically runs for the entire Easter season.
New Orleans, LA February 12; Centered in the French Quarter.
Nice, France February 15–March 6; Attracts over a million.
Patras, Greece January 17–March 17; Includes a treaure hunt.
Rio de Janeiro, Brazil February 8–12; Unimaginably loud and hot—bring earplugs and water.
Port-of-Spain, Trinidad February 11–12; A mix of African and European influences.
Venice, Italy January 26–February 12; Its distinctive masks originated centuries ago when public partying was outlawed.