How To: Create an Edgy Portrait With High-Contrast Lighting
A fashion pro shows how to capture a shimmer while controlling the shine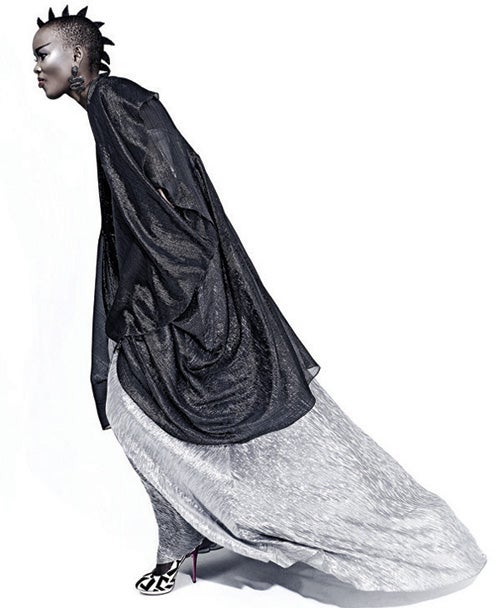 The best studio photography starts with a strong concept. For Jodi Jones, a well-known New York fashion and advertising photographer, this image made for the online magazine Zink was all about contrast. "There's hard and soft, black and white," she says, "and the angularity of the model's features that contrasts so strikingly with the soft, flowing movement of the clothing."
To create this study in contrast, Jones turned to a diverse arsenal of lighting tools and techniques.
First, she wanted a bright white background that was evenly lit from edge to edge. "If I had aimed my background lights directly at the backdrop [a cyclorama], it would have produced hot spots," she says. "To avoid that, I aimed the lights into two V-flats on either side of the set. It created a broad, even source free of pronounced highlights."
But she also had to keep that bright background light off her subject. "I lit the model separately from the background, trying not to allow any spill from the two side lights to reach her," says Jones. "In shots like this, if any of the background light spills onto the subject, it can dilute the effect of your main light."
Her single, highly directional main light, above the model, produced shimmering high-lights in the silvery fabric. If background lights had struck the model, the silvery highlights would have had less impact. That single top light also added dimension and an important floating quality to the image.
"Using one foreground light also helps create a singular focus," the photographer says. "I like to simplify lighting when the image is mainly about the model or clothing, and not so much about the model in a striking location. I don't want to complicate things with unnecessary highlights and shadows that can confuse the viewer as to what to focus on. Sometimes less is more."
Other elements contributing to the impact of this photograph:
● MOVEMENT By asking her model to walk across the set instead of posing, Jones gave billowing life to the glamorous gown.
● THE BACKGROUND Shooting against an evenly lit cyclorama gave Jones the ability to move with the model and slightly change the camera's position between shots more easily than she could have using a roll of white seamless.
For this edgy portrait of Tanzanian model Flaviana Matata (Next Models), New York–based fashion pro Jodi Jones chose as her main light a Broncolor Pulso G 1600 strobe head mounted in a 60×60-inch Broncolor Pulsoflex C softbox (A). She set the softbox on a Manfrotto 085BS Heavy Duty Black Light Boom and Stand (B). Jones lit the backdrop, a 20×30-foot cyclorama (C), with two Pulso G heads (D) mounted on 9-foot Manfrotto Alu Ranker light stands (E) and bounced into V-flat reflectors made of 1/2-inch white foamcore board (F). She powered both the main and background lights with Broncolor Scoro S 1600 powerpacks (G) and shot with a Hasselblad H4D-40 digital camera and a 50mm f/3.5 HC II Hasselblad lens (H), firing the strobes with a camera-mounted Broncolor RFS 2 radio slave transmitter. "Although I love to shoot with these amazing tools whenever possible, I work with very basic equipment too. Lack of high-end gear shouldn't hold any photographer back from attempting a similar project," says Jones.