MTA Staff Photographer, Patrick Cashin, On Documenting New York's Recovery From Hurricane Sandy
His job is to photograph one of the busiest transportation systems in the world and it just got even tougher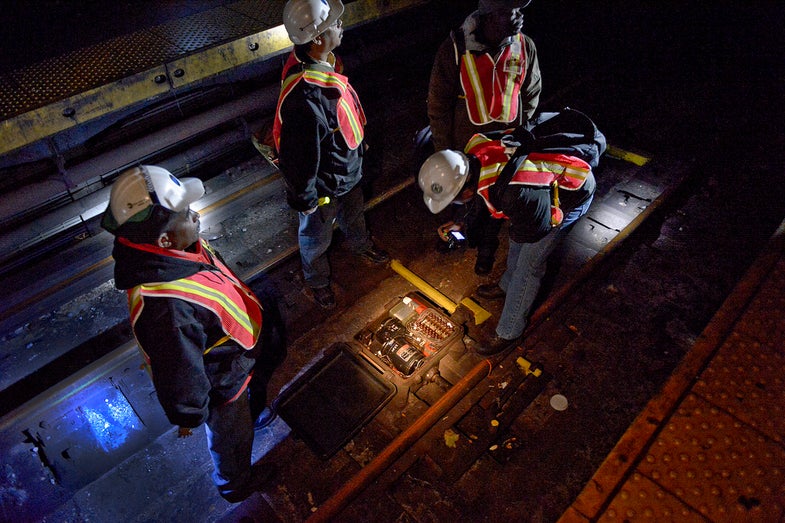 _When Patrick Cashin called me, it was well after 8 PM and he had just gotten to his home in Brooklyn after a long day shooting. As the staff photographer for New York City's Metro Transit Authority, he's assigned to capture the operations of one of the world's biggest mass transit systems, as well as its bridges and tunnels. Since Hurricane Sandy hit New York, the recovery effort has been immense and Cashin has been there with his camera, venturing into places other photojournalists can't go. _
How long have you been photographing for the MTA?
I was a contract photographer with them since 2000. Then two years ago, they put me on staff full time.
What is your typical shooting day like when there's no storm recovery going on?
What's great about the job is that it's always different. I've been in the subway a lot, I've been on top of bridges shooting falcons. Sometimes I'm shooting mittens and umbrellas. You never know.
How did your storm shooting get started? Were you in the city during the worst of it?
I was up in Albany photographing a workshop at the Empire State Plaza Thursday and Friday of the week before. I came back Sunday and I got a call from the Long Island Railroad saying, "Can you get to East Side Yard to shoot us putting up the water dam?" It started for me that night when I was shooting there.
Were you out shooting continuously from that point on?
It's all kind of a fog now. For the heaviest part of the storm, I was at my house. They had shut down the trains and I needed to hunker down a bit. When the damage started happening, I started getting calls to go out and shoot. I told them that I could only shoot in Brooklyn because I have a car, but they shut down all the bridges. I was restricted until they opened up one of the bridges.
I went to the Brooklyn Battery Tunnel. It was flooded to the roof. That was amazing. I got there when they were closing it off to traffic and shot that. The next day I was actually in the tunnel photographing the water. It was intense. I go through that Tunnel a lot. I live in Brooklyn. To see water up the ceiling is scary.
Even without the storm, it seems like you're put in some pretty dangerous scenarios. What kind of safety training do you have?
You're usually escorted, but one of the reasons I can even get on the subway tracks is because I went through all the track safety courses. You don't see a lot of shots from the press like that because you can't get down there unless you take the classes.
When we were photographing the electricians, we walked up the cable on the side of the RFK Bridge. We got a quick lesson in safety harnesses — how to move up and when to connect and disconnect. But, that's it.
How much time have you spent in the subways since the storm?
I was down in the L train and up in the Bronx at Dyker street. I was photographing the guys cleaning up the signals and pumping out the water. Yesterday they were moving some trains out to the Rockaways with flat bed trucks. Part of the track was washed away so they literally had to drive the trains out there on trucks. It's a mess, but the MTA is working incredibly hard to get it fixed.
Is it mentally tough to go shooting and see these familiar places destroyed?
I grew up in Brooklyn. In fact, I live on the same block I grew up on. But, you get into a work mode. I was more affected when we were driving to certain areas and seeing the damage than I was when I was actually photographing it. When you're sitting in a car and you see everyone's furniture in front of the house you're more in shock. That camera kind of puts this false sense of security in front of you. You're climbing scaffolding. You're climbing bridges. And you think this camera is going to save you. You ignore everything around you so you can get the right shot.
What kind of gear do you typically carry with you? Seems like you pretty much have to be ready for anything.
I use a Nikon D4 and I carry three lenses: A 17-35mm, an 18-70mm, and an 80-200mm. The 17-35 I use 90-percent of the time. I like to get as close as possible and put a camera in their face. I try not to use a flash. You have to sometimes, though. For that little group shot in the tunnel on 14th avenue, I took it in total darkness. The lights weren't on yet. I had the guy on the left point his flashlight at his buddy on the right so I could focus. Then I popped off the flash until the exposure was right.
I also crank that ISO. I have no qualms about it. Especially in these situations. The graininess and the noise add to the effect, I think. The place is grungy and dirty and a little noise just makes it look grungier and dirtier. Same with the construction sites. Whatever it takes to get it.
Do you know what you're going to be shooting next?
No, I don't know what I'm going to be shooting. They're moving the trains out to the Rockaways, so I may go get the other end of that trip as they get taken off the truck and put on the track. It could be anything. I always know something's going to happen. New York Isn't a boring place and the MTA isn't a boring company. People think it's just the subways or busses, but it covers NYC Transit, NYC bus, LI Railroad, Metro North, and MTA Capital Construction.
Are there any storm photos that you've seen from other photographers that have had an effect on you?
AOL used one of my photos in a gallery and the opening shot showed a wave crashing over a lighthouse down south. I looked at that and went "whoa, that's an incredible shot."
One of the things people ask us about a lot is whether or not it's OK to take photos in the subway in NYC. Do you have any insight on that?
You can't go down there setting up a tripod and lights. But, New York is filled with tourists. I'm challenged all the time. After 9/11, even the porters challenge me, but I have the right ID so it's not an issue. I don't think it's as big an issue anymore. I hear stories about people being hassled, but I've never seen anyone hassled other than me for taking pictures.
What's your favorite piece of the NYC transit system to photograph?
The old City Hall station is very pretty, but it's not open to the public. It has a lot of stained glass and it was one of the first stations from when the system opened. If you take the 6 train downtown to the last stop, Brooklyn Bridge, it comes around to go uptown. Before, they used to kick people off the train, but now they let people stay on so you can see the station. I don't know if it's officially allowed, but I've seen it done.
To see more of Patrick's Work, you can check out the MTA Flickr Page