You Can Do It: Glare-Free Glass Photography Using Backlighting
Banish glare with backlighting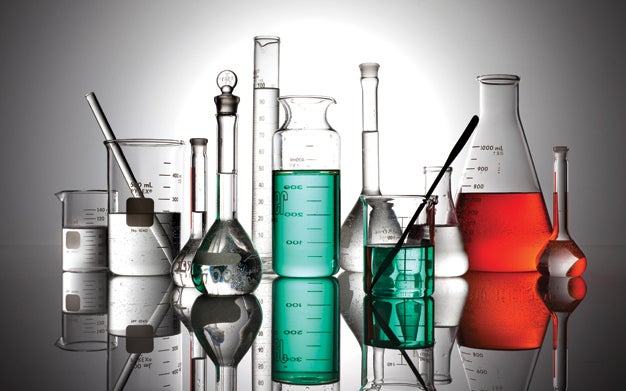 How did photographer John Kuczala render this lab glassware with such crystalline clarity? The trick, says the New York City-based tabletop specialist, is avoiding frontlight. Backlighting against white or sidelighting against black does the job. Direct frontlight, regardless of the background, ruins your shots.
This is because aiming light directly at glass objects throws bright highlights across their forward surfaces, creating distracting hotspots that define surface but not shape. These reflections also detract from the most distinctive visual trait of glass—its transparency.
While backlighting the beakers shown here helped Kuczala depict their clarity, the technique also presented challenges by reducing contrast and revealing imperfections in the glass.
Contrast was lowered because Kuczala essentially aimed the main light directly into his lens. This eliminated some object edges and desaturated the liquids' colors. To recover contrast, he used a sheet of glossy black acrylic as his table top and shot in darkness, effectively surrounding his subject with black on three sides.
The reflected and refracted black resulted in higher scene contrast, and helped produce the outlined edges in the glassware and retain the clean color saturation in the liquids.
Backlighting can also bring out every imperfection in glass, including dust, fingerprints, scratches, dings, and bubbles. The closer you place your camera to a glass subject, the more any imperfections become magnified. Compositions with multiple objects, such as Kuczala's still life here, let you move the camera back so that individual dust motes or smudges are less visible.
To avoid fingerprinting, Kuczala washes his hands before touching glass—gloves don't work because cotton produces lint and nylon a powdery dust—and he handles the glassware only by its edges. Before placing a piece, he wipes it down with an antistatic cloth, and, once he has placed it, blows off remaining dust with compressed air.
Ready to try lighting glass? Kuczala suggests starting with a cocktail. "Pour a glass of wine or liquor and really look at it," he says. "Hold it up in different types of light and against different backdrops until you notice something special. Then, try to capture it."
To light laboratory glassware for a client's website, John Kuczala used a single Norman IL2400 lamphead in a Norman Type 1 beauty dish (A) and powered the strobe using a Norman 24/2400 pack (B). He chose a beauty dish because its round shape would create a circular halo behind his subject. But creating a "perfect" halo required precision placement of the backlight and relative positioning of two diffusion panels: a 4×4-foot sheet of white translucent acrylic (C) and 60-inch width of Rosco Tough Lux (D). To heighten overall contrast of the scene, Kuczala used a sheet of glossy black acrylic as his tabletop (E). When lit from a low angle, this surface reflected light like a mirror, essentially reading as white in the image. Its blackness, however, bounced up onto the beakers to outline their edges and define their shapes. He shot with a Canon EOS 5D Mark II, a 50mm f/2.5 Macro Canon EF lens (F), and Phase One's Capture One 4.7 software for shooting with a tethered computer (G).