Behind The Photo: Barbara Cole's Fine Art Underwater Portrait
Water color with a whole new meaning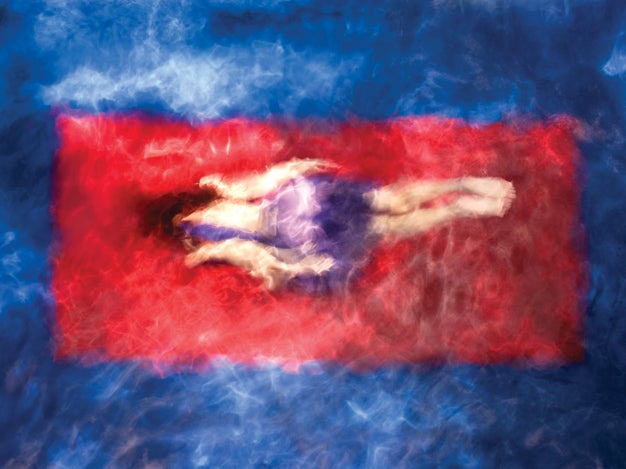 When you want to dive deep into a subject, there's nothing like immersion. And fine-art photographer Barbara Cole does just that—she finds inspiration deep in her pool. Based in Toronto, Canada, Cole has long been attracted to the reflections and patterns she sees while swimming. "The water puts me into a meditative state that allows me to think very creatively," she says. So she wondered how she could "have fun" with a color palette you don't normally see in water.
This photo, "Magic Carpet," comes from her Chromatics series, an exploration of human figures combined with the spirit of the color field painting movement. "The water gives me a softer demarcation between colors, the way Mark Rothko blended the edges of color together," she says. In this photo, "When the water moved, it would distort the edges of the purple on the red, and I thought of the flower-like shapes in Helen Frankenthaler's work."
The concept sounds simple, but her productions are anything but. Aside from the risk of working in and around water with electricity (for her lights), she must contend with bad weather and more.
At least her models—often dancers—love the work. "I tell them to imagine that they're brushes dipped in paint," she says. "They 'paint' a blur of color across other colors."
Shooting from above, Cole uses a slow shutter speed with a touch of flash. The water's surface texture is captured along with the model's body movements. The texture is further enhanced by the light of the sky and reflected clouds.
Cole is a strong believer in doing as much as possible in the camera, thanks to years of experimenting with Polaroid instant films and cameras. Now that she uses Canon digital cameras, she finishes her images in postprocessing by "painting" in subtle enhancements to give the viewer something to recognize. Though she won't divulge her technique, she "picks out certain things that your eye will be able to focus on so you perceive the image with a certain sharpness."
After all her effort, viewers are sometimes conflicted by her extremely abstract work. "One guy said photography 'shouldn't do this,'" she says. "He felt it was too painterly. I always try to make people stop, wonder, and really enjoy it."