Kickstarter: How the Web Is Helping Photographers Fund Their Work
Dreaming of producing a ground-breaking photo project, but lack the funding? Follow the lead of hundreds of other photographers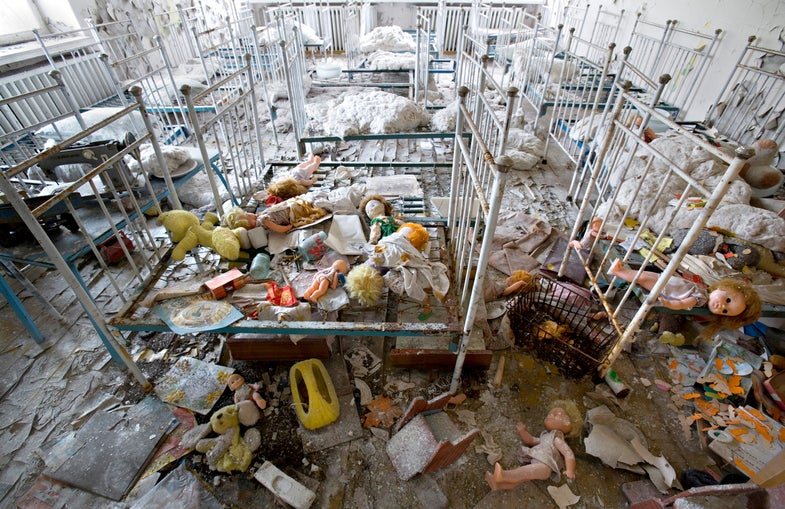 In less than three years, some 500 photographers, independent book publishers, product designers, and other photo-related project creators have turned their dreams into a reality. How? By sourcing money from the crowd in an online incubator called Kickstarter.
Gerd Ludwig's heart lies deep in the old Soviet Union, which this German-born, Los Angeles-based photographer has chronicled for decades. A 1993 National Geographic assignment first led him to shoot the ruins of the Chernobyl Nuclear Power Plant, whose Unit 4 reactor had melted down in April 1986. When the magazine sent him back 20 years after the accident, he discovered residents had returned to Ukrainian villages in the exclusion zone. The mostly elderly returnees "preferred to die on their contaminated soil, rather than from a broken heart in an anonymous city suburb," he has said.
Seeking to return in 2011, Ludwig found his usual clients interested more in celebrities than in Cher-nobyl. NatGeo was out, having sent him just a few years before. So how would he fund his labor of love?
Enter Kickstarter, "a market-place of ideas" on the Web for art and creative projects. In less than three years, this New York-based startup has helped photographers, filmmakers, musicians, product designers, and other creative types raise more than $100 million, primarily in small amounts. It has fostered more than 500 photo-related projects so far, with some $3 million in pledged funds.
Founded by Perry Chen, Yancey Strickler, and Charles Adler, Kickstarter launched in April 2009—the first company to effectively "crowdsource" funds for the arts. The partners believe that "art isn't trying to make a buck, it's trying to find an audience," Strickler says.
Staffers review each project and uphold certain rules: No charities, no investments, no "send me to photography school" pitches. Projects must create something original, have a beginning and an end, and reward their backers—for instance, with a book, original print, or clever new gadget. The company keeps a 5-percent fee.
The catch? Unlike some of of its competitors, Kickstarter requires you to reach your funding goal to collect any of the pledged money. Otherwise, the funds revert to the backers; a fate that befalls more than half of accepted projects. This risk spurs creators to push family, friends, fans, and followers to participate. And every time a project goes viral, so does Kickstarter; its influence has spread quickly.
Word reached Ludwig, and his initial misgivings gave way to enthusiasm. Raising $23,316 in pledges from 435 backers, he nearly doubled his goal. He used the extra funds to develop an iPad app with photos, videos, and essays from his trips to Chernobyl's exclusion zone. His biggest hassle? Shipping 60 copies of his 5-pound tome, Broken Empire: After the Fall of the USSR, to backers in more than 20 countries.
Help from Friends
Low on funds but high on ideas, Paul Stewart, founder of Over the Edge Books, wanted to publish a retrospective of Michael Miller's photos of the West Coast hip-hop scene in the '90s. He shot album covers for Cypress Hill and Snoop Dogg, and rap luminaries such as Eazy E, Dr. Dre, and Tupac Shakur frequently graced his lens. With his photos came Miller's insider tales of figures that many teens now idolize. Helming a tiny publishing house, Stewart needed money to start printing the book—so he turned to Kickstarter.
Miller set their goal at $3,000; pledges exceeded twice that amount by mid-December 2011.
Despite the site's global reach, most support for the project came from his and Miller's inner circles. "I was shocked how many of the pledges were close personal friends," Stewart says.
But photojournalist Krisanne Johnson was not surprised. Her social circle raised $10,443 for "I Love You Real Fast," her series on youth culture in AIDS-ravaged Swaziland; she rewarded 22 of her backers with hanging ornaments handmade by Swazi women. Her friends "heard me talk about this project incessantly for the past six years," she recalls. When she asked them to support her Kickstarter campaign, they took to the Internet with gusto. Her friends told their friends—and they sold it well.
Just as she began to experience fatigue from self-funding a project that had put her in debt, the community formed around her Kickstarter project came to the rescue. The health of a couple of the HIV-positive women was rapidly declining, and Johnson wanted to return to Swaziland quickly to capture their stories while she still could. Without Kickstarter, "It would have taken me another year and a half or more to go back," she says. Instead she raised almost $3,000 over her goal, reached her subjects in time, and used the momentum from her success to win a grant to let her return again soon. She credits her Kickstarter backers for her renewed vigor. "They gave me all this energy," she says. "I just wrote them to say, 'This is because of you.'"
Business Partner
For many photographers, Kickstarter's role is more team member than money bag. The staff watches every project from inception to fruition—or failure. Employees regularly back projects with their own money; a museum of sorts displays rewards in their spartan headquarters on Manhattan's Lower East Side.
Strickler, a former music critic, is comfortable playing tastemaker: The site's most prolific backer, he has funded more than 500 projects, often sending personal notes to their creators. And for a photographer, being named a "Project We Love" practically guarantees success.
Just ask Jon Crispin (joncrispin.com), who calls this seal of approval "the key." His project—photographing suitcases left behind by former patients at the Willard Psychiatric Center in Willard, NY—averaged four or five new backers a day. But, he says, "in the first half-hour after Kickstarter's email went out, I had more than 50 new backers, and it just went wild from there." NPR picked up the story, and other sites followed. Strickler was one of his 674 backers.
Crispin was surprised by the community that formed around his project. "I work mostly alone. I am not by nature a joiner or particularly touchy-feely," he says. "What has blown me away is the connection that I feel with my backers. I see them as a large community of people who are with me every step of the way. It's very meaningful to me." And in the process, he found a built-in audience for his work.
In contrast to Kickstarter's curation stands IndieGoGo. "We're completely open to any campaign," co-founder Slava Rubin says. "There is no human curation." IndieGoGo relies on an algorithm to pick which products to feature on the homepage. And it offers one option Kickstarter does not: flexible funding.
Kickstarter's threshold pledge system may be its most polarizing feature. With IndieGoGo's flexible funding option, creators keep all the pledges they receive, though the fee rises to 9 percent if they do not reach their goal.
Strickler insists that returning funds from unrealized goals is crucial to the site's risk-free nature: Backers are only charged if the creator collects enough money to complete the project, and creators "know they're only obligated to go through with this if they have the cash to do it."
Kickstart Your Project
To fund your photography through Kickstarter, you'll first have to meet its standards for what defines a creative project—they won't judge your photography, but look elsewhere if all you want are some new lenses. "This is not just general fundraising," Strickler says. "It's something specific."
Nor is it "a way to make a quick buck," adds Ludwig.
The most important step? Take the process seriously. The most successful proposals typically post a great promotional video, offer meaningful rewards, and engage backers with regular progress reports. Trying to identify what makes a project successful, the company posts (and updates) its findings in the "Kickstarter School" on its site. Crispin says he followed Kickstarter's advice to the letter.
Since the entire process takes place on the Internet, photographers without social media skills must adapt. Says Krisanne Johnson, "You have to become really savvy, fast."
Most of all, try not to think of crowdfunding as a glorified tip jar. The crowd has a tendency to speak with its wallet, funding only those projects it deems worthy. Kickstarter especially serves as a litmus test for viability: Only 44 percent of projects reach their goal, yet 85 percent of the money pledged goes to successful projects.
So maybe it's time to put that crazy idea out there—the world might just let you know how much it loves your crazy.