How To: Photograph Washington D.C.'s Infamous Cherry Blossoms
A100-year old gift to scenic photographers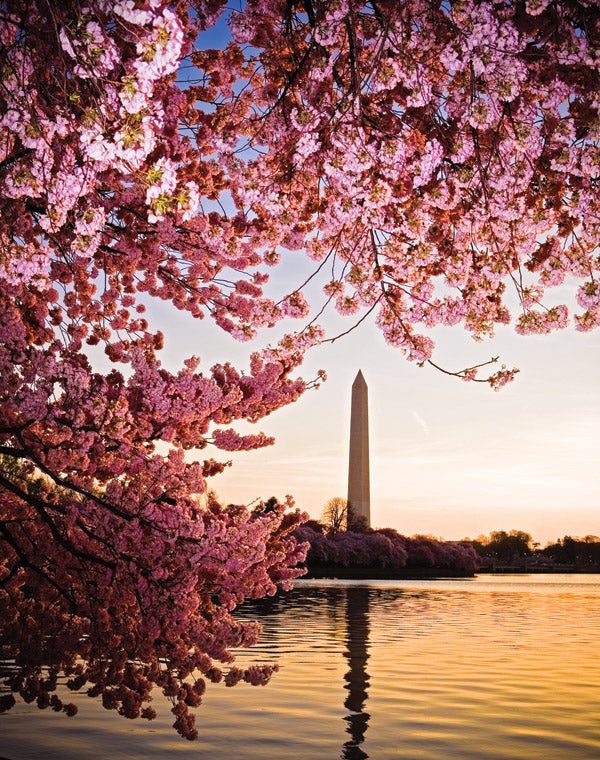 No Time of year beckons photographers to Washington D.C. quite as much as the spring—if only for the cherry blossom displays. From late March through the middle of April, the East and West Potomac Parks, Washington Monument grounds, and streets of Georgetown are packed with blooming displays that transform the city and create beautiful frames around its historic monuments. This year marks the centennial of the arrival of these trees from Tokyo, providing a perfect opportunity to capture an iconic image of our nation's capitol.
Timing for light and avoiding crowds is key, area pro Randy Santos (dcstockphotos.com) explains. The long-time commercial shooter has made a speciality of scenes like the oen above.
"Tidal Basin in West Potomac Park is one of the most beautiful but well-known locations, which makes it important to head out pre-dawn," Santos explains. "You avoid the crowd and get amazing sunrise lighting, and also accessible street parking." (Check the local news for potential street closings due to Cherry Blossom Festival activities on the day of your visit.)
An early start also allows you to make your way through the city for other perfect shots. "Bloom peaks near the Capitol building tend to happen after those in Tidal Basin, so check the national park websites when you arrive," Santos says. Bring an accessory flash for fill light and use a tripod at dawn and dusk.
And if you run into rainshowers? Scout out blossoms spotted by droplets of water—but keep your gear dry.
**Where To Go: **Since the trees were first planted along the banks of the potomac in March 1912, Yoshino and kwanzan cherry blossoms (and others) have attracted photographers each spring. the best vantage points include:
Capitol Hill
Great for afternoon shots of blossoms on the grounds, particularly the eastern side (facing the Supreme Court) and the nearby National Arboretum. Tripods require a permit at the Capitol.
Georgetown
Dumbarton Oaks Park (doaks.org) is an often-overlooked gem of cherry blossom photo ops.
The Tidal Basin
The most iconic vista, with vantage points of the Jefferson Memorial and Washington Monument. Arrive early morning; for parking on the west side, Santos suggests entering on Ohio Drive and parking near the FDR memorial. For head-on shots of Jefferson Memorial, visit the eastern side.
Washington Monument
Arrive in the morning or afternoon to shoot the grove of cherry blossoms. Shoot upward toward the monument, as close as possible.
Do you have a great shot of Washington D.C.'s cherry blossoms? Enter it in the FotoWeekDC contest HERE