You Can Do It: Shooting Fast Action Photos With a Slow Shutter Speed
Pro photographer Laura Barisonzi gets creative shooting the Boston Marathon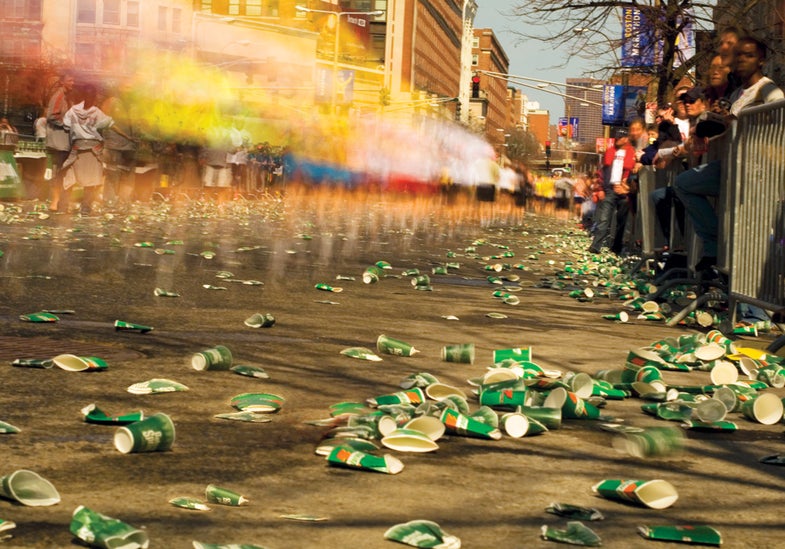 Perhaps a friend is running, or maybe you're building out a sports portfolio. But getting unexpected and memorable images of a big race is not easy. Before you try, heed the advice of Laura Barisonzi, a seasoned New York-based sports shooter.
Plan ahead. "Preplanning is essential," she says. "Reactive shooting, where you stand on a corner and photograph whoever runs by, can lead to boring results."
Scout locations with care. A given vantage point may offer an exciting background, but make sure you can get there on the race day. "Many roads are closed and the streets are congested," warns Barisonzi. "To get this photo, for example, I had to push through hundreds of people."
Avoid clichés. Her goal for this Boston Marathon was to capture atypical images, so she shot exclusively with a 10-stop neutral-density filter to cut the light and lengthen exposure time—not your typical accessory for sports, where most photographers want to stop action at its peak. "Once I got the netural-density idea, it became like an assigment," she says.
Barisonzi's runners became a dense, continuous blur of humanity that contrasted with the sharp water cups—colorful and evocative elements of long-distance courses familiar to anyone who's ever marathoned.
She offers you the following steps to get your creativity flowing:
Step 1
Previsualize your photos. Devise a few creatively imagined images, focusing as as much on backgrounds as the runners. "I had the idea of a flow of people contrasted with the still cups, so I did some research to locate the most heavily used water stop along the Boston Marathon," says Barisonzi.
Step 2
Gather your gear. For the 4-second shutter speed used here (at f/10, ISO 100), Barisonzi needed a 3.0 neutral-density filter and a small tripod. Because the filter produces an almost black viewfinder, she had to compose and focus before threading it on.
Step 3
Find your angle. By selecting a low vantage point, Barisonzi was able to make the in-focus cups appear more prominently in her composition. (To get that low angle, she had to lie prone on the ground with an assistant standing along side to prevent her from being trampled.)
Step 4
Prep the site. To the amuse-ment of many bystanders, Barisonzi spent a few minutes rearranging the discarded cups into a more interesting pattern.
Final Step
Play with exposure. Barisonzi altered shutter speeds to find the right blur, one that was dramatic but clearly made up of runners.
Barisonzi shoots lifestyle and sports for Runner's World, Poland Spring and others.