Tips From a Pro: Use Strobes to Combat Cluttered Backgrounds In Portraits
Bright lights, positioned correctly, offer the perfect solution to an ugly background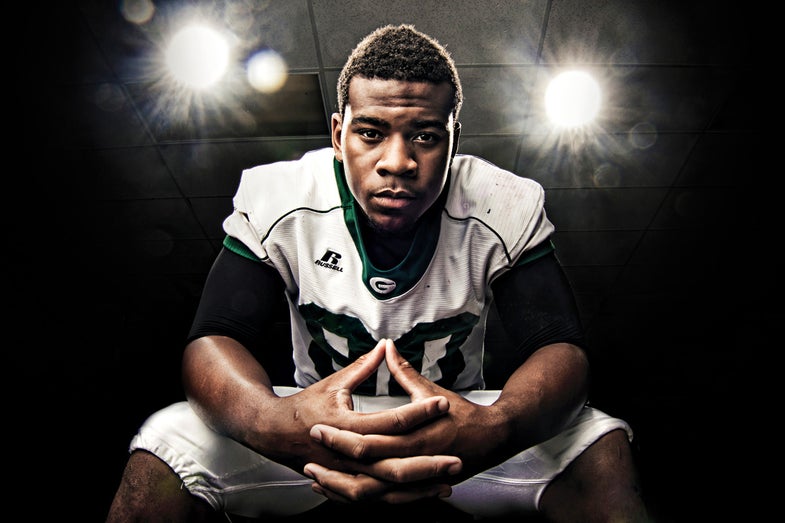 Ryan Gibson, an editorial photographer from rural Georgia, specializes in athletic portraits. One of his favorite places to shoot? Locker rooms. "When I'm working on a feature story, I want to get as much variety as I can from a sitting," he says. "After we do the field, stands, or courtside shots, I like working in the locker room. Depending on how I use my lights, I can get a lot of different looks there in a short amount of time."
You can see one of those looks in the above photo: With a creative camera angle and lighting, Gibson produced a near-black background that draws the viewer's attention almost entirely to this high-school defensive end.
Ironically, to create this darkness, Gibson cranked his location strobes up to their brightest power settings. By doing this and by moving the lights close to his subject, Gibson could expose using a fast shutter speed, small aperture, and low ISO, all of which worked to render the background almost completely black and locker-free.
But because entirely feature-less black backgrounds can be boring, Gibson added some pop to the background by once again getting creative with his lighting. He mounted two small strobes on stands behind his subject and aimed their output directly at the camera. "The background lights add an intensity to the shot and lend an almost theatrical 'star power' to the athlete," the photographer says.
This strategy, however, introduced a problem: flare around the edges of his subject. "There's no way to avoid it in a shot like this," says Gibson. "To control it, the small aperture helped, but we also played around with the positioning and direction of the lights. Even tiny adjustments made a big difference in reducing the flare pattern."
Another challenge? Elimin-ating the lightstands in Adobe Photoshop CS5. "If I have gear in the frame that I'll clone out in post, I usually shoot from a tripod and make an overall shot of the scene without the equipment. It makes eliminating it later much easier," he explains. "But because of the low camera angle, that wasn't possible here. Instead, I arranged the lights and exposure to minimize the length of the stands that had to be cloned away."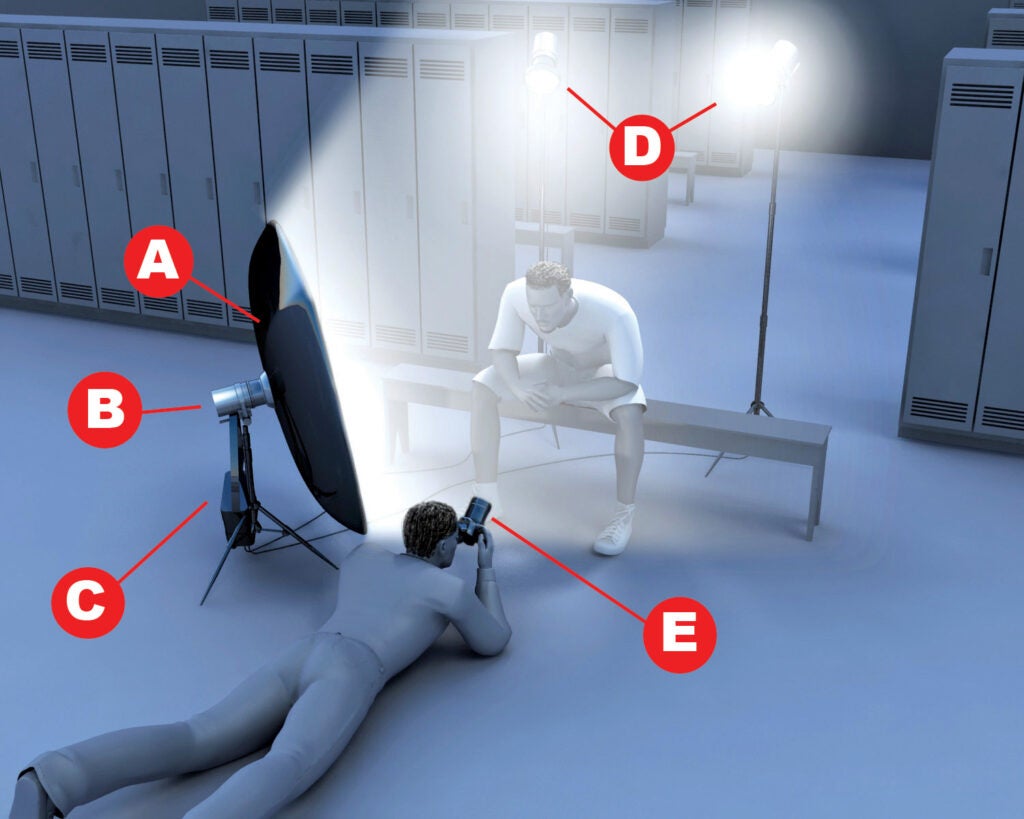 Kris Holland/Mafic Studios (ILLUSTRATION)
A low camera angle helped Ryan Gibson visually elevate and enhance his subject. Working this low required putting his Westcott 5-foot Octabank softbox (A) close to the ground and aiming it slightly upward to get light into his subject's eyes and chin. His main light was an AlienBees B800 monolight (B) that he powered with a Paul C. Buff Vagabond II portable battery pack (C). The Vagabond also powered Gibson's two background kickers: 400-Ws Westcott Strobelite Pluses (D) aimed directly at the camera position. He fired all three strobes using Paul C. Buff CyberSync flash triggers. Gibson shot with a Canon EOS 7D and 11–16mm f/2.8 Tokina zoom (E). "For this type of low-angle shot, I always ask my subjects to stare directly into the center of the lens as though they're trying to see right through the camera," says Gibson. "This helps to produce an intensity in the facial expression." The ground-up point of view also helped the photographer crop out background clutter.
Ryan Gibson is a portraitist who also freelances editorially for publications such as ESPN HS and Atlanta.