Tips From a Pro: Photographing Manatees
Jump in the water with Florida's gentle giants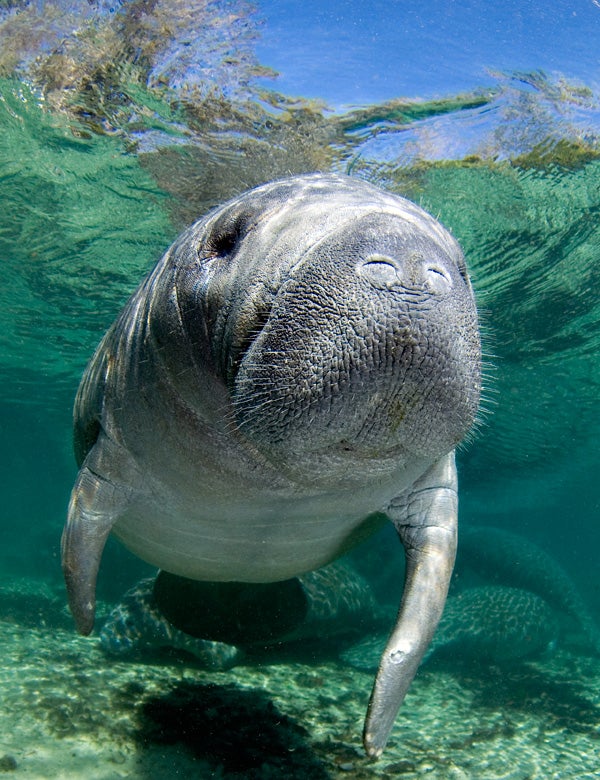 In 1493, Christopher Columbus, sailing through the Caribbean, spotted three "mermaids" and described them as "not half as beautiful as they are painted." No doubt, as what Columbus actually saw were West Indian Manatees, which, at 10 feet long and roughly 1,000 pounds, are no willowy beauties.
These easygoing herbivores still winter along Florida's western coast, where warm springs empty into the Gulf of Mexico. Though now endangered, manatees have become subject to a booming tourist industry. December to March is peak season, and plenty of snorkel boats run photo trips.
While scuba gear is not per-mitted, "there's no need for it, because the water is normally very shallow," says renowned underwater shooter Stephen Frink (stephenfrink.com).
The prime region is the Crystal River area, about 75 miles north of Tampa. The clear water of the Three Sisters Spring area and the abundance of manatee makes this the best spot for photographing them.
Most outfitters provide snorkel gear, and some, wetsuits­—which is nice, as the 72-degree water can feel chilly after a while. When to shoot? "While light penetration is best at noon, I like the directional light of early morning and late afternoon far better," says Frink. Wide lenses and an underwater housing are essential. Frink uses a Seacam housing and strobes. He lets sunlight illuminate the top of the manatee, while his flash adds fill light below.
Where to Go:
1. American Pro Diving Center: Tours in Crystal River and Homosassa, FL. As with the others here, snorkling gear is provided. (800) 291-3483; americanprodive.com
2. Crystal River Manatee Tour and Dive: Kids under 12, half-price; under 5, free. (888) 732-2692; manateetoursusa.com
3. Crystal River Tours: Boats have 21 seats, 15 reserved for swimmers. Also offers six-hour "Ultimate Manatee Tours." (352) 628-3450; crystalrivertours.com
4. Florida Manatee Tours: 3.5 and six-hour tours. (877) 463-4846; floridamanateetours.com
5. Fun2dive: Full-day tours (9:30 a.m. until roughly 3:00 p.m.), with groups limited to six. (888) 588-3483; fun2dive.com
6. River Ventures Manatee Tour Center: Three-hour tours conducted seven days a week. (352) 564-8687; riverventures.com