Tips From a Pro: Adding an Element of Surprise to Your Image
When an exotic location isn't quite exotic enough add something out of the ordinary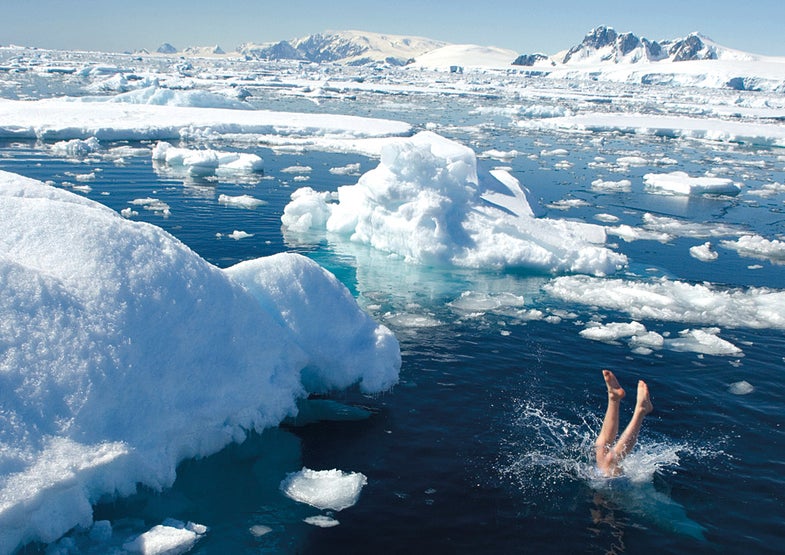 These days, it seems that out-of-the-way places have become so common in advertising and mass media that many are losing their exotic edge. So if you find yourself in, say, Antarctica, how do you bring back photos that are special? Colorado-based pro Pete McBride found himself faced with such a challenge, and overcame it with the help of ocean rowing adventurer Olly Hicks, whose legs you see here.
In 2008, the two were part of a five-week expedition, sailing and kayaking the west coast of the Antarctic Peninsula for a story on climate change. It was mid-January, sunny and abnormally warm for that time of year—the temperature was in the 40s. McBride has learned that when Mother Nature hands you such a gift, you take it. In this case, McBride and Hicks took a dip in water so cold it could have killed them in minutes.
McBride doesn't recall exactly how the two of them wound up wet, but "I quickly realized this was probably going to be one short swim, and it's only going to happen once," he says.
That's when his photographic instincts kicked in. Swimming in Antarctica would be novel, he realized, so composing for the icy expanse of the landscape, not for the diver, was key.
Getting the shot required classic sports technique:
Think about where the action will unfold, decide whether you're going to blur or freeze it, and set depth of field as needed. McBride focused on Hick's entry point and captured four frames in continuous shooting mode with his Nikon D300 and 17–55mm f/2.8G DX zoom lens set wide.
Before diving in himself, McBride stopped to consider the commercial potential of the scene. "I thought about what might sell [products]," he says. "Sometimes there's a huge overlap [between editorial and advertising images], and sometimes there's not." This idea seemed clearly editorial.
McBride tried a front flip, but landed on his back. None-theless, the "flop" shot was used for a Patagonia clothing ad. And the first shot of Hicks, shown here, ran in a National Geographic story on tourism in Antarctica. "It was the shortest and most painful swim I've ever done," McBride remembers­. A small price to pay for a versatile—not to mention, profitable—photographic moment.