How To: Plan the Perfect Photo Safari to Africa
For most wildlife photographers, its at the top of the bucket list. Here's how to plan your excursion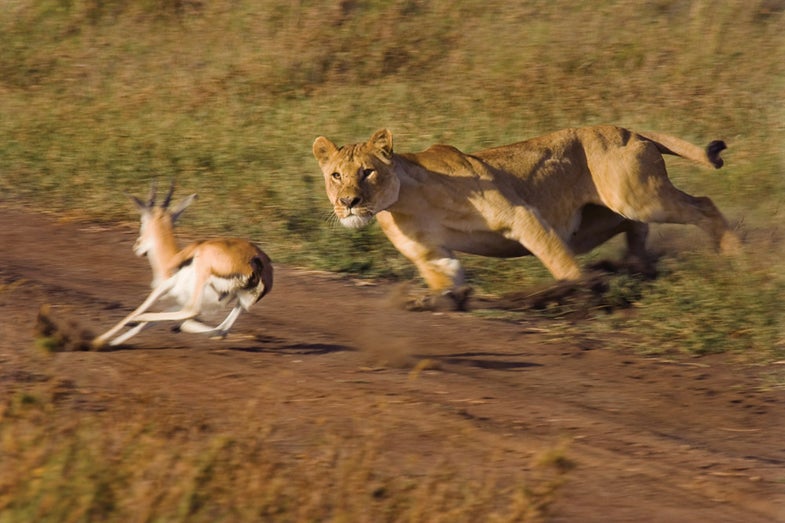 Picture yourself, camera in hand, in the vast Serengeti ecosystem of Tanzania, where millions of zebras, wildebeest, and other grazing animals migrate annually—in the shadow of their predators. Or the Masai Mara in Kenya, where lions are so accustomed to human company they'll frequently rest in the shade of Land Rovers.
Or imagine shooting in the highlands of Rwanda, where you can be among a select few humans to share the thin, high-altitude air with one of the last handfuls of mountain gorillas. Each is a breathtaking fantasy—one that, financial considerations aside, is completely within your reach.
Choose Your Outfitter
Planning a safari requires the services of qualified expedition organizer—no simple task. The Internet is frothing with companies eager to introduce you to the thrill of the African wild. Wildlife shooter Boyd Norton, owner of Wilderness Photography, advises caution. "It seems nowadays that anybody who can afford a Land Rover can hang out a shingle that says, 'I'm a safari guide,' and this can be very dangerous," he warns.
Check out their background and seek endorsements from past clients. Norton has heard plentiful tales of one-truck operators stranding travelers in the bush for days. Then ask each one:
-How many hours each day will be spent photographing?
-How many vehicles will be in your group? (Fewer are better, obviously.)
-How many people are in each?
-What's the pace? (The slower, the better, says Norton: "You need time to watch and smell and listen to get a sense of the place and to experience the unexpected.")
Choose a Destination
Safari countries can be divided roughly into three regions: Southern Africa includes Botswana, Malawi, Namibia, South Africa, Zambia, and Zimbabwe. East Africa means essentially Kenya and Tanzania. Central includes Burundi, the Democratic Republic of the Congo (formerly Zaire), Rwanda, and Uganda.
Though Kenya's Masai Mara was long the destination of choice for American travelers, political unrest in recent years has shifted much of the safari trade to Tanzania. "Crime and corruption in Kenya were getting so bad that I felt it was not safe to bring groups there anymore," says Norton. He now brings groups to Tanzania exclusively.
Kenya, however, remains popular with other organizers. "Kenya is really what most Americans think of when it comes to Africa," says Nicky Glover, who, along with her husband, wildlife photographer James Weis, runs Eyes on Africa. "Most people go for the migrations." Tours are typically two weeks long, including travel time, and when to go really depends on where and what you want to shoot. The "short rains" (December to March) and the "long rains" (April to June) are key to which animals you'll see and where you'll see them. To help you choose, visit safari.go2africa.com.
What to Bring
You'll be schlepping whatever you bring through several airports, and connecting flights may have erratic weight restrictions. So pack light. Still, some things you can't do without. The photographers I talked with suggest:
-A primary DSLR body plus backup.
-Enough batteries to last one long day in the field. Most camps have electricity (you'll need an adapter plug).
-Memory, and lots of it.
-A laptop and/or portable hard drives.
-Compact video camera (Norton carries a Panasonic HDC-TM700 in his vest pocket).
-Shooting vest. This may be the one place you won't look like a dork in one.
-Beanbags for roof shooting (bring them empty—you can fill them there).
-Tripod. It should be light but sturdy.
-Teleconverters and close-up extension tubes.
-Zipper bags. It's dusty, so bring a lot.
-Lenses. You'll need long telephotos, wide-angles, and a macro lens.
Your Tent Awaits
Safari accommodations can be pretty cozy. "We have a great camp staff and they do all of the cooking for you—there's wine and beer around the campfire in the evening," says Norton. Camps offer tents and comfy beds, as well as private showers and toilets.
Expect to pay anywhere from $5,000 to $10,000 per person for a 14-day trip—and that's ground only. International airfares are additional and run between $2,000 to $3,000 round-trip. Over-the-top luxury outfitters such as Micato Safaris (www.micato.com) cost more.
Ready to invest? Here are some solid safari's to consider:
EASTERN, CENTRAL, AND SOUTHERN AFRICA:
Eyes on Africa Extensive Trips to Botwsana, Kenya, Malawi, Namibia, South Africa, Zambia, and more. Photo workshops led by noted pro James Weis. (www.eyesonafrica.net)
Good Earth Tours Thirty years in safaris. Offers 3- to 15-day journeys in Botswana, Kenya, South Africa, Tanzania, and Uganda. (www.goodearthtours.com)
African Photographic Safaris Small-group photo safaris, led by wildlife shooter Stu Porter. Tours in Kenya, South Africa, and Tanzania. (www.wild4photographicsafaris.com)
TANZANIA:
Boyd Norton's Wilderness Photography More than 27 years of safari experience. Trips are scheduled for Jan. and Feb. 2012. (www.wildernessphotography.com/tanzania.htm)
Thompson Safaris Includes Kilimanjaro expeditions. More than 30 years of safari experience; all guides have at least 10. Custom trips available. (www.thomsonsafaris.com)
William Cowger's Photo Safaris and Workshops Primarily 14-day safaris in Tanzania's Lake Manyara, Ngorongoro, and Serengeti regions lead by photographer William Cowger. (www.thephotosafari.com)
UNUSUAL DESTINATIONS:
Joseph Van Os Safaris 2012 tours include rare visits to Ethiopia wildlife refuges, Kenya, and Rwanda for mountain gorillas. (www.photosafaris.com)
LUXURY
Micato Safaris Luxe all the way. Botswana, Mozambique, Rwanda, Victoria Falls, and more—by Learjet if necessary. (www.micato.com)
Jeff Wignall is a contributing editor to this publication and author of The NEW Joy of Digital Photography and other photo books.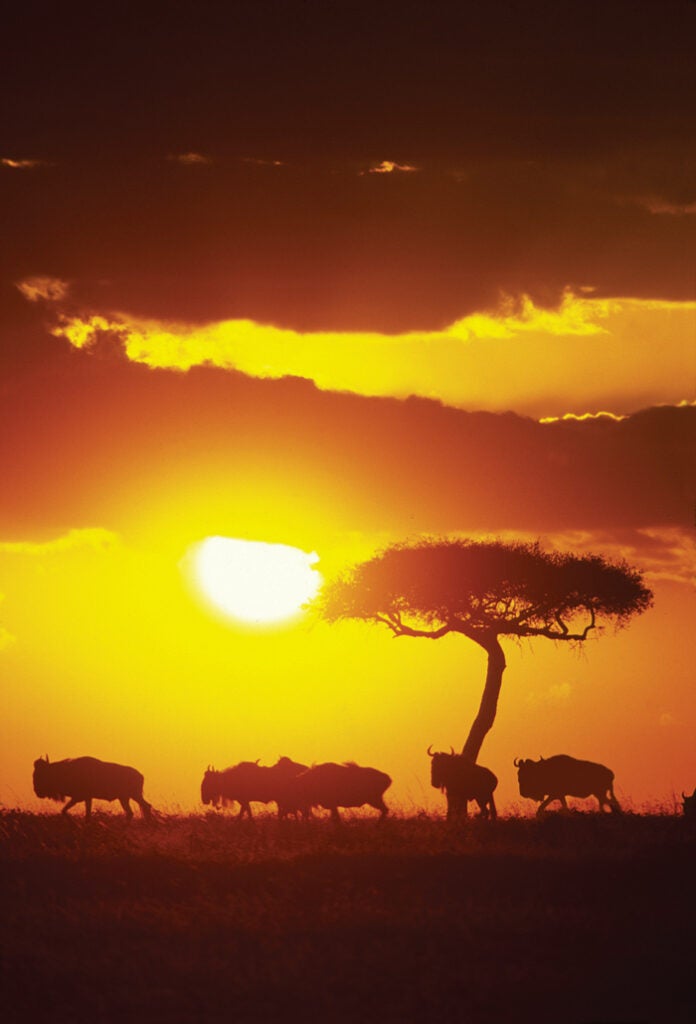 Serengeti Sunrise
"Being up at dawn is vital here, because the Serengeti has some of the world's most spectacular sunrises," says Norton.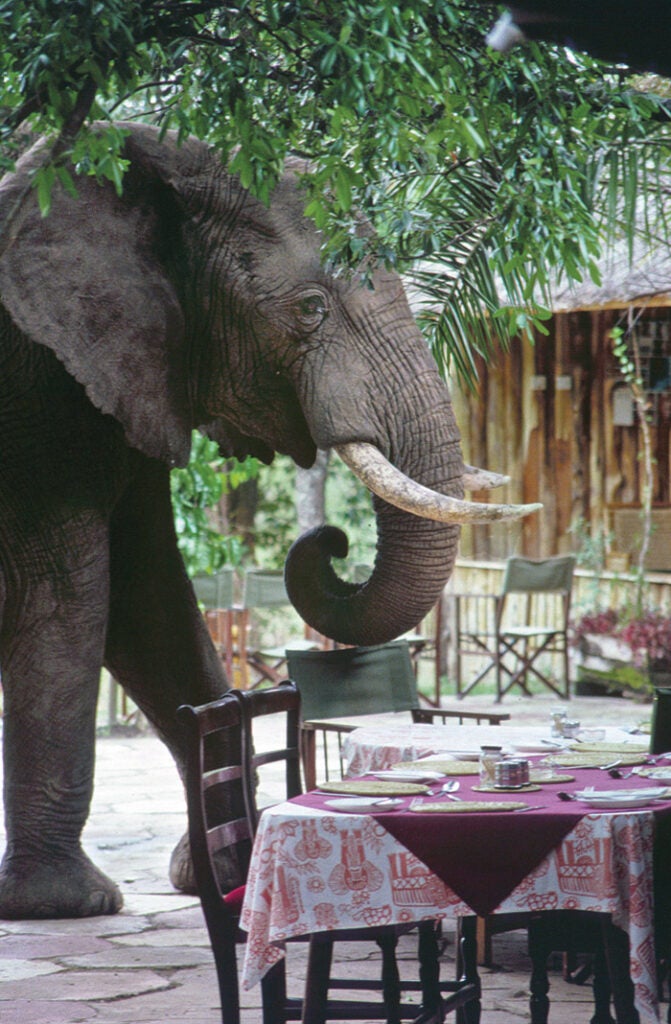 Elephant, Masai Mara National Reserve, Kenya
Norton paid close attention to the body language of this foraging elephant. "Flaring ears or a raised head are your clue to back off," he says.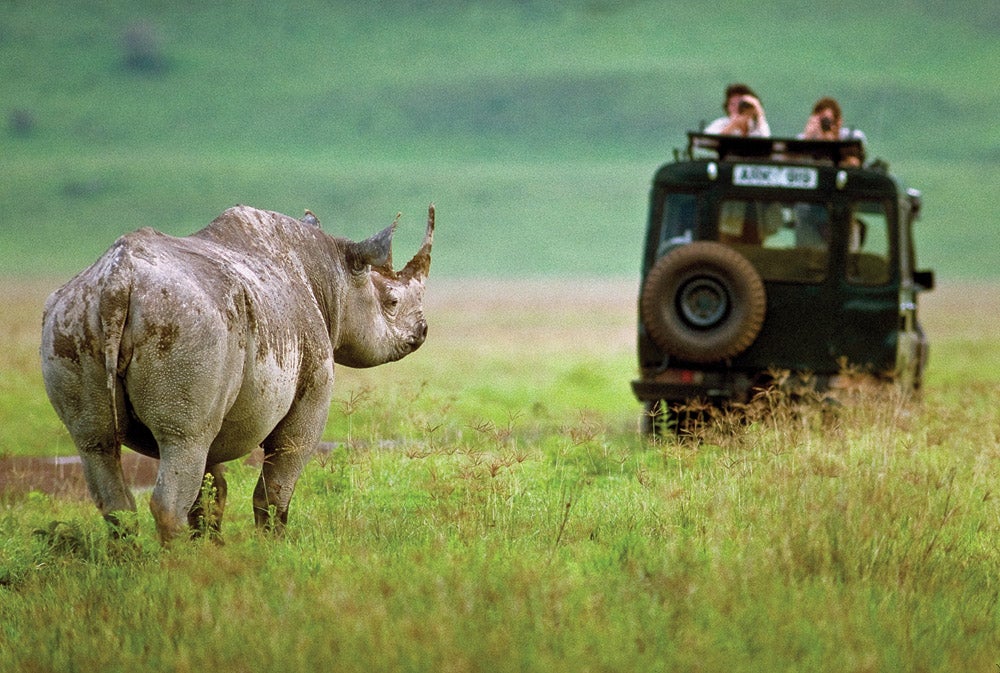 Ngorongoro Crater,Tanzania
To get sharp pictures when you shoot from a parked Land Cruiser, says Norton, "make sure the engine is turned off and your fellow passengers aren't moving about." The best camera support? "A simple bean bag."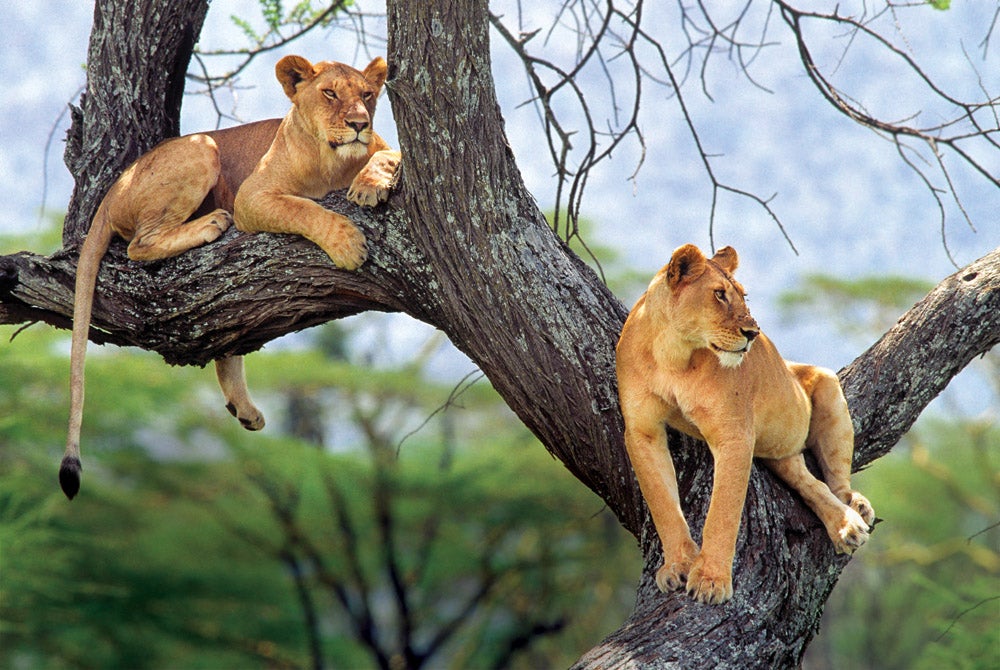 Serengeti Park, Tanzania
One technique to prompt alert expressions from resting lions: Send a Jeep across the savanna. They'll follow it with their eyes.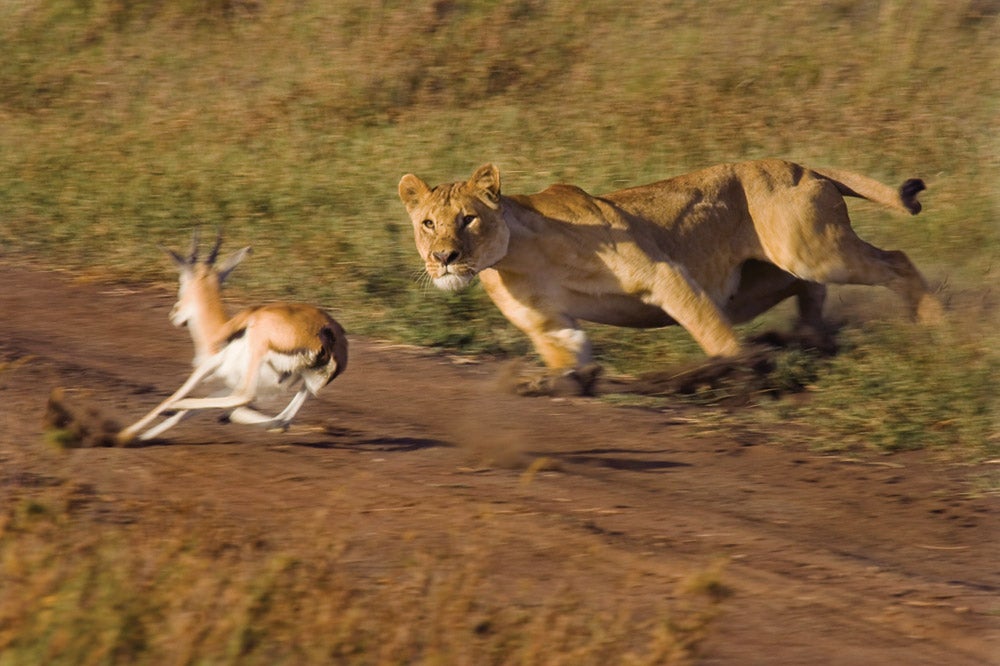 Lioness, Serengeti National Park, Tanzania
Norton advises shooting active subjects in continuous mode, "and don't let up on the release until the dust has settled."