Off-camera Flash Photography for Any Skill-level
3 different setups to suit your style and budget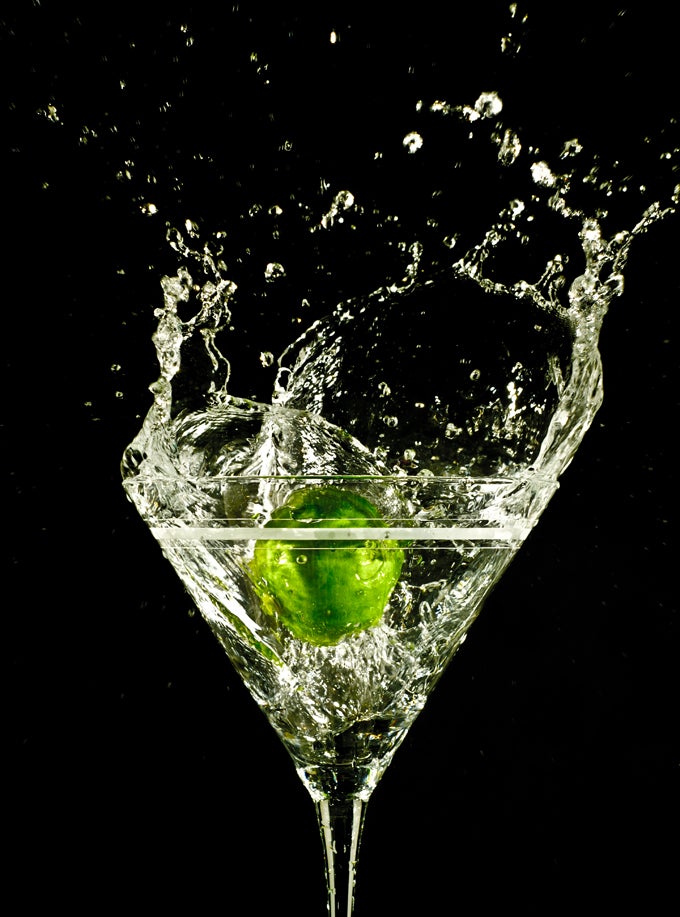 Easy Setup: A Single Off-camera Flash
Photo: Bruce Dorn
Using a single off-camera Canon 580EX II Speedlite (inside softbox) at full manual power, photographer Bruce Dorn filled in the shadows cast by the sun on this partially backlit model. He softened the Speedlite's output by popping it through an F.J. Westcott B.D.S. Shallow Softbox of his own design (A). He placed it at ground level and aimed it up at the model. Dorn triggered the flash wirelessly with a PocketWizard Plus II transceiver in the camera's hot-shoe (B). Along with the flash, the transceiver was mounted on an F. J. Westcott Magic Slipper off-camera flash bracket (shown below, also inside the softbox). Dorn's company IDC Photo Video Gear manufactures a similar bracket. The photo-grapher used a Canon EOS 40D and 70–200mm f/2.8 Canon zoom (C), with an exposure of 1/250 sec at f/10, ISO 100.
Kris Holland/Mafic Studios
Gear Used:
F.J. WestcottvMagic Slipper flash bracket ($200, street) with speed ring, flash, and flash trigger (all optional).
Canon 580 EX II Speedlite ($500,street)
Midlevel Setup: Add a Second Off-camera Light
Photo: Andrew Wong
To make a bigger splash, San Francisco Bay-area shooter Andrew Wong (www.andrewwongphoto.com) dropped a key lime instead of an olive into this martini glass. With two wirelessly controlled, off-camera shoe-mount flashes he successfully froze that splash in mid-air. He used a Nikon SB-600 Speedlight (A) and SB-800 (B) which were fired at 1/2 power wirelessly by Nikon's Creative Lighting System (CLS) Commander function that Nikon built into his D200 DSLR (C). The martini glass was lit by direct, unmodified flash, and to soften the look, Wong feathered the flash output by "cross lighting" the glass. He did this by aiming his Speedlights slightly behind his subject. He mounted the camera on a Quantaray QSX 6601 tripod (D) and the flashes on Impact LS 6B lightstands (E). The background (F) was black foamcore.
Kris Holland/Mafic Studios
Gear Used:
**
**
Nikon SB-600 and SB-800 Speedlights. Both have been replaced by the SB-700 and 900, respectively ($320 and $470, street)
Nikon D200, replaced by the D300S ($1,600, street). Flashes and camera feature Nikon's CLS wireless flash system.
Advanced Setup: 45 Wirelessly Controlled Flashes
**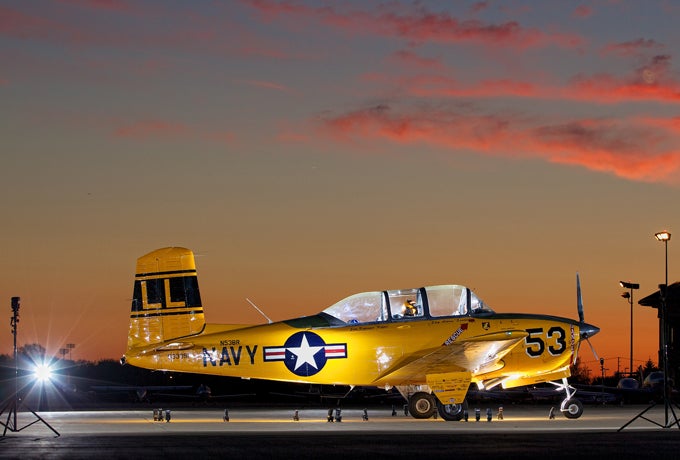 2011-05-17 DLS Workshop Schaumburg Airport
2011-05-17 Schaumburg Regional Airport, Schaumburg, IL Davis Love Story Workshop Day 1. Used 45 Canon Speedlights and Radiopoppers to light The yellow Lima, Lima, Flight team T-34 trainer on the tarmac while shooting from a helicopter after dark. AWESOME All photos copyright 2011 by Bob Davis | www.bobanddawndavis.com BOB DAVIS | CELEBRITY PHOTOJOURNALIST | BOB AND DAWN DAVIS PHOTOGRAPHY & DESIGN | bob@bobanddawndavis.com | 312.719.3577 website: bobanddawndavis.com | online journal: www.bobanddawndavis.info
**
Bob and Dawn Davis Photography
For a lighting workshop, Bob and Dawn Davis blasted this vintage prop plane with light from 45 Canon Speedlites. They used 580EX, 580EX II, and 430EX flashes, which were all fired by RadioPopper wireless flash triggers. They organized the flashes into three groups, and the output of each was controlled from a 580EX II in the camera's hotshoe (A). The outer perimeter lights formed a group and were mounted on Manfrotto 501B Nano lightstands (B). A second group of Speedlites lit the plane's underbelly (C), while a third group illuminated the interior of the plane (D). All were TTL-controlled from the camera position. The Davises shot with a Canon EOS-1D Mark IV and 24–70mm f/2.8L IS II EF Canon zoom, for an exposure that slightly underexposed the sunset beyond: 1/160 sec at f/5.6, ISO 250.
Kris Holland/Mafic Studios
Gear Used:
Canon 580EX II Speedlite ($500, street)
RadioPopper Wireless flash trigger system; receiver shown ($250, street)