Lose a Lens Hood? Print Out a New One
Lenshoods.co.uk offers up PDF templates for making your own papercraft flare fighters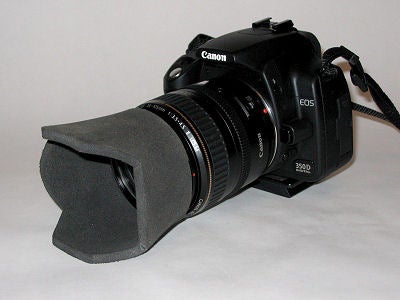 We may earn revenue from the products available on this page and participate in affiliate programs. Learn more ›
For a while, I was using one of those sleeves you get on a Starbucks coffee as a lens hood. It was wrapped in black tape and it wasn't pretty, but it got the job done and it was free, which was really important at the time. Had Lenshoods.net been around back then, I could have just printed one out. It's not as cool as the Flower cap/hood, but you can't be the price.
The concept is pretty simple. The site offers a sizable selection of PDF templates that you can download and print out using a normal printer. Then you cut out the shape and tape or glue the ends together, leaving you with a free, if a little filmsy, lens hood.
The back of the hood has a series of paper tabs meant to be folded under to secure it to the lens. While they do seem to work, you'd probably be better off throwing some tape into the mix if you're going to be moving around a lot or shooting in any kind of wind.
The hood selection is pretty impressive, covering lenses from Canon, Nikon, Pentax, Sigma, Tamron, and Tokina. The cool thing is that you can put as much — or as little — work into it as you want and even customize them as you like. Just be aware that you should probably use some kind of thick stock. If you're going to use printer paper, you're probably better off just sticking to the Starbucks sleeve.