Shooting Guide: Late Summer in Mt. Rainier National Park
You don't have to wait for fall for this Washington park to get scenic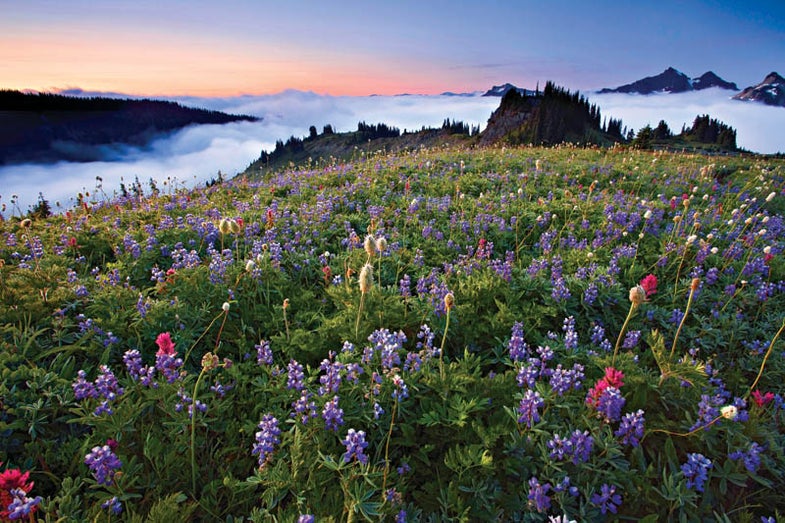 You missed the Southwest wildflower bloom in March. And the Texas hill country bloom in April. And the Grand Tetons in June. But you don't have to wait 'til next year for fantastic spring wildflower shooting—and it's in an easily accessible park. So grab your gear and get up to Washington's Mount Rainier.
When spring everywhere else has long gone, the season starts anew in the mountains of the Pacific Northwest, most notably Mt. Rainier National Park. In late July and early August, its extensive wildflower meadows burst with color, carpeting the landscape with lupine, avalanche lilies, Indian paintbrush, bear grass, asters, daises, fireweed, and many others. Rainier also boasts a diverse array of stunning scenery, including swift-running streams and waterfalls, mysterious rainforests, abundant wildlife, and unrivalled mountain landscapes. An active volcano, clad in massive glaciers and reaching 14,411 feet above sea level, Mt. Rainier is only 2 hours from Seattle by car.
Where to Find What
•Wildflowers: You can reach some of the best sites easily from the road. Put the aptly named Paradise, just south of the mountain off the main park road, atop your list. The many trails leading from the parking area pass through endless fields of lupine and Indian paintbrush, with Mt. Rainier looming above. The paved Skyline Trail starts at the Paradise visitor center and boasts fabulous flower vistas.
More adventurous? Hike up the steep trail to Mazama Ridge for unobstructed views of Mt. Rainier with fields of wildflowers below. The best light is in the morning; in the afternoon, the wildflower fields are backlit. The sun sets behind the mountain, so don't expect great shots unless high clouds light up above Rainier.
The Sunrise area, reached from the White River Entrance on the east side of the park after a long, winding drive, is (no surprise) best at dawn. For wildflowers fronting reflections of the mountain, try Tipsoo Lake, on the east edge of the park off Mather Memorial Parkway, or the Reflection Lakes, off the main road below Paradise.
Or trek several miles into Spray Park, Van Trump Park, or Indian Henry's Hunting Ground. Van Trump is best at sunrise; Indian Henry's and Spray Park (bring plenty of mosquito repellent) at sunset. Camping will let you catch the best light: Check www.nps.gov/mora for information on backcountry camp sites and permits.
•Waterfalls: One of the most beautiful is Comet Falls—reached after a steep 2-mile hike, it plummets 320 feet over a triple drop. But before heading up the trail, stop at the nearby road pullout for Christine Falls—you won't even need to put on your hiking boots. Two lovely falls, Carter and Madcap, require a moderate hike from the Cougar Rock camping area. If you're not up for that, 180-foot Narada Falls is just a short jaunt from the main park road.
My favorite: elegant Spray Falls. Take the trail from the Mowich Lake camping area (reached from Route 165 on the west side of the park) toward Spray Park; after hiking 3 miles and gaining 1,000 feet in vertical ascent, you'll be rewarded with an excellent view from the base of the falls.
Although waterfalls are typically best shot on cloudy days (preferably after rain), rainbows form in the mist of Spray Falls on sunny afternoons. Use a polarizer to reduce glare on wet surfaces.
•Rainforests: Especially photogenic rainforests grow near the Nisqually Entrance in the southwest of the park and along Carbon River Road in the northwest. Overcast light works well here, though I prefer mixed light early or late in the day for its ethereal mood. Look to shoot backlit trees draped with glowing moss and lichen.
•Wildlife: Coyotes, mountain goats, elk, red foxes, ptarmigan, ground squirrels, marmots, chipmunks, pika, and deer are often spotted within the park, and you might even see a black bear or a puma. Photos of animals among wildflowers can be particularly compelling—best are the open meadows of Paradise and Sunrise.
Weather Report
Mt. Rainier makes its own weather. Clouds often wreathe it like smoke around a chimney, creating magical lighting at sunrise and sunset, provided enough of the mountain peeks out. Temperatures are often comfortably warm during the day, but can get cold (sometimes below freezing) at night, especially when it's clear. You may find morning frost on higher-elevation meadows, even in August. Frosted flowers make excellent close-up subjects.
Fog, common in the morning, lends a mystical mood to wildflower images. Carry a small spray bottle filled with water: When dew doesn't form, you can spray flowers to add a natural-looking touch.
Look for opportunities when morning mist starts to burn off—as the sun rises above it, sunbeams often poke through. If you are lucky, you might find yourself above the valley fog. Mazama Ridge is great for this, providing sweeping panoramas of most of the eastern and southern portions of the park.
The ultimate Rainier weather event? The formation of lenticular clouds atop the mountain. Moist air propelled by high winds can set these lens-shaped clouds hovering over Rainier like spaceships. Often, one will stack upon another; stacks of three or more aren't uncommon. Lenticulars are best at sunrise or sunset, when they light up rosy pink.
Shooting Florals
Soft, diffused light is ideal for intimate, macro wildflower compositions. Backlighting can also produce stunners, making the fringes of thin blossoms and leaves glow.
Try a telephoto lens to frame backlit fields and showcase patterns or textures. And place backlit subjects against dark backgrounds for dramatic effect. Check your histogram to ensure you haven't overexposed the highlights or underexposed the rest of the scene. Try to optimize midtone and shadow exposure throughout.
At sunrise or sunset, direct light works well for alpine landscapes. If foreground flowers land in shadow while the sky and mountain peaks are sunlit, use a split neutral-density filter to balance the exposure.
A polarizer cuts glare off waxy or wet foliage, improving color contrast and saturation. But be careful when using one on a wide-angle lens if your frame includes the sky—uneven polarization can leave parts of the sky darker.
For sweeping vistas, use a group of wildflowers in the foreground. But don't go too wide, as it can make background features such as mountains look small. For sharp focus through the image, set your aperture to f/16 or f/22 and focus one-third of the way into the scene. Wind in alpine meadows can ruin your flower images. Four strategies can combat it: Use a high ISO (400 to 800) and fast shutter to arrest the motion; shoot at dawn, when wind is lightest; wait for a lull; or use long exposures for impressionistic images of flowers tossing in the breeze. Shutter speeds of 1/8 sec or more introduce motion blur even with wide-angle lenses, and exposures of several seconds can create abstract blurs of waving flowers against a stationary background
Wildflowers are delicate, and plants can die if trampled. Be careful where you step, avoid walking through flower patches, and stay on designated trails.
Note: Be sure to check weather conditions at Mt Rainier before planning a trip there, they can be quite unpredicitable!
Ian Plant is a nature photographer and writer whose images have appeared in leading photo magazines, books, and calendars. He leads nature photography workshops, too. Check out ianplant.com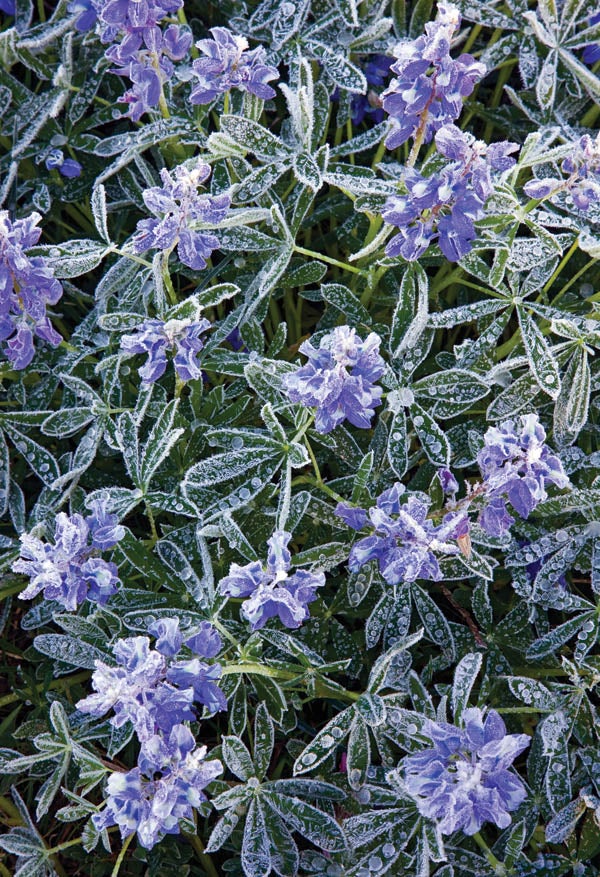 Lupines Covered in Frost
Plant found these after a chilly night, and shot them with a 5D Mark II and 24–105mm f/4L lens; 0.8 sec at f/22, ISO 100. A tripod was used for all photos.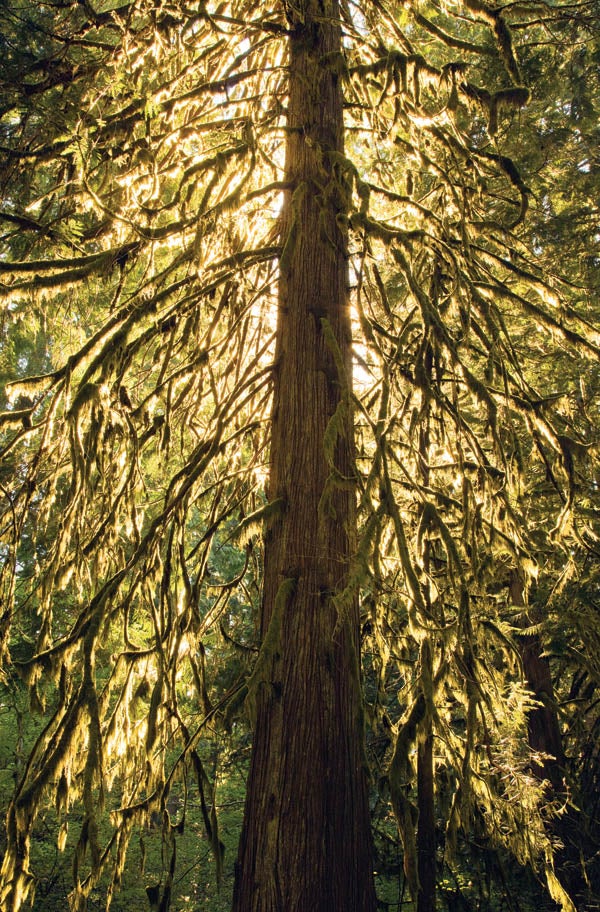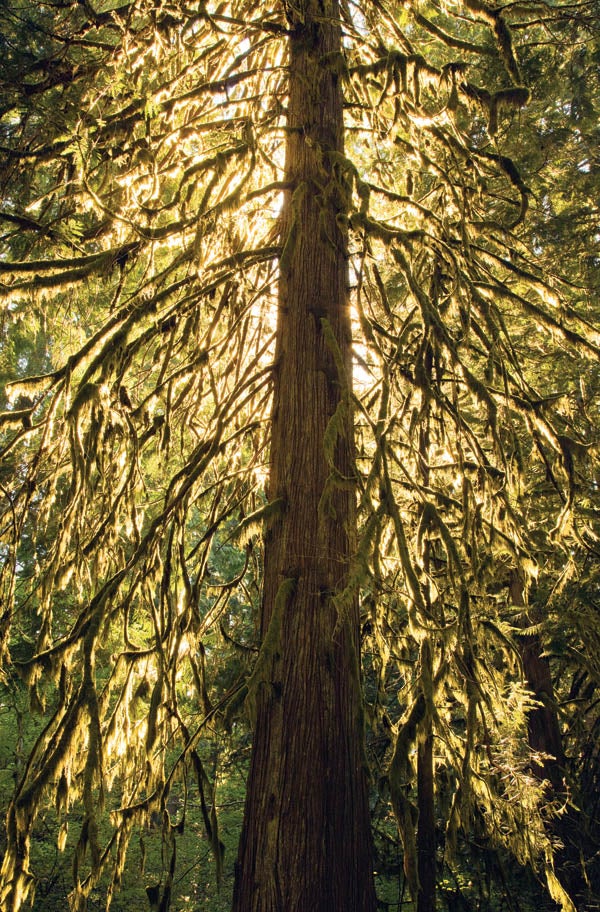 Trees Covered in Lichens
Rainier's lush rainforests come alive when backlit. This shot was made using a 5D Mark II with 24–105mm f/4L Canon EF IS lens; 1/6 sec at f/16, ISO 400.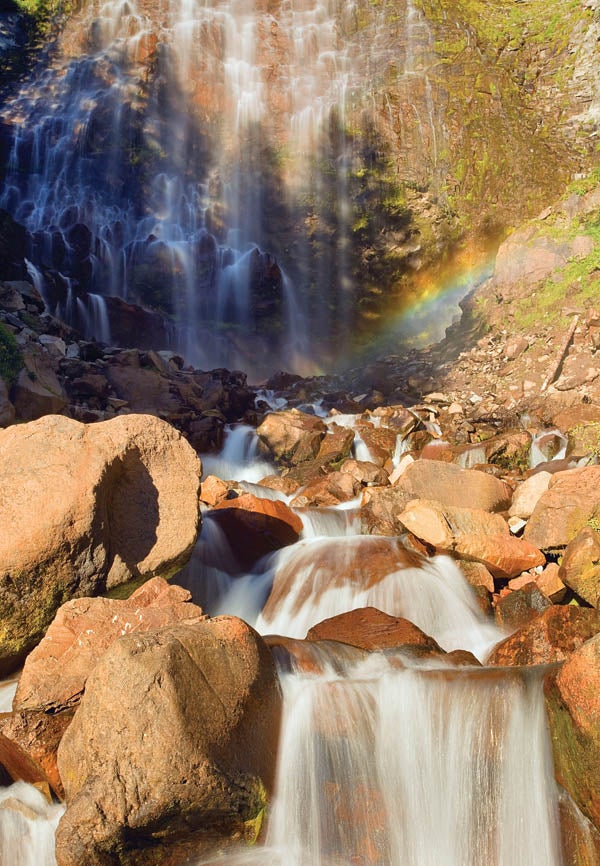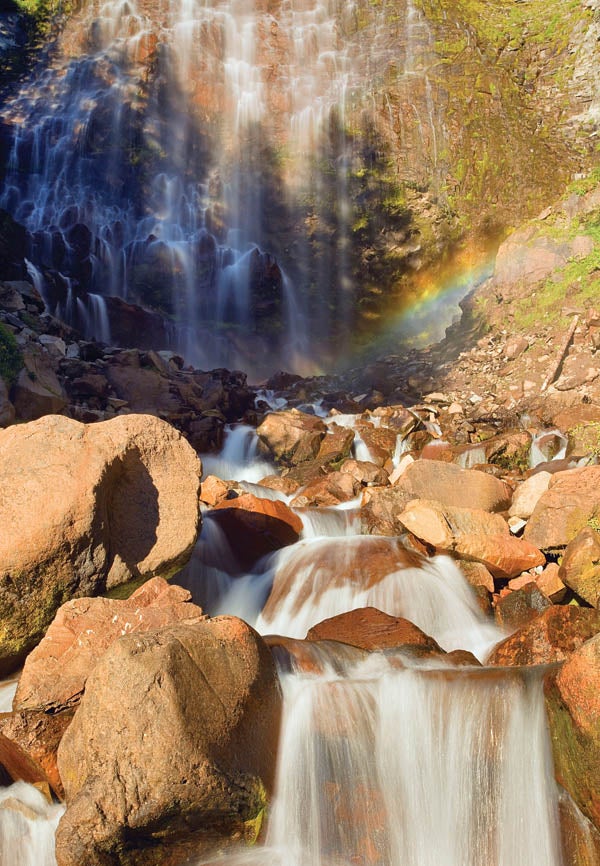 Rainbow at Spray Falls
Shooting in the afternoon on a sunny day, Plant used the 5D Mark II and 17–40mm f/4L lens with a polarizer for the shot at 0.6 sec at f/20, ISO 100.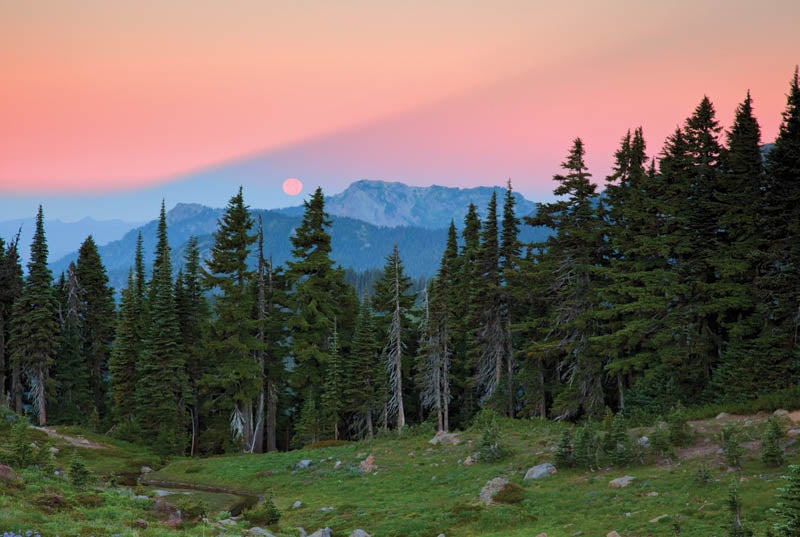 Shadow of Mt. Rainier in the Sky
This phenomenon occurs during early morning twilight. Plant shot with a 5D Mark II and 24–105mm f/4L lens with a 2-stop split ND filter; 1/15 sec at f/8, ISO 400.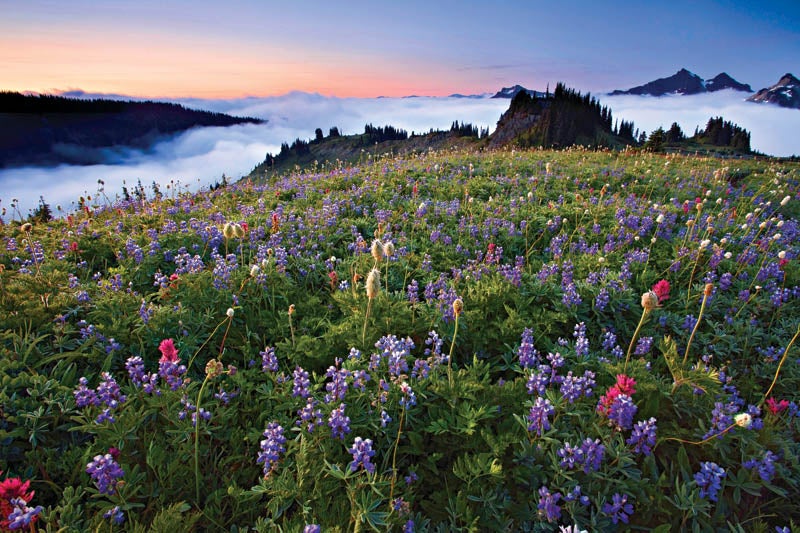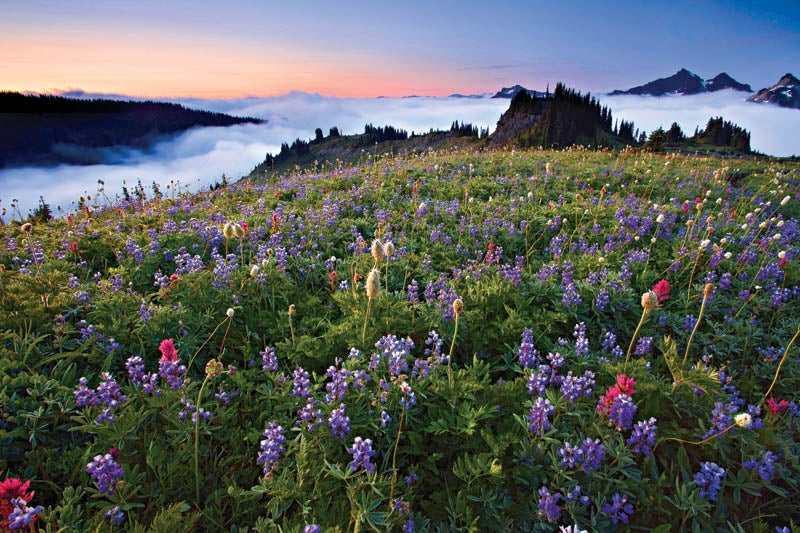 Mazama Ridge
Ian Plant shot this field of wildflowers above early morning valley fog with a Canon EOS 5D Mark II and 17–40mm f/4L Canon EF lens fit with a 2-stop split ND filter and a polarizing filter; 13 sec at f/16, ISO 400.