How To: Get a Fresh Perspective on a Popular Landmark
Follow these steps and you too can create a "new classic"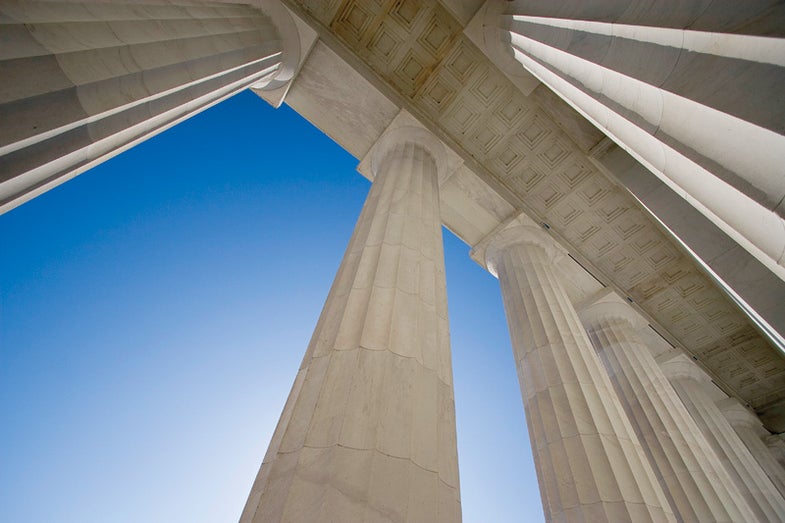 Sometimes the most recognizable buildings and landmarks are the hardest to photograph. So discovered pro shooter Ken Colwell, 39, of Ada, OH, on a recent business trip to Washington D.C. Its Lincoln Memorial is an architectural gem and among Colwell's favorite sites. What made it hard to shoot? The first obstacle was dealing with his fellow tourists. Crowds can make it hard to get even snapshots at venues this popular.
Second, it can be impossible to take a picture of a famous structure without producing a cliché. "I shot many photos inside the Memorial, but couldn't come up with anything new or different," Colwell recalls. "In a moment of frustration, I stepped outside to find this beautiful blue sky, these brilliant white columns, and a photo I like."
Colwell has some workarounds for "overexposed" sites:
1. Study Up
Look at images of your famous subject on Flickr—sort by "Interestingness"—and use the least-clichéd as starting points for envisioning your own angle.
2. Time your visit.
Avoid tourists by shooting in the off-season, during the work week, or early in the day. "When I travel to the West Coast, I keep my body on East Coast time," explains Colwell. "It helps me get up before dawn, avoid the crowds, and get pictures with the warm light and long shadows of sunrise and early morning."
3. Use Google Earth to learn
The disposition of buildings and landmarks relative to the sun's path. You probably don't want to arrive at midday, and Google Earth can often show you whether early or late in the day will provide the best light for popular destinations. Its Sun control also indicates how bright the location will be for a given hour and day of the year. Colwell's photo works, in part, because it was taken in the early morning when the sun was low and indirectly illuminating the portico's coffered ceiling and the backs of the columns.
4. Take the right gear.
"You will almost certainly need an ultrawide-angle lens to take in larger buildings and landmarks, without tipping your camera up and distorting their lines," Colwell says.
5. Be Selective
Take only a few pictures of the entire building or landmark. Spend more time zooming in on less-familiar, yet fascinating, detail.
6. Get a Feel for the Subject
Absorb the unique character of a place and shoot until you've captured it. "As I read Lincoln's stirring words that lined the interior walls, it inspired me to keep shooting until my photos reflected how the Memorial made me feel," says Colwell.
7. Compose creatively.
Show viewers something they haven't seen before by shooting from unusual perspectives. Get very low, very high, rotate the camera or shoot from close in using a fisheye lens.