'The Way of the West' Portrays the Modern Cowboy through Photo/Video/Painting Mash-up
Photographer Jim Krantz successfully blurred the line between mediums in his award winning cowboy film.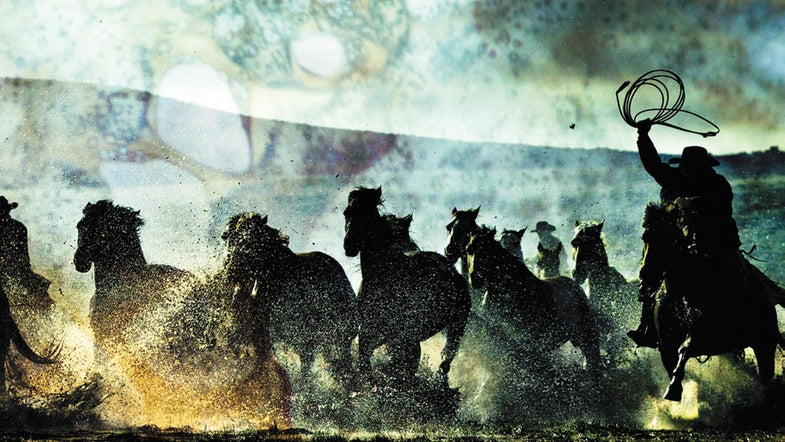 Go to JimKrantz.com to view his award winning video.
From a production standpoint, the worlds of still photography and motion pictures have traditionally been separate affairs. But now, still, moving, and hybrid images can be created from one shoot, blurring the line between the realms to the rhythm of soundtracks. In his award-winning promotional video "The Way of the West," commercial photographer Jim Krantz of Chicago, IL, infuses the mythic American cowboy with a modern sensibility, overlaying this scene with an experiment in painting.
Before shooting this work on assignment in Colorado, Krantz saw it as an opportunity to reinterpret traditional cowboy iconography. He worked with Emmy Award-winning editor Josh Bodnar and others to present the cowboy as dynamic rather than stoic, as a modern master in his element.
To achieve this mood, his video combined motion (captured with a RED camera) with animated sequences built from stills such as this one. "I almost feel like I'm starting over from scratch with so many new ways to approach and put together imagery now," says Krantz.
He scouted the location and determined that sunrise was the only time the light would be low on the horizon and from the rear. Knowing that the spray of water would be backlit, he requested a herd of only dark-colored horses to maximize contrast and emphasize the visual layers.
When the horses galloped through the water, Krantz framed the scene with a telephoto lens to emphasize the main rider as if he were the only one herding the horses. He used a Canon EOS-1D Mark III with a 200mm f/2.8L Canon EF lens.
In postproduction, Krantz and Bodnar added the textured overlay and created several frames for the video animation. The inspiration for the texture came from Krantz's own experimental paintings on glass with light–sensitive emulsions. By integrating visual elements with an "organic-abstraction feel" on top of the action shot, Krantz found a pleasing aesthetic synthesis he calls "transmedia."
"These ideas don't come from photography," he adds. "They come from sculpture and painting." Krantz cites the work of the American painter Franz Kline as an important influence.
Krantz readily admits he could never have achieved his vision alone. "Collaborating with great talent is vital nowadays in the commercial world and in fine art," he says. "You've got to be collaborative because so many people know so much more about the specialized nuances that are available to us. Truth is there were 30 or so people on the set—that's why these projects happen. I'm just the tip of the arrow."