Daily Dispatches: Documenting Life in Nairobi, Kenya through Innovative Journalism
A veteran photographer and a writer join forces to bring a daily taste of normal life in Africa to college campuses around the country.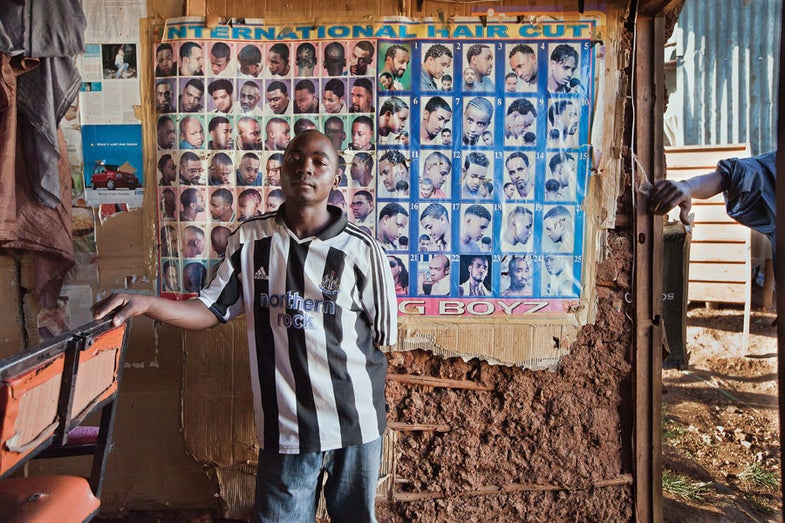 Photojournalist Brendan Bannon and writer Mike Pflanz are undertaking an innovative project that has the potential to revolutionize the way we think about real time journalism. Their mission? To explore the rapidly evolving African city of Nairobi, documenting the people they meet and the places they see, and then sharing the images and narratives with college students across the nation on a daily basis. Keep up to date with Brendan and Mike's day-to-day acitivities by heading to: DailyDispatches.org.
Accurately presenting Africa has long been a challenge for Western news outlets. As there is anywhere else in the world, there is suffering. But in Africa's case, that suffering tends to blot out everything else, at least through the limited window we have on it half a world away. The continent's diversity of geography and politics combined with the finite space of newspapers and television can't help but tilt our perceptions.
While it would be irresponsible not to cover its myriad stories of drought, starvation and political malfeasance, they are told at the expense of views of normal, non-miserable everyday life. Nairobi-based photographer Brendan Bannon, who has shot for the Boston Globe, Christian Science Monitor and more, puts it simply: "When you're talking about Africa, you're talking about crises."
Bannon's camera took him to Nairobi, Kenya, for the first time in 2005 as part of a project to teach photography basics to children orphaned by AIDS. Exploring on his own, however, he found rich photographic subjects, and over the next few years he built up a solid stable of Western news outlets that needed a dependable shooter on the ground. Five years in, however, a slight unease began to tug at him. "A lot of the work I'd been asked to do was covering drought, famine, HIV, refugee camps and so on. It's really important work and the world needs to hear about it, but it's also a very narrow band of what Africa is. While covering these stories on assignment, I often found surprising and interesting topics around me, such as how the continent is embracing telecommunications and electronics or the resourcefulness with which people survive their challenge-filled daily lives. But those weren't stories I could sell."
So he found a way to cover them without selling them. Bannon and Mike Pflanz, a writer who has worked the chaos beat throughout Africa and shares Bannon's desire to show a more balanced view, came up with a novel way to frame and disseminate their work, one that combines journalism, fine art and education.
The result was Daily Dispatches: Nairobi, a project that aims to document normal, non-crisis life in Kenya's capital. Each day in April, Bannon and Pflanz will send one to three panels to universities in the U.S., where they will be made into large gallery-quality prints and hung for students to see. Each panel will feature photos by Bannon and words by Pflanz. For Pflanz, the most exciting thing is "having the freedom to report from bits of Nairobi where no newspaper is interested in sending me. When I call editors, they want to hear about pirates in Somalia or civil war in Ivory Coast, but if I tell them about a mobile-phone money transfer system that's changing the way people do business or that most of the middle class are driving around in shockingly fancy cars, they don't know what to do with it.
"
The Nairobi train station. Photo: Brendan Bannon
The panels they produce will show the Kenya the two have come to know, one that has problems but is also full of happiness, joy and connectedness. The project will not shrink from tragedy, but it won't spike stories simply because they're not sad enough. Their ultimate aim is to produce an honest document of 30 days spent in Nairobi.
In addition to the daily canvases, Bannon and Pflanz will be running a blog at dailydispatches.org, which will take students behind the scenes. "We'll have interviews with people we've shot, scans from our reporters' notebooks, as well as some of the shots that led up to or followed a photo we chose for that day," Bannon says. "We'll use the web to surface our practices and decision making." This, he says, is part of the appeal of housing the exhibition on college campuses. "You can learn a lot in school, but once you get out and have to do real assignments, there's a whole other level of problem solving that comes into play. It's helpful to see how working photographers get things done."
Which just leaves Bannon and Pflanz the getting-things-done part. "Finding, shooting, writing and filing some 30 stories in 30 days, complete with fact checking and editing, is no small task," Pflanz admits. But, he adds with a chuckle, "it's good to keep busy."
Daily Dispatches: Nairobi will run from April 1 through 30 on campuses including Bakersfield College in California and Buffalo State College and St. Bonaventure University in New York. At St. Bonaventure, the exhibition will start in an empty gallery at the Quick Center for the Arts and fill it by the end. At Bakersfield, each new panel will be added to a continuous display in a high-traffic hallway. Bannon and Pflanz hope the exhibition will live on as both a touring collection and an online archive.
Asked for advice to students embarking on a photography or journalism career, Bannon stresses that "now more than ever there's no set course. Students need to understand that they're entering a career where they're constantly going to be learning alternate ways of creating and presenting their work." This is nothing new, though, he says: "If you look at the history of photography, you'll see it's always been this way."

Catherine on Route 46, as Solomon hangs from the door coaxing new passengers. Photo: Brendan Bannon