Video: The Systematic Disassembly of a Pentax 50mm F/1.4 Lens
For someone without a lot of DIY prowess, the thought of taking a lens down to its elements can be daunting. But, once again, we can all live vicariously through others on Youtube.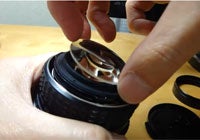 We may earn revenue from the products available on this page and participate in affiliate programs. Learn more ›
Even though the weather isn't necessarily cooperating, the time for spring cleaning is here and that goes for your gear as well as your attic. In the above Youtube video, a steady-handed DIY-er takes apart a 50mm Pentax lens to remove some pesky mold that has built up on some of the elements.
It's not exactly a how-to video since there's no narration, but it nicely illustrates something many of us have thought about trying, but have never had the guts to break out the spanners and do. And, while you probably shouldn't be cracking open your 70-200mm F/2.8 IS II and monkeying with the elements, you can get a lens like the one in the video for less than $50 on the web.