My Project: Out of Space
Hunter Freeman employees one costume for an 'out of this world' photo series.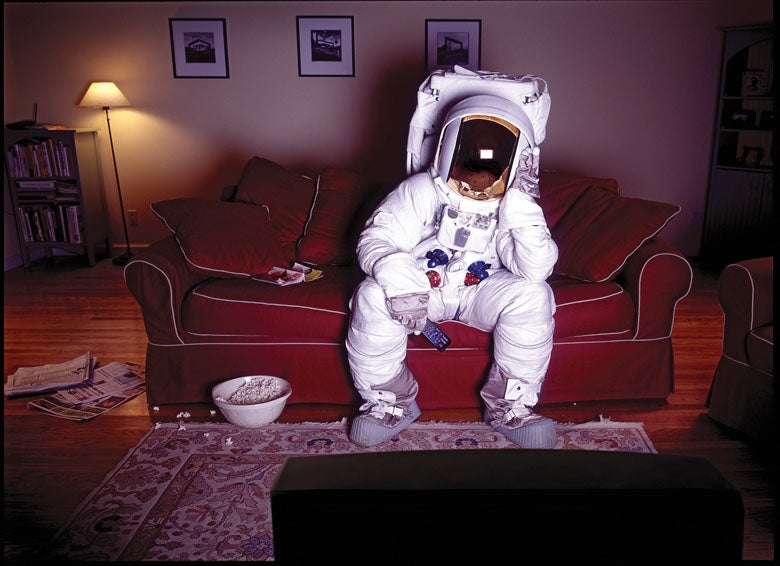 Ever wonder what astronauts do in their free time? Commercial photographer Hunter Freeman does. "You have these incredible people, with a really great but tough job," he says. "When they're not working, what are they doing?"
That curiosity developed into a photographic interest seven years ago, when he had an assignment from Microsoft to photograph someone in an astronaut outfit. "We'd rented this expensive suit, shipped up from Los Angeles," he recalls. When the assignment was over he still had two days left to return the suit, so he decided to make the most of it.
Freeman recruited a friend to model and took a drive around San Francisco, finally ending up in Golden Gate Park. "I decided to have him feeding pigeons," Freeman says. "Like he's got some downtime."
Though the suit returned to L.A. the next day, the idea didn't leave Freeman's mind. "I'd be doing chores like washing the dishes, and I'd think, do astronauts do this when they're not in space?" The idea preoccupied him so much that about six months later he arranged access to Alameda Naval Air Station and rented the suit again, this time to photograph his subject sweeping the hangar.
Because the space suit is so expensive, shoots have to be well-planned, with location and model secured. "First I'll figure out what I want to do, and then bring props," he says. "For the hitchhiking shot I brought different things—what I thought looked like astronaut luggage, big plastic airline cases."
Some setups are easier: He shot the TV-watching scene in his own home. "But I always imagine it clearly in my head," he adds. Though the costs of the suit rental have limited the speed at which his work progresses, to Freeman the project is worth the price. "It's the simplicity. It's everyday things that someone might do," he says. "But in an astronaut suit."
You can see more of Hunter Freeman's work at www.hunterfreeman.com.