How To: Use Remote Lighting to Add Depth
Time Magazine photographer Bill Cramer explains how.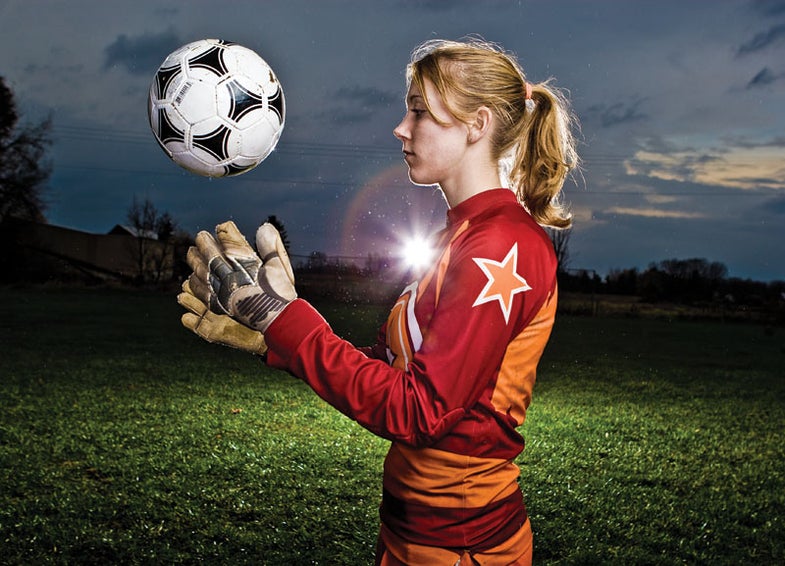 In November 2007, Time magazine put Philadelphia pro Bill Cramer on a plane to Ohio, charging him with producing an outdoor location portrait of Christin Anson, a high school soccer player. When he arrived at her Lancaster home, it was clear the shoot would be no piece of cake. Under a dense, raining cloud cover, the ambient light was depressingly dim, with a soggy blue cast. He had just two hours. A straight snapshot produced a flat portrait without color, texture, detail, or presence, and his young athlete blended sadly into the drab distance. Most importantly, the scene lacked the necessary depth.
To get his shot, Cramer used his strobes as sunlight substitutes. They helped him reproduce rich detail and color that the drab ambient light had sucked out of the scene. His lights would also clearly define the fore- and mid-ground, helping to add depth and dimension. Here's how he handled each image plane:
Background:
For the distant horizon, Cramer chose to underexpose the scene, which exaggerated the twilight-like gloom of the day. It also brought out texture and detail in distant clouds that with the straight-metered exposure had been a featureless white.
Midground
Next, he went to work building his midground with a bare-bulb strobe, which essentially placed a pool of clean, bright daylight midframe. Its central highlight added a lively spark that brightened the otherwise dismal afternoon. Its broad swath of light also brought out visual texture in the grass, goosed its color (whose now-vibrant green contrasted with Anson's warm-toned uniform), and created a central hot spot to keep the eye on the athlete. The midground light also etched a bright white line around the subject's face, neck, and hair, electrically defining her profile and popping her forward off the distant dark.
Foreground.
Cramer placed his main light so far to the right that it functioned as a sidelight, sculpting the folds of the uniform and giving them added shape. To balance out his lighting, he mounted a ring light to his camera, which filled in the shadows created by the sidelight. Now, Anson and her soccer ball were evenly lit from left to right, in a world both richly dimensional and vibrantly colorful.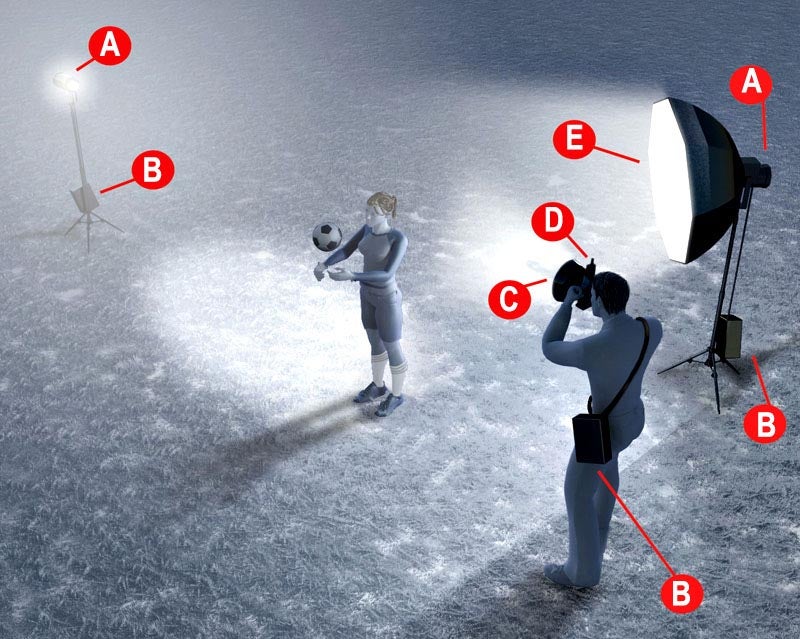 To bring depth to a flatly lit soccer field, Bill Cramer enhanced fore- and midgrounds with Profoto portable strobes. He used a bare-bulb Profoto AcuteB strobe head (A) powered by a Profoto AcuteB 600R pack (B) to bring life and color to the midground. He also lit his subject with the Profoto Acute D4 ring flash (C). Powered by another AcuteB 600R pack which Cramer carried from his shoulder, the ring flash served to fill in shadows cast by main light. He could fire all three strobes from the camera position with a single PocketWizard Plus II wireless transceiver (D), because the power packs featured built-in PocketWizard receivers. Cramer's main light was housed in a Chimera 3-foot OctaPlus softbox (E)
Bill Cramer's clients include Forbes, Time, Business Week, and others. He also founded Wonderful Machine, a web portal that connects pro photographers with clients.