How To: Plan the Perfect Subterranean Photo Adventure
Thousands of caves across the US make for great photo-ops.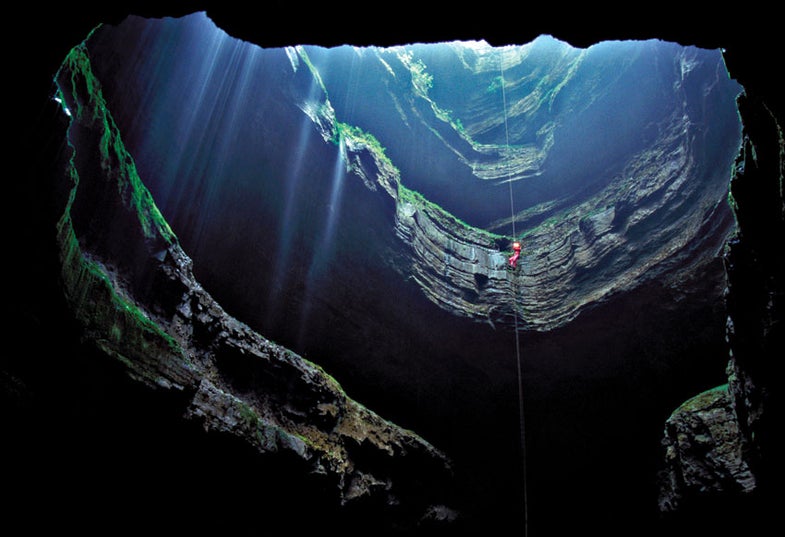 Forget sunny landscapes. For adventurous photographers, there's an alternate world to explore below ground. And with thousands of caves and caverns across the U.S, you've likely got several nearby, from the saltpeter caves of Alabama and Kentucky to the marble caves of California and Oregon. Tennessee alone has some 10,000 documented ones.
Caver and photographer Dave Bunnell (www.underearth.us), who has been shooting underground for nearly 40 years, breaks caves into two types: dramatically lit show caves, with guided tours, and undeveloped caves, where you must bring all the lighting—including a good headlamp.
Show caves offer accessibility and enticing light, but getting good photos can be tough. Says Bunnell, "They have a lot of limitations. You're time-restricted on a tour, most don't allow tripods, and you have to keep your flash on the camera." Mixed lighting (including fluorescents) is a problem, too.
But some popular attractions (such as Carlsbad Caverns) have self-guided trails, and some make arrangements for photographers. More enticing, says Bunnell, are undeveloped sites, including lava tube caves. Some require spelunking experience; others are accessible to beginners' caving groups. But some you can simply walk in to. Almost all are totally dark.
Bunnell's solution? Multiple slaved flash units to light deep into the cave. "Off-camera flash gives more depth to the photo," he says. "I usually use at least two, sometimes up to five or six."
A wide-angle lens is plenty. "Wider is better since sometimes you don't have the option of getting further away," he says. And always protect your gear against the inevitable dust and moisture.
Where To Go:
Show Caves:
-Carlsbad Caverns National Park, Carlsbad, NM. An 8.2-acre Big Room (partially wheelchair-accessible); ranger- and self-guided tours. Mexican free-tail bats exodus, summer twilights.
-Howe Caverns, Howe's Cave, NY. An elevator takes you 156 feet below the surface; some tours include boat rides.
-Mammoth Cave National Park, Mammoth Cave, KY. More than 390 miles of explored caves. Variety of guided tours.
Undeveloped Caves:
-Ape Cave, Mt. St. Helens National Volcanic Monument, Amboy, WA. Two trails: easy and more challenging.
-Craters of the Moon National Monument, Arco, ID. Four lava-tube caves accessible from loop drive.
-Lava Beds National Monument, Tulelake, CA. Some caves have ladders and trails; easy walks to strenuous excursions.
For sites near you, try www.caves.org or www.cavern.com.