How To: Make Your Own Photographic Luck
Great wildlife images take more than just good fortune.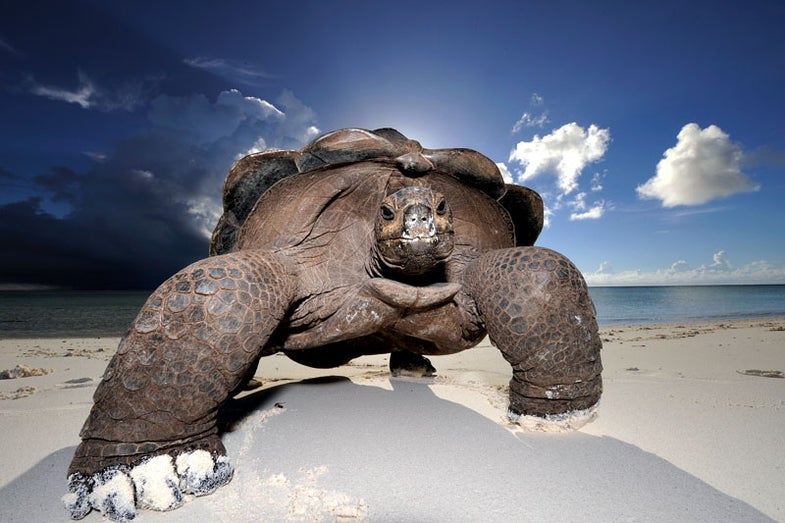 An ultra-wide angle and a lot of prep work got Peschak close to this Aldabra giant tortoise.
According to basketball legend Bobby Knight's adage that success lies in "the will to prepare to win," Thomas Peschak, the chief photographer for the Save Our Seas Foundation, prepares for expeditions by thinking through everything he needs to bring back distinctive images. Witness this South African conservationist's once-in-a-lifetime journey, with a film crew, in 2008 to Aldabra in the Seychelles, one of the most remote places on earth, with no airstrip or shipping lanes nearby.
Peschak began preparing his monthlong trip a year in advance. He spent weeks reviewing other photographers' work and pondering what elements would offer multiple layers of visual narrative. And he read all the related scientific literature and spoke with researchers who had worked there.
"I create ideas for new images by putting together all these things in my mind," he says. "I also sketch out most of my images on paper so I come home with iconic and novel photos. The hardest thing isn't taking a picture, it's creating the picture you want to make."
He wanted to capture an Aldabra giant tortoise in a way that showed its connection with both land and sea. He also wanted to accentuate its prehistoric quality by shooting from a low angle using a wide lens. The key, he thought, would be to get the ocean in the background. But tortoises live in the dense bush, so he decided to photograph up on a bluff.
As usual, things didn't work out according to plan—they worked out better. Peschak discovered that a few tortoises had learned to forage for food on the beach. He spent about 10 days following them after high tide, until a storm gave him the opportunity for the shot he'd originally envisioned. He calls the photo "Beachcomber."
With a Nikon D3 and 14–24mm f/2.8 Nikkor at 14mm, he maneuvered until the sun was behind the tortoise for the forward shadow, then fill-flashed using a corded Nikon SB-800 Speedlight off-camera from the upper left. Exposure: 1/200 sec at f/22, shot in manual. "All the preparation makes you very aware of how you're doing in terms of results," he says.
This result, for Peschak, is more than just an image. "Photography is a conservation tool," he says. "Numbers are great, but photographs truly capture someone's attention and make them feel for a species. They can inspire people to use their abilities to ensure that the natural world remains healthy and intact."